How to Choose a Bathroom Faucet
Written by:
Learn the basics and easily find the best bathroom faucet for your home
Entire bathrooms are often designed around the faucet. Our video and article will help you determine which type of faucet you need for your bathroom sink.
Faucet Installation Types
Note: Make sure to measure your faucet centers. This refers to the distance, in inches, from the very center of the left hole to very center of the right hole. Make sure to measure the distance between your faucet holes to the wall and measure for any other obstructions, such as mirrors and cabinets.
Single-hole
Typically comes with one handle (sometimes two)
Ideal for smaller bathrooms
Sleek, simple design
Single-hole faucets provide more precise volume and temperature control. Additionally, a single-hole faucet results in a far quicker install job than any other installation type.
Shop single-hole faucets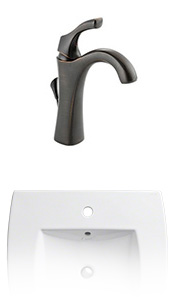 Centerset
Comes with two handles
Can be used on sinks with single-hole or 4-inch faucet centers
Spout and handle(s) are fixed on a base unit that's mounted on the sink
Very popular installation type, thanks in part to its versatility, and is a nice fit in a bathroom of any size.
Shop centerset faucets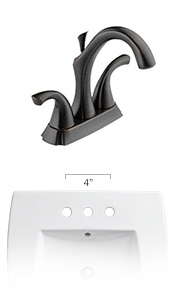 Widespread
Most commonly comes with two handles
Most popular installation type
Features faucet centers from 8 to 16 inches wide
This is a very versatile installation type with the most style options. Handles are not attached to the spout-mounting base.
Shop widespread faucets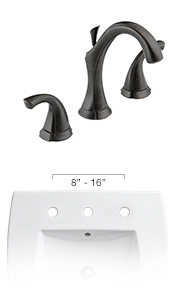 Vessel
Single lever handle
Fits perfectly with vessel sinks
Provides elegant focal point
Faucets are taller to accommodate the higher lip of vessel sinks.
Shop vessel faucets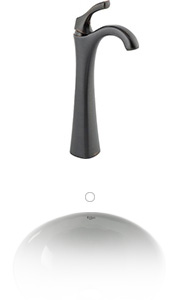 Wall Mount
Mounts to wall
Creates unique bathroom centerpiece
Can include one or two handles
This faucet is a fashion-forward alternative to traditional sink-mounted faucets.
Shop wall mount faucets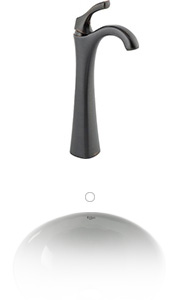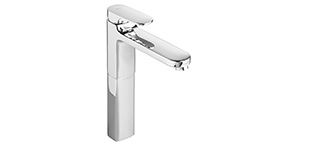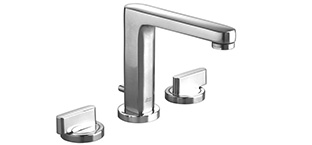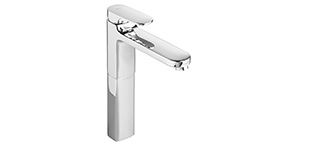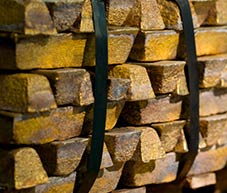 WaterSense
Bathroom faucets with the WaterSense label feature an eco-friendly flow rate that's guaranteed to save water and money.
Shop all WaterSense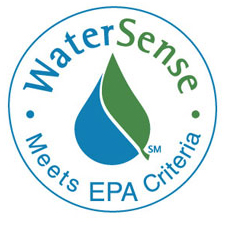 Low Lead
Recent legislation requires that new faucets being installed by customers located in Vermont, Maryland, and California must be free of lead.
Shop all low lead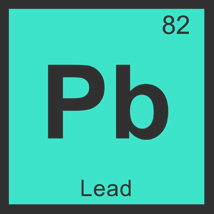 Pullout Spouts
As a feature you typically see in kitchen faucets, a few bathroom faucets actually offer pullout sprays. Now you can easily clean every area of your bathroom sink.
Shop all pullout spouts