Moen MotionSense
Written by:
Moen offers the latest in technology for kitchen faucets - Touchless Faucet.
Why Moen MotionSense?
Handsfree Operation
Spot Resist Stainless Finish Resists Hard Water Spots
Choose from a Modern or Traditional Style Faucet
MotionSense Features
Wave Sensor
With a swipe of your hand on top of the kitchen faucet's neck, it turns the faucet on. This makes working in the kitchen easier and keeps your faucet clean. We recommend a MotionSense for the foodie, cook or baker in the house or for families with children.
Ready Sensor
The ready sensor turns the faucet on for a quick wash of the hands or filling up your glass. This is the best when your hands are extra dirty.
Handle Controls
The two locations on the faucet to turn on the water on will work without the handle. The handle is meant for the traditional folks who want to control the temperature and water flow.
A Cleaner Faucet
The handsfree operation keeps the finish looking brand new and Moen's Spot Stainless Resist Finish keeps the finish sparkling. The stainless steel spot resistant finish is a great choice if you have hard water.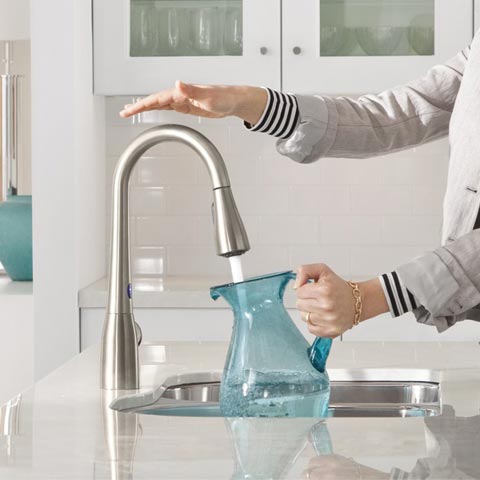 Moen Arbor
MotionSense
Reflex - flexible pull out spray
Duralast Cartridge - long-lasting, quality faucet
Pause Buttons - stops the water flow mid-flow
Moen Brantford
MotionSense
Reflex - flexible pull out spray
Duralast Cartridge - long-lasting, quality faucet
Eco-Friendly Performance - limits over water usage