12 Tricks to Boost Curb Appeal
Just a few easy updates can make your home a neighborhood standout.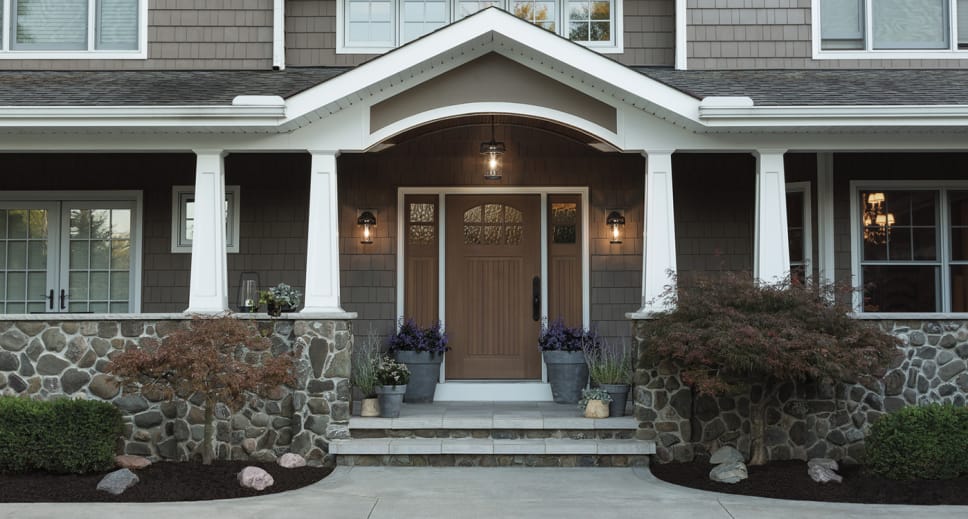 When it comes to curb appeal, sometimes improving the look of your home can feel limiting and intimidating. After all, what can you do with a shape and size predetermined by a contractor's neighborhood-design blueprints? As it turns out, you can do quite a lot. A few little changes can produce big visual impact. It doesn't take much to make your home look different than the one next door, and that is often enough to improve the look or even the value. Here are twelve easy tricks to spruce up your home so it stands out in all the best ways.
1) Update the Door Hardware
Change the locks and start new with updated door knobs and door entry sets. A new keyless entry set can add class and security in one by simply breaking out of the ordinary and expected. These are a simple DIY project that may seem small but will be instantly noticed.
2) Decorate the Door
It's not just about the locks. Add style and personality with the extra touch of decorative door hardware.
Door knockers and chimes come in a variety of styles, from the formal to the fun, traditional to contemporary and modern.
Mail slots and door viewers can be installed as DIY projects that add a little extra security to your daily routine.
Kick plates and push plates are available in a variety of finishes and styles that can add protection to those well-worn areas of the door that see the most traffic, making the door itself last longer while looking sharp.
3) Give the Door A Window Treatment
Whether you have a starburst wedge of window at the top of the door or a rectangular display window in the middle, the clear glass can be boring, as well as lacking in privacy. If you don't want strangers peering into your foyer through the windows on or around the front door, consider covering them with a vinyl window film. These sheets come in hundreds of colors and patterns, from stained glass to a reflective frost. The sheets can be trimmed to the size of your window and sealed in place until you choose to switch them out. It's an easy way to add year-round color or seasonal flare with a festive window pattern.
4) Update the Lights
Refresh your style with updated light fixtures. The porch lights should be the most obvious fixtures. Remember, an entryway begins on the porch and opens into the foyer, so be sure they match the design of your home, inside and out. The options are virtually endless, with an ever-widening selection of solar lighting. Solar options save money on the operation of the home and are an instant boost in curb appeal. Dawn to dusk porch lights use a photocell to detect light and turn on when needed.
5) Add Color with Fresh Paint
As the wisdom goes, a little fresh paint can go a long way. Find a color you like that compliments your home color and accent it. Use a bright contrasting color, such as a red or yellow, to liven up the space.
A fresh coat of paint to either the door or the screen door can add interest, as well as cover up any signs of age.
Painting the garage door can update the look of the entire house, particularly if you paint the trim to match.
Another trick with paint is to freshen up the color of window boxes or accents, such as decorative shutters.
Potted plants or container gardens can be painted with a bright accent color and placed along the porch to draw attention.
6) Choose New Numbers
If you're simply looking to refresh your home for your own enjoyment, any change will do, as you'll still feel the thrill of something new. But when that change is functional, it adds value, so mix things up by replacing the old address marker numbers.
Switch to a bold and playful font design, or something more reserved and traditional.
Apply a fresh coat of exterior paint to your current numbers for a whole new look.
Find a set of new address numbers in the finish you're looking for.
Remember to coordinate the markers to match the architectural style of your home as well as the design of any exterior light fixtures and door hardware.
Whatever the design, the address numbers should be bold and obvious. It's important to keep address numbers easy to read for visitors, deliveries, and emergency services who need to find your home from the street.
7) Select Simple Safety Upgrades
Exterior lighting can accent and highlight the architectural design of your home, but it can make it safer, too. Security lighting can also add value to your home. These lights are positioned over doorways, such as the garage door or along the side yard. Dark corners can be risky, leaving room for animals or unsavory types to hide, even with the best security systems in place. Strategic lighting around the home can be used to keep doors and windows safe, as well as discourage loitering. Most security lighting can be solar powered, and can be activated by motion-sensors, set up on a timer, or it may use a photocell sensor to turn on when the sun goes down or on cloudy days.
8) Modernize the Mailbox
The mailbox is one of the first things some people see about your house. Whether it's out by the street or up against your home, it's an eye-catcher. If it's been out in the elements for a few years, it can look a little worn down. Pep it up with a custom paint job, or buy a new mailbox in a different style or finish entirely.
9) Furnish the Porch
For many people, the porch is the heart of the home. It's where you greet your guests, but it can also be the place to socialize on warm, summer evenings, where the only expectation is to enjoy the day and the company. The porch is all the more welcoming when it has furniture to gather to.
10) Install A Little Landscape Lighting
Don't let guests overlook the paths and walkways that lead to your door. Find a style of landscape lights that you like and arrange them to light the way. These can be subtle and small, so long as they clearly light the walking areas for safety, and add that polished finish to your home's exterior at night. Post lights can be useful for walkways near fencing. Solar powered lights are a popular choice because of their easy installation, low maintenance, and they don't drain the electric bill every month.
11) Accent with Arbors
Extend the entryway of your house to the garden by building an arbor for visitors to pass through upon arrival. If you have a green thumb, plant the arbor between rose bushes or climbing flowers for the look of a cozy cottage, or build out a decorative fence around the yard.
12) Include Your Favorite Outdoor Art
Another way to break from the neighborhood pack is to put some personality on display. Outdoor decorations, such as statues, fountains, or durable, appropriately scaled dimensional wall art can be stylish additions. This includes flags and seasonal decorations for holidays, such as Christmas or Halloween, or even year-round string lights to add character.