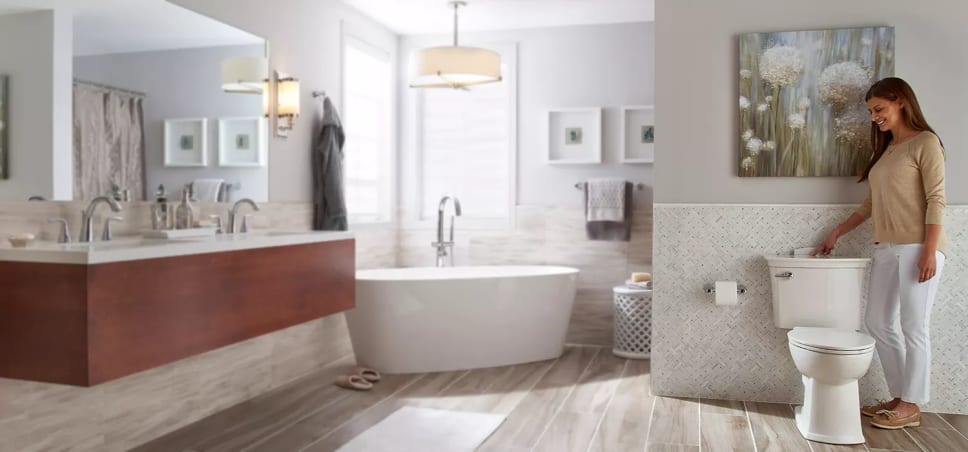 American Standard ActiClean Toilets
Discover the convenience of self-cleaning technology
Imagine cleaning the toilet with just the touch of a button. American Standard combines ActiClean® self-cleaning technology, patented VorMax™ flush action, a smooth CleanCurve™ rim, and the innovative EverClean® surface to leave the bowl sparkling clean without scrubbing.
Scrub with Every Flush
American Standard's patented VorMax™ action sweeps the entire bowl with forceful jets of water to keep your bowl tidy between ActiClean® cycles. The VorMax™ flush is proven to be two times more effective than any conventional toilet.
Prevent Stains & Bacteria
The entire toilet is finished with a super-smooth EverClean® glaze, making it easier to clean. The antimicrobial finish prevents stains and inhibits the growth of odor-causing bacteria. ActiClean® toilets are designed with a CleanCurve™ rim to eliminate the crevices where dirt can build up.
Performance by the Numbers
• ActiClean® toilets can eliminate 2.2 pounds of waste in a single flush, earning them the highest possible MaP rating. • High-efficiency ActiClean® toilets use just 1.28 gallons per flush to meet EPA WaterSense® criteria.