Customize Your Style With Barn Doors and Hardware
Save space with versatile barn doors and coordinating barn door hardware to keep your home stylish through the trends.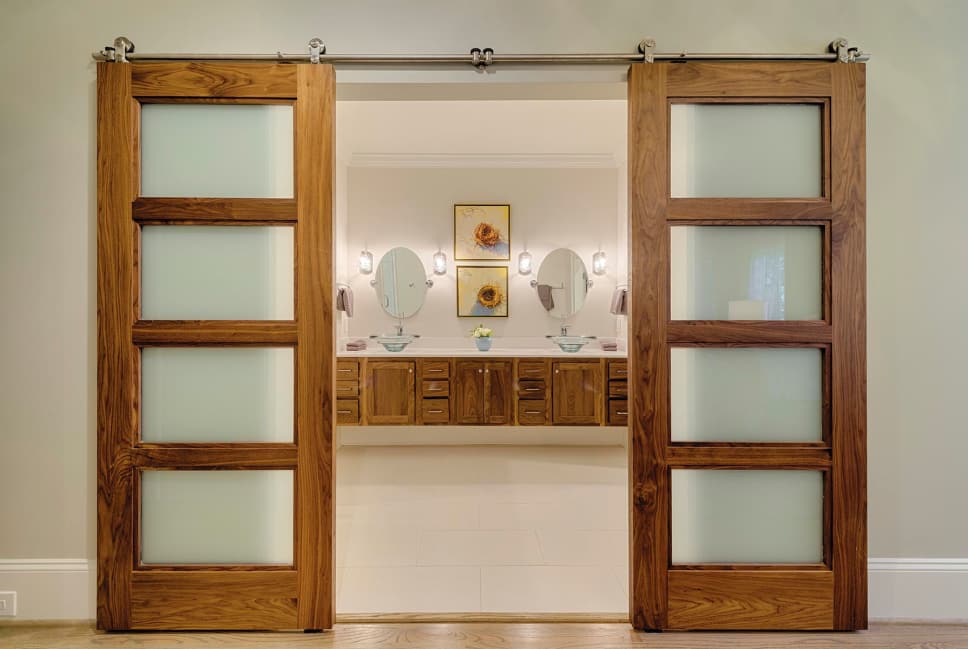 In the past, the sight of a heavy wood door on a wheeled track was proof that a home was once a converted barn. The distinct, recognizable, oversized door was relatively easy to manufacture and maintain while also being functional and effective. For instance, the classic barn door took up none of the yard or driveway compared to a heavy swinging door that would need to be slowly opened while trying to herd animals or farm equipment in or out of the barn. It's been a worldwide staple on stables and storehouse sheds for generations.
The classic barn door allows traffic to move in and out directly, rather than steering it opposite the swing of the door's hinges. The hanging track wheels do all the work as the doors slide away with the pull of the handle. It is a basic design that translated well into indoor homes over the years, morphing the heavy track doors into trim glass panels and pocket doors, even cabinetry or pantry doors. They owe their popularity to the durable style of those historic roots
Not Just For Sheds
Now you can get barn doors in virtually any style or finish for any room in the house. They don't need to be the traditional Americana red and white, and most can be painted whatever color might best accent your interior spaces. They can be found in all types of woods, metals, or even glass, and it's just a matter of making sure you have coordinating barn door hardware that is also high quality and can reliably and consistently support the door's weight under regular use.
Whether you want the traditional look of graphite black or the more contemporary polished stainless steel, the hardware for the modern hanging barn door has been updated for in-home use. Some are designed to slide glass doors along the aluminum barn door track system, while other hardware is made from iron and mounts to the door in the form of horseshoe shapes. The mounting assembly will be different and unique between designs. Regardless of the style, from a rustic wood farmhouse door to urban chic glass, they are capable of supporting the weight specific to the door style you choose, so be sure you purchase the correct hardware for the weight of your doors.  
The main appeal for barn doors in modern homes is the easy conversion they provide between an open floorplan to one that can instead be divided into individual, private rooms, such as the passages between a living room and a dining room, or a closet and a bedroom. A wide archway or door passage can be closed off without taking up the 180-degree space required for a swinging, hinged door. They can even hide away cupboard contents or add class to a narrow hall closet. The door slides along a narrow track against the wall and virtually disappears when not being used, leaving extra walkway that you can use for something other than the swing of a door. If the divider is a pocket door, of course, the door slides into the wall itself and leaves only a walkway.
Dividers or Doors
It's important to know ahead of time what you want the door to accomplish, whether it be just for appearance, or to close kids or pets from one room into another, that way you can be sure to keep enough floor area free to allow the doors to move. While barn doors don't take up any of the walkway going out into the room, they need an equal amount of wall space beyond the passageway where it will serve as a door. This means you should choose a location for it that will not be cluttered with furniture and that will not have the hanging door running into artwork,  light switches, or wall outlets.
For hanging doors like a barn style door or a pocket door, it is important to pick the right hardware. With a pocket door, if the track doesn't fit exactly right, it can be hard to make adjustments inside the wall. You always need to be sure that the barn door hardware is rated to handle the weight of the door you choose and will be able to withstand the amount of use it will regularly go through.
It is possible to lock a barn style door, but the hardware required doesn't usually come standard, and your choice in lock styles will depend on the needs of your home. With the right hardware, you can get a pocket door to lock, but it would have to be high quality to consistently hold the door at the level to catch the latch and connect to the wall-mounted hardware in the door jamb every time. This can create access problems for people with mobility or dexterity issues. It's important to find a latch style you can work with and upgrade the pocket style or barn doors hardware before installation to help minimize these frustrations.
There is another intrinsic downside to the barn door track style. The track itself requires the door always be free moving, hanging without interfering with the walls it's attached to. This leaves no obvious way to seal the door for privacy or against drafts. Even a heavy door with edges overlapping the wall will allow sound to travel between rooms. Because of these disadvantages, barn doors are usually considered more useful as room dividers in most homes rather than a door.
Versatile Styles, One Traditional Design
What barn doors lack in privacy, however, they more than make up for in style. You don't have to live in a barndominium to pull off barn doors in your home.  These designs are timeless and can be incorporated into any decor theme, from the classic farmhouse to something modern or transitional. With just a little accent color, the barn door style can become a functional art piece in your home. It allows for an empty space to be used as needed, while leaving the room visually open and uncluttered.
A single barn door track can hold one large door for a wide passageway, or the same track can use multiple, narrower doors to allow variety in the layout of your room. The doors move freely, stopping exactly where you want them to. You control the amount of light, airflow, or traffic through the entryway as you choose.
They work well as pantry or closet doors for that reason. If you want to display colorful plates or your international spice collection, leave the cupboard's barn door open to show them off. If you're short on space, barn style doors can be installed so that when one side of the pantry is open, the other side is closed. The doors can slide out of the way, unobtrusive in your kitchen or laundry room.
Barn style doors are a good way to change up your home without requiring intensive remodels. The tracks can be installed by a prepared do-it-yourselfer or a professional, but keep in mind that these are heavy doors. If there's an opportunity, upgrade the hardware to high-quality, effective designs that will best support the weight and use of your doors while still matching your personal style. It's better to spend a little more at the beginning of a project than it is to get the door mounted on the wall and discover you missed something important; don't take shortcuts.
While barn style doors may have been a left-over design from the rural countrysides, the only limit to their use in modern homes is your imagination. They are good for quiet spaces and for opening up a room. Get creative, have fun with the unique style of these doors, and open your modern home to some updated country charm.