Bathroom Remodeling Guide
Learn how to plan your project, choose the best products, and install them in the right order.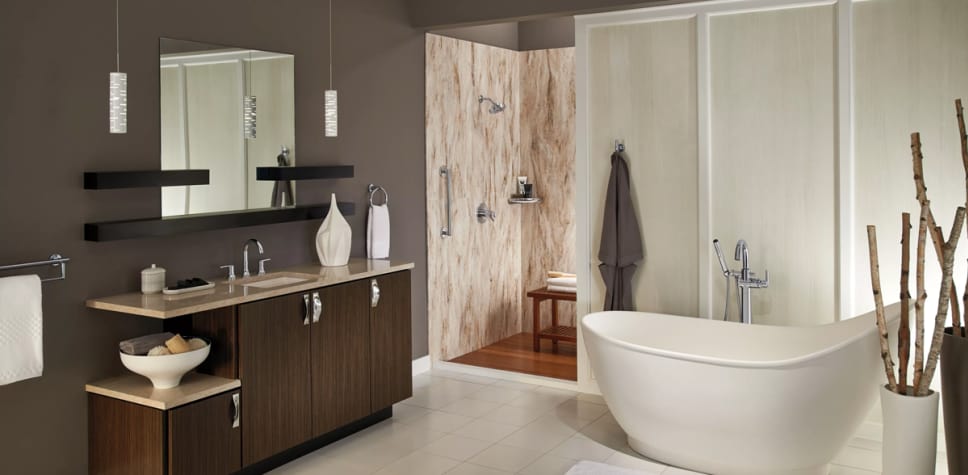 Bathroom remodels are rated among the best home improvement projects in terms of return on investment. Careful planning, and these tips from our project advisors, will help you get the most out of your remodel. Learn how to make smart choices — and avoid common pitfalls — so you can create a space you'll enjoy for years to come.
Where to Start - Plan Your Project Timeline
1) Establish a budget.
Calculate labor and material costs, then add a 10% cushion for unforeseen expenses. Things like damaged or outdated plumbing, electrical, or subfloor often aren't apparent until the project is underway.
2) Narrow down your style and color palette.
Find design ideas in home magazines, blogs, or subscribe to our catalog. Our Shop by Look page is another great source of inspiration. Create your own lists for an easy way to keep your ideas organized.
3) Purchase products and materials.
Waiting for a single item can derail your project timeline. For tile or wall flooring projects, measure ahead and order all of the necessary tile at one time, and order slightly more than the area to be covered requires. Order large items, like your bathtub, about a month in advance, and allow extra time for made-to-order items. Use Build.com's sorting tools to quickly find styles that match your decor and features to make life easier.
Bathtub - American Standard 2764.014M202
Flooring - Emser Tile F02DOWN-0635
4) Remove old fixtures and flooring.
Some homeowners do their own demolition to save money, but it is messy, time-consuming, and potentially dangerous work. Novice DIYers can even cost themselves money by inadvertently damaging plumbing, electrical, flooring, or walls. If you have any doubts about your skills, it's best to leave the demolition to the pros.
5) Replace or repair the subfloor as needed.
A solid, smooth surface is necessary for a perfectly finished floor. Imperfections in the subfloor can ruin the look and cause tiles to crack.
6) Update the electrical if needed.
A bathroom remodel is a great opportunity to add light fixtures and outlets. Adding or moving electrical outlets and other fixtures can be done as a weekend project by an experienced home improvement veteran, but it's a good idea to consult your local building codes. Never hesitate to hire a professional electrician to complete the work.
Shower Enclosure - Kohler K-1976-0
Shower Walls - Kohler K-97618-0
7) Install bathtub and shower pan or shower enclosure.
Shower enclosures, shower pans, and bathtubs, with the exception of clawfoot-style tubs, should be installed before the flooring.
8) Install new drywall.
If the existing walls are still sturdy and just need a fresh coat of paint, patch the drywall as needed to fill holes and start fresh. Make sure to use materials intended for wet or damp locations.
9) Prime and paint the walls and ceiling.
Satin finish paints are more durable than eggshell finishes and are a good choice for bathrooms. Look for a paint-and-primer-in-one option for quicker application. Large peel-and-stick samples are available to make it simple to choose the perfect color.
10) Install flooring and baseboards.
The bathroom flooring is your foundation. Furniture-style vanities that are raised up on legs or feet should be installed after the baseboards. Cabinet-style vanities that sit directly on the floor should be installed before the baseboards.
11) Install shower walls, fixtures, and shower doors.
The next step is the shower walls, which can be tiled, customized enclosures, or modular styles. Tiled shower walls require special backer board designed for wet locations. Plan the layout of the shower faucets and tub faucets to be sure the pieces you choose will fit and be easily operated in their ideal locations. Some shower doors may have specific applications and mounting considerations so be sure to check measurements before making any final buying decisions.
12) Install the vanity.
Think of the vanity as a piece of furniture. Look for a vanity with a cabinet finish, top, and design details to match your decorating style. Vanities add storage space to the bathroom, with some styles offering specialty organizers and integrated power strips.
13) Install the plumbing fixtures.
The larger plumbing fixtures are installed after the flooring and furniture have been placed. The sinks and faucets put the finishing touch on the vanity. The toilet is the last heavy lifting required for the bathroom remodel before you can turn the water back on.
14) Add lighting, mirrors, and accessories.
Bathroom lighting, mirrors, hardware, and other bath accessories are available in a variety of design styles and finishes. Consider shopping by collection for a pulled-together look.
Lighting - Quoizel TY8603BN
Mirror - Robern AM3030RFP
Common Remodeling Mistakes (and how to avoid them)
To prevent cracking and other damage, wall tile, shower & tub tile, and flooring must be installed on the correct surface. Before installing new materials, make sure the sheetrock and subfloor are in good condition and are the right type for a wet bathroom environment.
Wall Tile - Daltile X73536MOD1P4
Shower Tile - Mohawk Industries 15213
Save time and money by knowing what type of plumbing you have and what type of valves you'll need before ordering faucets and shower systems. ½-inch copper plumbing is standard, but your home may have a different size or material. The visible plumbing under the bathroom sink is a good indicator, but your contractor will be able to advise you exactly which valves, connections, and fixtures to order.
Tearing out walls and moving plumbing can be a major expense. When planning your remodel, consider the size and footprint of your existing bathroom and where the utilities are located. Check out our Bathroom Floor Plan Tips to learn where to place bathroom fixtures and how much space you'll need for each type
Shower Faucet - Delta T17253
Selecting the right contractor can save you time, money and stress. It's worth the effort to find the right match before starting your project.
Ask friends for referrals
Interview at least 3 contractors
Get written estimates before you sign a contract.
Request recommendations and before/after photos from past jobs
Check the contractor's licenses
Build.com's project advisors are here to help you find the right products for your remodel. Call us at  (800) 375-3403 or Chat Live