Building a Custom Home Bar
Building a home bar starts with the right refrigeration.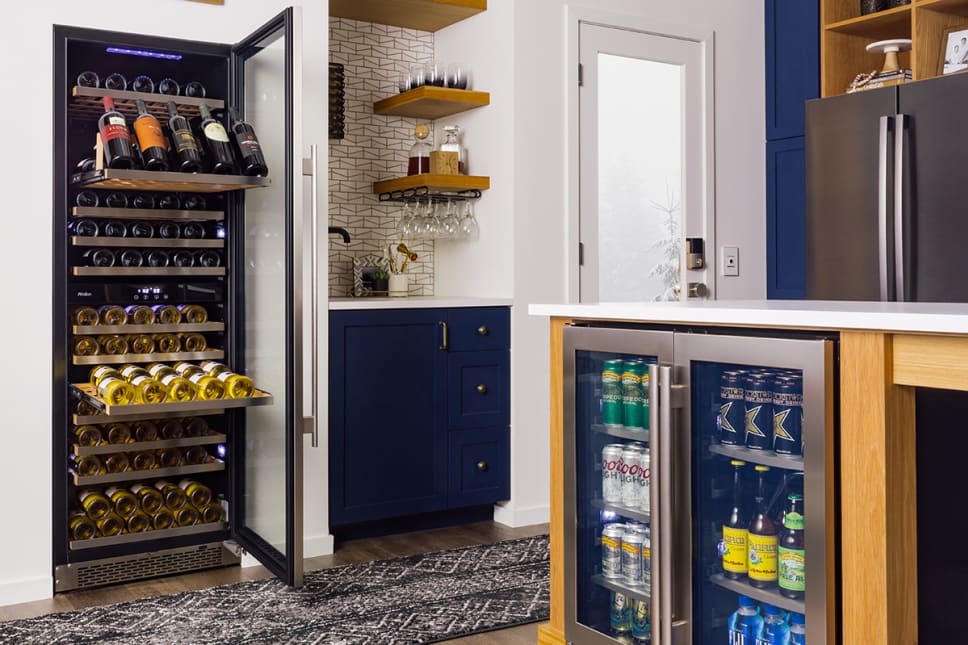 For those who enjoy entertaining, hosting isn't just about the company of family and friends. It's also very much about presentation. Having the music at the right volume. Providing just enough seating, placed strategically to encourage conversation. And of course, the perfect food and drink. The right food and drink, though, takes correct storage and preparation beforehand. There is nothing more conducive to entertaining than a custom home bar. Choosing the appliances that fit your individual needs, the decor tailored to your style, even the lighting that suits the space, all come down to personal preference. Perhaps most important is how to store your beverages, as this separates the amateurs from the seasoned entertainers.
As you begin to build your home bar, start with a plan. Ask yourself some basic questions to assess your needs. What kind of beverages do you and your guests consume most often? Is it beer or wine? A combination of the two? Is there a beer you'd like to keep on tap? How much ice do you use? Would it be more convenient to have a refrigerator dedicated to adult beverages?
Components of a Home Bar
The fundamental elements of a home bar generally are: Refrigeration (perhaps multiple types depending on your beverage tendencies), a bar sink and faucet, seating, accent lighting, and decor.
Wine coolers
The storage of wine can be a contentious subject. But it is generally agreed upon that it should be stored in a cool, dry, dark place (preferably under 70 degrees), and also that it should be stored horizontally. The first consideration when choosing a wine cooler is whether you need a single zone or dual zone. If your preferences lean toward one varietal, a single zone will do. If you store both red and white, you'll need a dual zone cooler, as these wines are stored at different temperatures.
Wine coolers allow the wine enthusiast to store bottles horizontally. The temperature can be adjusted according to the owner's preference, and they are available in many sizes.
Wine coolers are either freestanding or built-in. Freestanding units should not be installed under a counter, as they need ventilation. Built-in units are front-venting and fit nicely inside your home bar, sitting at counter height.
Beverage Centers
A beverage center is designed to store multiple types of drinks. Temperatures and storage type can differ even within one center. This is just one feature that sets a beverage center apart from a compact refrigerator. Beverage centers also tend to have tempered glass doors to make viewing contents easier. Beverage centers are a great place to store soda, beer, water, and other beverages in addition to wine and other alcohol.
Compact Refrigerators
Compact refrigerators are a very convenient element of a home bar. They are the perfect place to store lemons, limes, and herbs for drinks, in addition to appetizers like cheeses or dips that one might commonly find in a home bar. Beverages can be stored here as well, proving the usefulness of the compact refrigerator.
Kegerators
For those who are loyal to one or two types of beer, a kegerator should be considered. A kegerator is a refrigerator that holds a keg of beer. Kegerators also come in dual tap and triple tap, which can hold two and three kegs, respectively.
For beer storage and serving, nothing looks more sleek than a kegerator as part of your home bar. Replacement kegs are easily obtained and switched out as well.
Ice Makers
Any consummate entertainer knows that one can never have enough ice. Ice makers come in a few different sizes, from portable and freestanding to undercounter and commercial.
Portable sizes can be stored out of sight when not in use but can produce ice in as little as 20 minutes when needed. Freestanding sizes run larger and take up more space but can produce a lot more ice.
Designing Your Space
When designing your space, there are quite a few things to consider. Are you thinking about housing your bar outdoors? Indoors? Are you going for a classic bar look? Also consider how many people you usually entertain at one time.
A classic bar look is always a favorite, and there are a few ways to go with that style.
Installing a bar sink and faucet into an existing space might be the easiest way to create a home bar. Creating a new space is an opportunity to make something from scratch, from the tile to the sink!
Bar sinks, also called prep sinks, are usually smaller than a kitchen sink but still come in a wide variety of shapes and colors. Bar faucets can accompany them in traditional, modern, and transitional styles in all colors of trim.
Bar stools are key to a classic bar look, but come in many different styles from traditional to contemporary. This is an opportunity to make your home bar unique to your tastes.
Another chance to personalize your home bar is with lighting. Pendant lighting is typical over-the-bar lighting, but explore many lighting options to express your style. Add a rustic chandelier for a twist on the bar look.
Of course, no bar would be complete without bar accessories. From mirrors to novelty signs, neons to wine racks, personalize your bar with wall hangings, decanters, and barware.
If adding or converting an existing space is not an option, using a freestanding bar may be just the solution. With storage for glass barware as well as unrefrigerated beverages, mixologists can still impress with this convenient piece of furniture.
A popular and great solution to create a home bar in a small or outdoor space is to keep a stocked bar cart. Bar carts can carry glassware, bottles, and other accoutrements and are often portable.
Whatever solution is best for building your home bar, no one is ever sorry when prepared to entertain guests!