Inspired By: Lauren O'Donnell, Interior Designer
1970s Ranch Goes from Dark & Dated to Family Friendly & Fabulous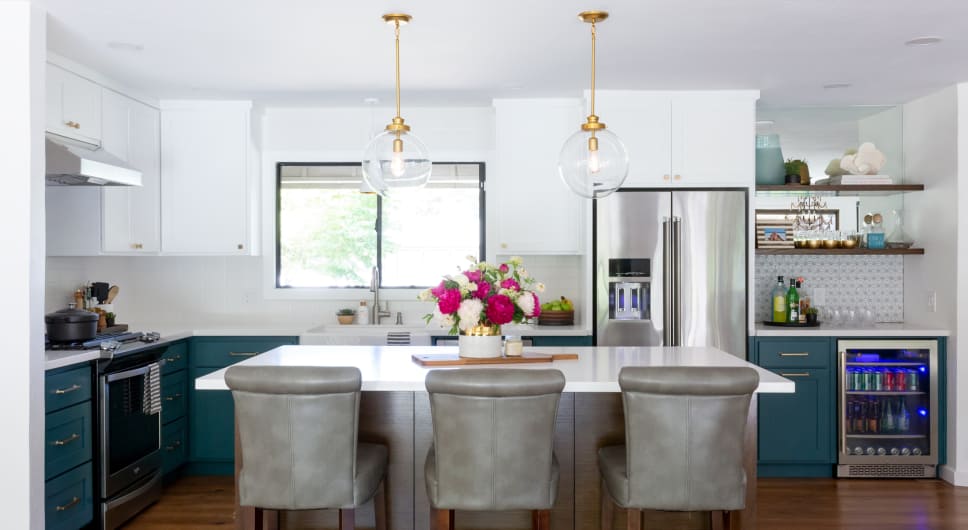 Lauren O'Donnell designs beautiful and functional interiors.  She loves creating spaces that work for everyday living and act as gathering spaces for special occasions. Kitchen remodels are among the designer's favorite projects, and recently she partnered with Build.com on a stunning makeover for the Lifetime Network show, Designing Spaces.
Built in the 1970s, the sprawling ranch house has a modern aesthetic, but the traditional kitchen was at odds with the style and layout of the home. Lauren said, "The kitchen was dark, dated, and not functioning well for the family. We wanted to give it a completely fresh look and make a space for this family to spend time together and entertain friends."
The designer was challenged to stick to the budget while completely reimagining the space to meet the needs of a busy family. Lauren said, "Every remodel starts with a lot of questions. I want to know how they use they space, if they entertain, how and where the family eats, and how many people they have over at one time. Once I have those answers, I can come up with a design that's going to be functional for the family, and, at the end of the day, look pretty."
Going with the Flow    
Creating a more workable space was Lauren's first order of business. "We didn't have to change the basic layout, but we made some adjustments to open it up."
She started by replacing the kitchen island. The original island was positioned too close to the cabinets, which interrupted traffic flow. The visual flow was broken up by a bulkhead and post for the electrical. Contractor Eric Enns explained, "The wiring for the island ran through the beam and down the post. We took all that out, ran the electrical up through the floor and through one of the legs in the island." The team added outlets to either side of the island with USB ports, providing a convenient place for the family to charge their cellphones and other devices.
Redesigning and shifting the island allowed for a larger, more family friendly piece. Lauren choose warm stained oak for the base. She topped the island with a slab of white quartz with a ten-inch overhang, making room for stools and creating a big work surface for meal prep and homework.
Family Recipes
The homeowners enjoy cooking together, so Lauren wanted to give them a workable place to cook up family favorites. She started by moving the stove. "Symmetry is important to me. The position of the range looked off balance, so we centered it, adding cabinetry on either side." She chose a Whirlpool slide-in gas range in stainless steel. The continuous-grate cooktop and five burners easily accommodate cookware of all sizes — including large griddles for big family breakfasts. A 5.8 cubic foot oven has plenty of room to make meals for holidays and entertaining.
The over-range microwave was difficult to reach and made the rangetop cooking area feel cramped. Lauren said, "Microwaves above the stove are an eyesore and they're just not as functional for a family. I like to hide the microwave and make it accessible to everybody." The original microwave was removed and replaced with a sleek stainless steel range hood by Miseno. The hood features a powerful 750 cubic-foot-per-minute blower, long-lasting baffle filters, and ultra-quiet operation. Two halogen lamps under the hood cast ample light on the cooktop. A new KitchenAid stainless steel built-in microwave was installed in the island, where it's out of the way, but easily accessible to even the younger members of the family.
Crowd Pleasers
The family stays busy with after-school activities and entertaining friends, so it's important to keep a well-stocked fridge. Lauren recommended a KitchenAid French door refrigerator. The smaller door swing allows for better traffic flow, making it a great choice for the small kitchen. The French door design also means the shelves are wider, so they can accommodate big party trays and holiday leftovers.
To free up even more space in the fridge, and move some of the traffic out of the work triangle, Lauren created a fully outfitted beverage station in one corner of the room, with matching cabinet paint and a white granite countertop to tie into the rest of the space. "We added a beverage fridge below and open shelving above to display their glassware. It's really convenient for entertaining and adds visual interest. They can store their wine and it will be a great place for the kids to grab a soda too," she said. The Avallon beverage center features double-pane glass, an easy-to-use touch control panel, and LED lighting.
Quick Clean Up
Streamlining everyday chores is a benefit of good kitchen design. Lauren chose a Kohler apron-front sink and paired it with a Moen pull-down spray kitchen faucet. The large single-basin sink is great for washing large cookware, and the farmhouse style adds a unique design element. The family also needed a new dishwasher. Lauren contacted her Build.com rep to help her choose the best model. "We wanted it to be quiet and it had to have a large capacity. I told my rep what we needed and they were able to lay out a few different options to fit the family's needs." Lauren's rep helped her choose an ultra-quiet Bosch dishwasher in stainless steel. "I love working with the pro department. They're really experts about these products and they can advise me on exactly what I need for each project," Lauren said.
Lauren thought about every detail, right down to the waste receptacles. She installed a Rev-A-Shelf double-bin trash can between the sink and stove. "Every kitchen needs a pull-out trash bin," she said. "You can leave it open when you're doing food prep then slide it out of sight when you're done. The trash and recycling are stacked behind one another, so you also free up floor space in the kitchen."
Bright Ideas
White upper cabinets and subway tiles, paired with Lauren's lighting plan, made the space look fresh and bright. "We have three different types of lighting going in. With lower ceilings, we wanted to make sure we had ample lighting throughout the room," she explained.
The three-part plan starts with overhead can lights for room-filling illumination. Lauren chose ultra-thin recessed LED fixtures from the Lithonia Lighting Wafer collection. For task lighting, Lauren installed under-cabinet lighting from Kichler. The LED tape lights are easy to install and can be cut to length.
The final component of a complete lighting plan is the accent lighting. Lauren said, "This is really the fun part. It's like adding artwork to the space." Over the sink, a single white Bromi Design pendant does double duty as a task light. The mid-century style brings modern flair to the space and the gold interior ties in with the cabinet hardware. Lauren installed a pair of Progress Lighting 12-inch pendants over the island, "We chose clear glass globes because this is a smaller space and we wanted something that wasn't obtrusive and didn't block the view." Over the dining table, a modern Kichler six-light chandelier in natural brass from the Erzo Collection completes the look.
The mixture of styles had to be carefully thought out. Lauren said, "It's tricky in an open floor plan because they have to all work together, and we wanted to make sure they were all unique so they could stand out on their own."
"When it comes to lighting, scale is just as important as the overall aesthetic of the fixture. One of the biggest lighting design mistakes I see is choosing fixtures that are too small. A lot of people are afraid to go too big with fixtures, but you want to make sure it has presence."
- Lauren O'Donnell, Interior Designer
Color & Shine  
Lauren replaced the dark and dated cabinetry throughout the kitchen, opting for white uppers and teal base cabinets. She said that the lighter color on top would help brighten and visually expand the small kitchen, adding that "the teal is a rich, warm color. That bold pop gave the kitchen that little twist I was looking for."
The new cabinets provided the perfect backdrop for Top Knobs contemporary hardware in Honey Bronze. Lauren explained how to use two different metals — like stainless steel appliances and brass accents — in one space for a designer touch. "Mixing finishes is actually my favorite thing to do. But to work, the finishes have to be completely different. They have to have contrast and be distinct enough that they really make a statement."
Lauren said it's rewarding to create spaces that reflect her clients' style and work for the way they live. "At the end of the day, I want them to love it." Follow Lauren on Instagram @lodesigns to see more of her stunning interiors.