Build.com for Pros: Guide to a Feng Shui Home
Learn smart ways to incorporate the ancient Chinese philosophy of Feng Shui into your interior design practice.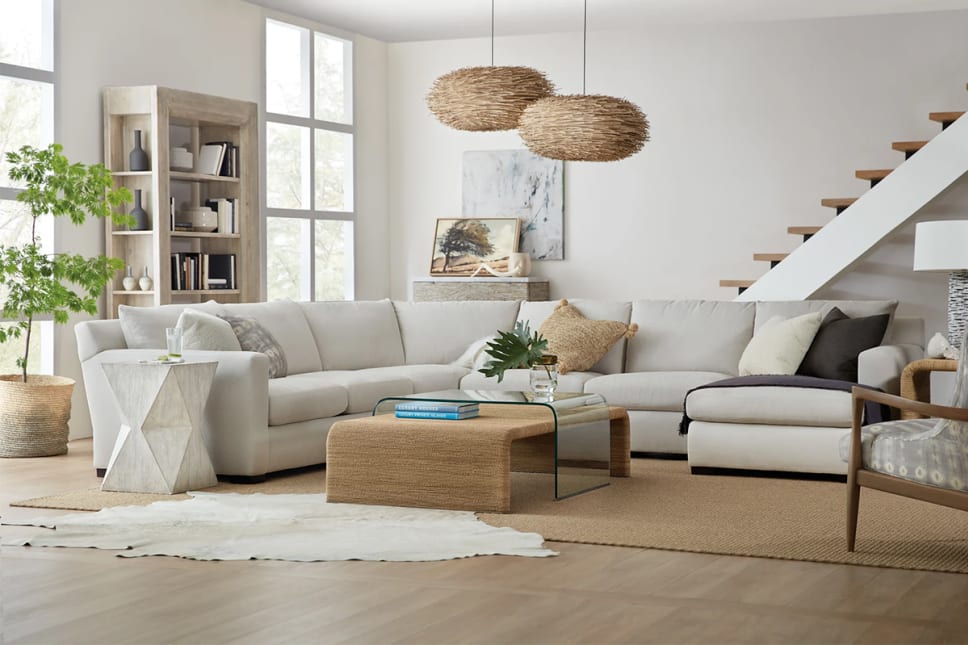 As a designer, Feng Shui is a term you've heard countless times. An ancient Chinese philosophy designed to help create harmony and balance in the home, Feng Shui has long been part of interior design, particularly from a client perspective.
Creating a Feng Shui home is not difficult, but it does require you to change the way you think about spaces just a little bit if you're coming at room design from a traditional western perspective. The good news is that most spaces don't need a redesign, they just need an update.
Use this guide to create a Feng Shui home your clients will love. Even if your clients aren't actively asking for Feng Shui principles to be used, knowing the basics can help you create a more harmonious, comfortable space naturally.
Clear the Clutter
Clutter can wreak havoc on any home and make even the most beautiful spaces feel disorganized and out of control. When designing a Feng Shui room, reducing clutter is an essential part of the job. This starts with removing items that simply don't belong in a given space. A good example is shoes left by the front door.
Be sure everything has a place by minimizing the number of items on display.
Another idea to declutter home spaces is to add shelving and finding a home for items that seemingly have no defined place. This makes the most sense in living rooms, family rooms, and shared spaces where books, media, kids, and pets co-mingle. Built-in shelving or freestanding shelves are ideal living room furniture pieces as well, and properly placed, they can add a lot to your design.
If you can't add furniture to a space for organizational purposes, utilizing storage baskets, bins, and boxes can make a dramatic difference. Ideally, the baskets, bins, and boxes you use should have a covered top or be tall enough that you can't see into them when placed on a shelf. Doing this helps create a Feng Shui home that promotes peace of mind and clarity through a lack of visible clutter.
Remove Emotional Clutter
Teaching your clients to declutter home spaces by getting rid of unnecessary furniture and finding a new home for essential items can be tricky. When it's time to talk about emotional clutter, the job gets even more difficult as a designer. Clearing emotional clutter is one of the guiding Feng Shui decorating principles, however.
Emphasize the good times by removing emotional clutter.
What defines emotional clutter? A healthy home should have happy momentos. Anything that reminds your clients of a negative experience or aspect of their life, however, is clutter. An example could be a painting or piece of art given to them by a former friend or spouse. This piece of art might look good on the wall, but if it stirs up negative feelings, it should be replaced, at least for the time being.
Having this conversation with clients can be difficult, but in the end, it can help you give them a space that looks and feels good.
Improve the Living Room
Living room spaces are particularly important in Feng Shui design because these are the rooms where people tend to gather. The guiding principle here is that how you use your furniture should be conducive to the flow of conversation and spending time with the people in your life.
Pay attention to the placement of the furniture to encourage movement in the room.
When possible, positioning the largest piece of living room furniture - often a sofa or sectional - so it faces the entry door is best. Additional seating should be placed facing the sofa to improve energy flow in a Feng Shui living room.
Allowing more light into the living room is also an important aspect of designing a Feng Shui room where people spend a lot of time. Draperies and sheer curtains hung on a double rod will give your clients maximum light control during the day and plenty of privacy at night.
Find a Better Position for the Bed
Choosing bedroom furniture that fits your client's aesthetic and matches the proportions of the space is an essential part of your job as a designer. When your goal is to create a Feng Shui room, how you position that furniture is just as important.
Don't forget to apply Feng Shui in the bedroom.
One of the basic Feng Shui rules is that the bed should be positioned away from the door, but with clear sightlines. The best way to do this in most spaces is to position the bed on the opposite wall of the room's entry door.
Whenever possible, place the bed so a straight line from the door takes you to the left or ride side of the bed, not the middle. This creates the best energy and provides a true Feng Shui bedroom.
Use Plants as Accessories
In a Feng Shui home, plants bring positive energy into every space. Live plants also help add a natural touch to your room design while helping to clean the air. Depending on the room, a range of plants can work to help you add a bit of greenery.
Add a little green energy with live plants.
In a large living room, consider a mixture of potted trees and larger items like box ferns. You can also mix in tabletop plants and stylish greenery like succulents on a piece of furniture like a coffee table or bar cart. Succulent walls are also particularly popular in modern spaces, and they can easily add a Feng Shui touch to a contemporary home.
Fresh flowers with a long lifespan can also be very useful to bring energy to your interior design scheme. While you can't stick around to refresh flowers, you can place accessories like vases in smart spots so your clients can update their greenery with the seasons.
Balance the Styles
While Feng Shui can seem like a difficult concept if you're accustomed to western design principles, the two aren't mutually exclusive. Making a few minor changes in the spaces you're working on can go a long way.
Feng Shui complements and can be used with any design style.
With Feng Shui principles in mind, you might also find that your design work creates a more inviting environment for your clients, even if you never actually say the phrase "Feng Shui" to them. As a good designer, it's your job to utilize all of the tools out there. Feng Shui is just another concept that can make your work better and your clients happier.