Learning Center
New Product Spotlight: Generation Lighting Rossie Family & More From Visual Comfort & Co Family of Brands
New Product Spotlight: Generation Lighting Rossie Family & More From Visual Comfort & Co Family of Brands
Get to know the organic modern designs by Tech Lighting, Generation Lighting, and Monte Carlo Fans.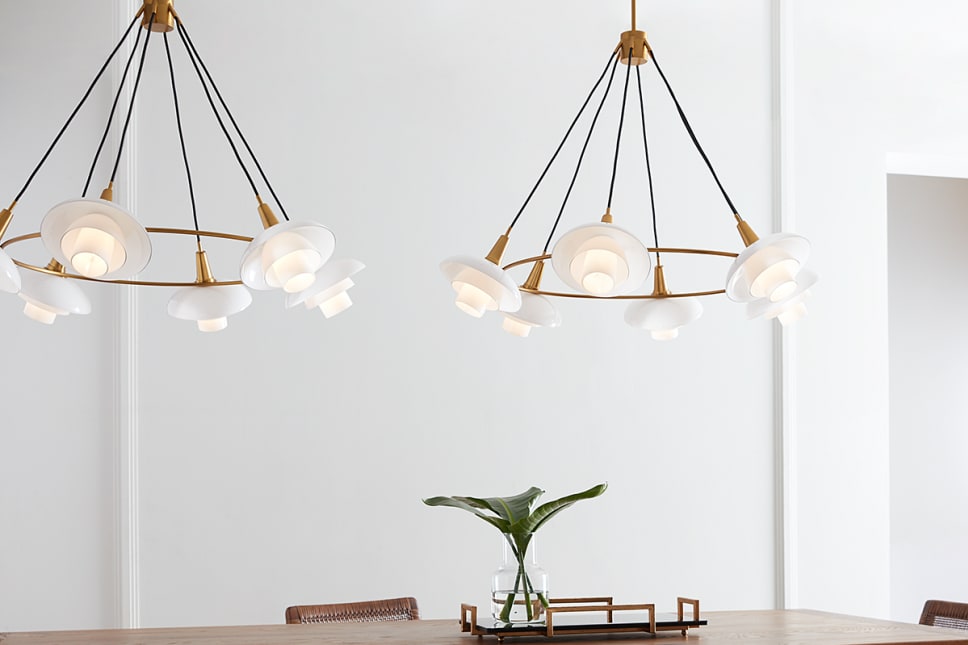 At the core of modern design is the use of bold style lines, rich textures, and captivating finishes to create eye-catching designs that will elevate your decor. The Rossie Family by ED Ellen DeGeneres for Generation Lighting perfectly encapsulates modern design in fixtures that will become a shining addition to your space. The fixtures showcased in the Rossie family are just the beginning. We've comprised a few of our favorite looks from Tech Lighting, Generation Lighting, and Monte Carlo Fans.
Bold linear and circular shapes combine to create striking lighting fixtures and ceiling fans that will be an anchor for the modern design of your room.
The Rossie Chandlier by Generation Lighting uses has a nesting- cup milk glass white shades extended from linear steel supports with a glamorous burnished brass finish.
The Aspen ceiling fan boasts linear blades that converge around a rounded base.
The Grace chandeliers utilize concentric circles extended from angular cables for support. The smaller ring houses a round of LED lights for a sleek, minimalistic aesthetic.
Nature-Inspired Designs 
There's timeless beauty in nature. Part of making your home feel harmonious with your surroundings is to choose items that highlight nature-inspired design.
The Belterra family of chandeliers by Tech Lighting boasts angular style lines that reach out from a center support in a design that is inspired by the layered blooms of the lotus flower. In this case, the modern shades represent the delicate petals.
The Rossie Chandelier also takes its cues from nature, boasting nesting cup shades that resemble the dimensional blooms of a flower in a sleek, simple, and modern way.
Organic Textures
Often, even the finest of design details can represent textures found in nature. As you look for modern lighting solutions for the many rooms in your home, take a moment to appreciate the different textures incorporated into the designs.
The Rossie Chandelier is a bit of a feast for the eyes, displaying a variety of textures. The sleek matte finish of burnished brass is paired with milk white glass shades.
The Aspen ceiling fan by Monte Carlo Fans complements the sleek look of the metal base with the natural beauty of dark wood fan blades showcasing organic grain details.
The Grace chandelier by Tech Lighting, featuring the concentric rings, relies on the beauty of wood grain to reinforce the organic influences of the simplistic design. That wood grain is one of the reasons it's the ideal complement to a dark wood dining table.
Premium On-Trend Finishes
Eye-catching metallic finishes and neutral accent colors combine to create this bold and modern aesthetic. These on-trend finishes blend in beautifully with your premium décor while delivering a timeless look that coordinates with virtually every color scheme.
Angular, mid-century inspired shades in your choice of a black or white finish and glamorous brass elements make the Signoret line of lighting products by Generation lighting a fashionable and functional way to illuminate any room.
The Belterra chandelier by Tech Lighting showcases white acrylic shades accented with your choice of a polished nickel, natural brass or matte black framework.
Monte Carlo displays classic white or dark wood tones on the Aspen fan blades, which is accented with flawless metallic finishes on all the supporting elements. With three different finish combinations available, it's easy to coordinate this fan to your décor.
At the end of the day, even the most modern of homes should be a welcoming and comforting retreat for you and for those that visit your home. By choosing lighting fixtures and ceiling fans with two-toned designs, simple style lines, and top-quality materials you'll create a bright, inviting space that will continue to be stylish for many years to come.  
The concentric circle design of the Grace chandelier draws you into the room it illuminates, encouraging you to take a seat in a living room or dining room.
The directional lighting offered by the Signoret chandelier shines a bright light on the space below, making it an instant focal point of the room, a place that everyone will gather to visit with one another.  
Part of having a comfortable space is ensuring the room is the right temperature. The Aspen ceiling fan delivers long blades whirl around to create a lovely breeze.