Our Latest Obsession: hansgrohe PowderRain
Indulge your senses with PowderRain from hansgrohe—a brand-new showering experience.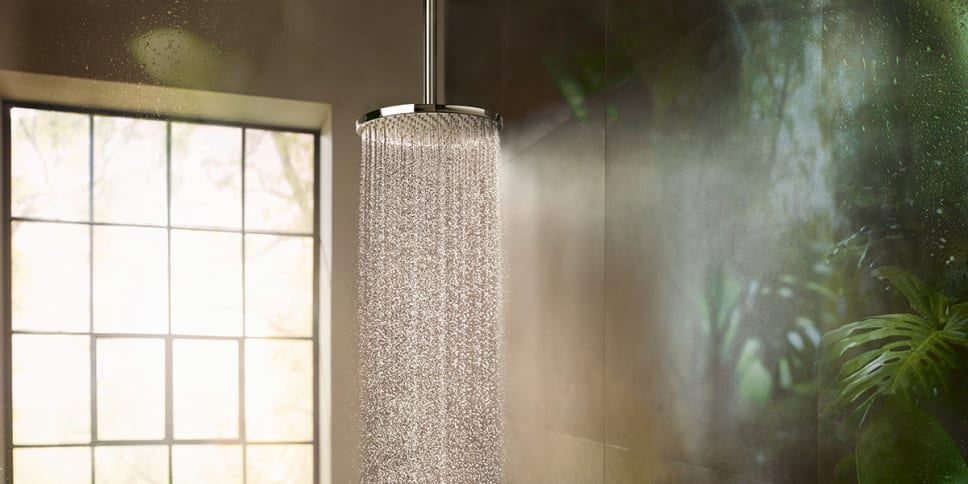 Who knew a shower could be so quiet, relaxing, refreshing, and innovative all at once? The bathroom specialists at Hansgrohe did. They've created a brand new shower experience they've dubbed "PowderRain." Its delicate droplets envelop you and create an adventure for the senses. It's safe to say that we are obsessed.
The name "PowderRain" says it all. The jets on the shower have several fine openings instead of one, which atomize the spray into micro-droplets and make the spray feel light as a feather on your skin. The water jets in all directions, wrapping your skin in a pleasant sensation.
With serenity in mind, the shower spray is as quiet and soothing as a delicate rain. The same technology which creates the powder feel also reduces shower noise to "whisper-quiet" levels. Feel free to relax and unwind as you are cocooned in the delicate spray.
Due to its delicate nature, the flow of PowderRain is so sophisticated that it hardly makes a splash. This reduces spray and droplets on your shower walls. It also means less limescale spots and easier cleaning, particularly in open showers.
PowderRain was created with warm and misty rain droplets in mind, which is the ideal shower temperature and pressure. Adjust the spray and temperature modes until you find your perfect setting...and we're confident you quickly will.
Products
You can enjoy PowderRain with minimal changes to your shower with these Raindance products, all available in chrome and brushed nickel.
Raindance Select S 120 3jet P 
The Raindance Select S 120 3jet P is a hand shower with three spray modes: PowderRain, Rain (full spray), and Whirl (massage spray). It is equipped with an easy-to-use button for toggling between spray modes and can be purchased with a flow rate of 1.8, 2.0, or 2.5 GPM. 
If you want the micro-spray to envelop your entire body, then let PowderRain shower you from above with either of the next two options.
The Raindance S 240 1jet P is a showerhead that provides a rainshower experience with a PowderRain feel. It measures over 9 inches in diameter and has a flow rate of 2.5 GPM. It is equipped with hansgrohe's Quickclean technology, which means that dirt and limescale deposits are easily removed by a swipe of the fingers, thanks to the high-quality silicone nozzles.
The Raindance S 180 1jet P is also a showerhead that provides a rainshower experience. The PowerRain feel is present with flow rates of either 1.8 or 2.0 GPM. It measures over 7 inches in diameter and is equipped with hansgrohe's Quickclean technology as well as EcoRight technology, which requires up to 60% less water.
Give Yourself A Shower Oasis
Hansgrohe bathroom specialists have developed technology that provides a soft, peaceful, and relaxing showering experience with PowderRain. We're obsessed and we can't wait for you to try it!