5 Tips for Choosing a Toilet
Everything You Need to Know About Choosing a New Toilet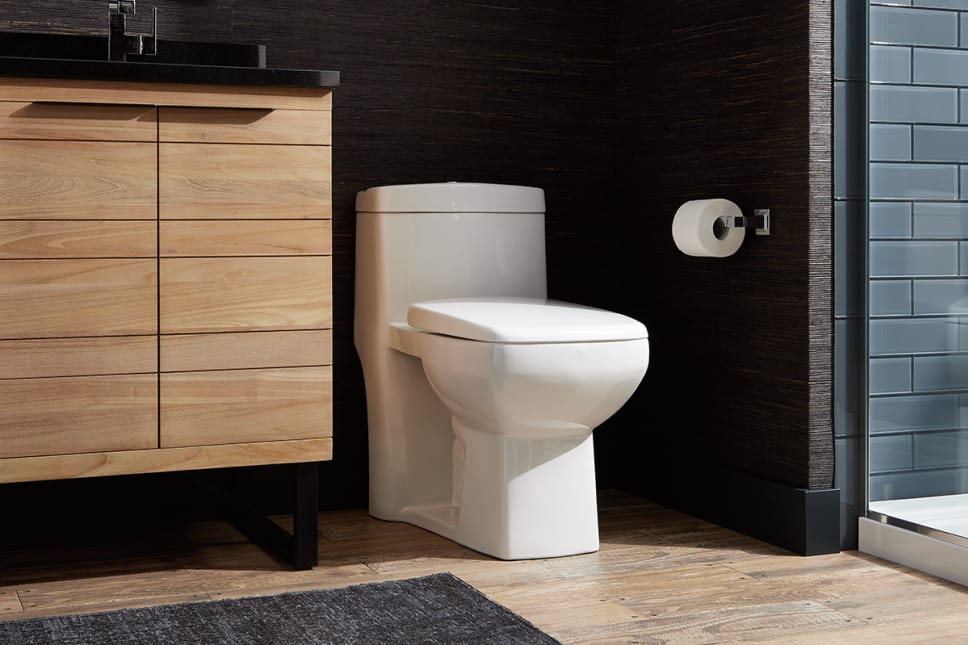 Choosing the right throne for your home can play a big role in daily comfort. Make the most of every bathroom in your home by getting the low-down on the different types of toilets available and tips for choosing the best one. Choosing a new toilet is an easy refresh for a downstairs powder room or a master bathroom. Not only are they affordable, but they're also easy to install, making them a great weekend project.
Tip 1 Check the Dimensions
Every bathroom is arranged differently, and it's important to know that the toilet you choose will be a proper fit for the space you have available. 
Measure the rough-in size: This is the distance from the wall behind the toilet to the center of the drainpipe or to the bolts that attach the toilet to your floor. For the best results, measure this while your old toilet is still in place. Typically, this measurement will be 12 inches, but it is possible for it to be 10 inches or 14 inches, as well. 
Use the measurements to choose a toilet: The key is to make sure the toilet you select is the same size or smaller at the base than the old toilet. This will ensure a smooth and simple installation process.
Tip 2 Consider Types of Toilets 
One-piece toilets feature a bowl and tank in one seamless unit. Generally, they are easier to clean and can provide an incredibly sleek look.
Most toilets showcase a two-piece design with a tank that is bolted to the bowl of the toilet. Two-piece toilets tend to be a more cost-effective option than one-piece toilets, but they can also be more difficult to clean.
Whether you're big and tall or simply want a toilet with a little more real estate, elongated toilets can be a comfortable choice. These toilets feature an extra-long bowl and seat for comfort. Generally, these designs are two inches longer than a standard toilet bowl, so make sure you have enough room around the toilet for the additional size. 
Round toilets are really referring to the shape of the bowl and the seat. These bowls tend to be a little shorter and wider, providing a contemporary or even vintage-inspired look depending on the model you select. They are also a space-saving choice for small bathroom designs.
When sleek and modern is the name of the game, wall-hung toilets make a phenomenal choice. These toilets don't mount to the floor like a standard toilet. Instead, they are attached to the wall itself, leaving the space below free and clear. Not only does this make it much easier to keep the floors mopped and clean, but it can also be a space-saving solution in a smaller bathroom. Because the plumbing is installed differently for these toilets, it's ideal to choose this option during the initial building of the space or during an extensive renovation. 
Bidet Toilets & Bidet Seats
Enjoy that fresh feeling before every flush when you choose bidet toilets. You can select a toilet that already has a bidet incorporated into the design or refresh an existing toilet in the home by trading out the existing seat for a bidet toilet seat. There are even bidet attachments you can add to your existing toilet seat. Toilets with bidet seats can offer a range of features, including a cleansing spray, warm air dry, and more. 
Tip 3 Check Out Toilet Features 
No matter which type of toilet you choose, your new toilet is bound to offer additional features. Within each category, look for things that can help set one design apart from the rest, such as:
Most toilets feature a standard bowl height of 14 to 15 inches above the floor. If you're on the taller side, you can get a taller bowl height of 17 to 19 inches. Choosing a taller toilet bowl height is especially common for a master bathroom design or for a powder room that many guests will use.
WaterSense Certifications
Toilets that are WaterSense certified use 1.6 gallons of water per flush or less. This certification is awarded by the Department of Energy for water efficiency. These standards are especially important in California, a state that requires toilets to use 1.28 gallons of water or less per flush. Toilets with this EPA certification will help to lower your water consumption as a household, as well as your water bill.
You'll never have to hear the slam of the toilet seat again when you trade out your existing toilet seat for a soft-close toilet seat. Plus, they'll protect little fingers from getting slammed in between the seat and the bowl.
Antimicrobial Coatings 
All surfaces in the home are a breeding ground for bacteria, but choosing an antimicrobial coated toilet seat is a great solution in the bathroom. Not only does it provide the toilet with a smoother finish overall, but it is also a great way to help keep your bathroom clean between scrubbings.
Make your everyday bathroom experience a little cozier by opting for a toilet featuring heated seats. These low-voltage warmers utilize controls that allow you to adjust the temperature of the toilet seat at different times of the year.
Tip 4 Consider Different Types of Flush Systems
The look of the toilet isn't the only important factor; how the toilet flushes is an important consideration, as well. There are a few different flush options featured throughout the extensive toilet collection, including:
Pressure-Assist Toilet 
Most popular in commercial bathrooms, pressure assist toilets use added pressure to help ensure a powerful flush and minimize the occurrence of clogs. Pressure assist toilets also keep the toilet bowl cleaner with every flush. 
Dual Flush Toilets 
Control just how much or how little water you use to flush your toilet by choosing one with a dual flush toilet. One button provides a low-flow half flush for fluid waste, while the other provides a higher-flow flush for solid waste. Choosing dual flush toilets for your bathroom could save you as much as 67% of your water usage annually, but they do often cost a little bit more upfront. 
Gravity Flush System 
The vast majority of toilets feature a gravity flow system. With this type of flush, the weight of the water helps to generate the flush. They are less expensive upfront and cost less to repair down the road. 
Low-Flow Toilets 
Conserving water is a top priority in many homes because it helps to lower environmental impact, as well as your utility bill. Low-flow toilets use as little water as possible for each flush, which can be as low as 0.8 gallons per flush. These savings really add up over time, especially in a home with a lot of people. 
Siphon Jet Toilets 
This flush style utilizes additional water jets to push water into the trapway and water pressure to pull water out of the bowl. The results are fewer clogs and leaks. 
Tip 5 Gather the Products for Proper Installation
Once you've selected the new toilet you'll feature in your bathroom; it's time to rip out the old one and replace it with the latest model. Fortunately, installing a toilet is rather easy when you have the proper supplies on hand to complete the job. Some of the supplies may come with your toilet, so always be sure to check and see what's included with your new purchase. As you shop, make sure that you have all these essentials: 
Whether you're replacing an old toilet or completely remodeling a bathroom in the home, choosing new toilets is a great way to give a bathroom a clean, modern look while making the whole space more water-efficient. Once you've selected the toilet you'll feature, consider adding over the toilet storage to the bathroom, and fresh bathroom hardware and accessories, such as new toilet paper holders.