How to Hire a Plumber (8 Questions to Ask)
Ask the right questions the first time and protect your home.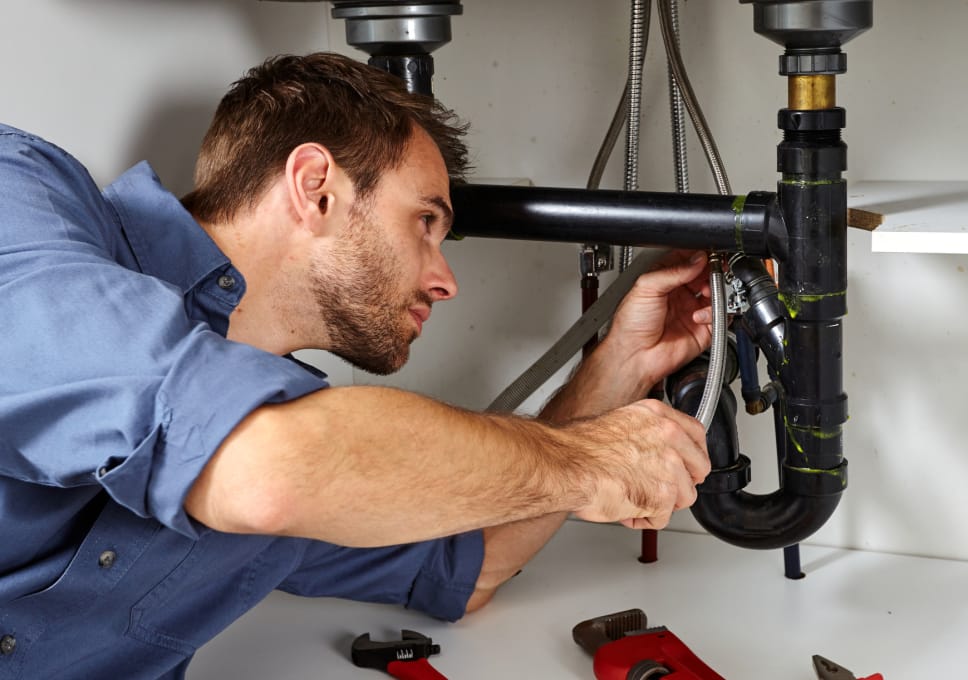 Plumbing emergencies are not pleasant experiences. When an issue arises, you need it solved fast and you want it solved right. If you require the services of a professional plumber, you'll want to make sure you get someone who's reputable, dependable, and prompt. Too often, homeowners get overcharged for lackluster service from inexperienced plumbers. When hiring a plumber, you should ask the following questions to before you receive an honest, lasting solution to your plumbing problems.
1. What's the Problem?
Before picking up the phone, first assess the plumbing issue. Is it a leaky dishwasher or a backed up drain? A burst pipe? Sewage odor? The more information you can provide, the more likely it is you will receive an accurate quote over the phone. Plus, it will take less time for the plumber to diagnose your problem and can get right to work. With advance notice of what the job might require, they may even bring the necessary parts and tools rather than risk making multiple trips back to the shop or additional appointments.
With larger systemic issues, do some investigating on your own. Take stock of all the visible problems and potential sources. The less time your plumber spends searching your home for issues, the less you'll spend in service fees. It will also give you an idea of how much work needs done and what areas of the house you'll need to make accessible to the technician.
2. Is a Plumber Necessary?
Depending on the severity of the problem, you may be able to handle it without professional assistance. Clogged drains and leaky pipes can often be resolved with a few simple tools, such as a plunger, pipe "snake", or a wrench. If you're having issues with an appliance, you can consult the owner's manual or contact the manufacturer directly to troubleshoot.
Though you may be surprised how much you can accomplish on your own, don't overestimate your abilities. Most jobs need professional expertise and serious tools. When it comes to addressing plumbing concerns, know your limits.
3. Is the Plumber Licensed?
Recommendations from family and friends are always a good way to find a plumber, but that's just the start. One of the most helpful, critical pieces of information you need to know is whether your plumber is licensed. Never allow an unlicensed plumber to do work in your home. Though he or she may know how to fix the problem, there is no protection should something go wrong.
Licensed plumbers are registered with the state or county and must remain in compliance with local building and safety codes. They are accountable for the work they do and must adhere to certain standards. Additionally, they know the home inspection requirements in your area, ensuring your plumbing is up to code.
4. Who Is the Plumber?
When you're working with a company that employs multiple plumbers, chances are the person you speak with on the phone is not the one doing the work. If that's the case, be sure to ask the name of the person coming to your home. When they arrive, follow up by asking the plumber to verify their identity and provide their licensing information. It should match up with what you were told by the company over the phone, and if it doesn't, find out why before letting them investigate your home.
Don't hesitate to ask for credentials, experience, and licenses. This information should be readily available from a reputable plumbing company. If they can't provide it, then you should consider taking your business elsewhere.
5. What Are the Hourly or Flat Rates?
The first step in receiving an accurate quote is to learn your plumber's service rate. Rates are either hourly or flat, depending on the service or the company's policy. Flat rates are easier to determine and pose less risk to the customer. Since the plumber doesn't charge for labor, you pay the same amount regardless of the time it takes to complete.
Hourly rates, on the other hand, can be a little trickier. You'll receive a fixed price for parts, but if the job takes longer than expected, you pay more than initially estimated. It's important to know how you're being charged before work begins. Otherwise, you'll may face some unexpected, unwanted surprises on your invoice.
6. How Much Will It Cost in Total?
Beyond the service rate, there may still be other charges and fees not included in your estimate. When you receive your quote, either over the phone or after an in-home consultation, be sure to ask if the quote includes parts, taxes, and allows for any additional issues that may come up. Ideally, your estimate should be conservative with the final total being less than the initial number, barring unforeseen expenses. As with any contract agreement, be sure to receive a detailed estimate in writing before starting work.
7. When Is Payment Required?
Equally important as how much you pay is when you pay. If your plumber insists on payment in full upon arrival, send him packing. At the very least, payment should not be required until work is complete. Many plumbing companies will also bill you for their work, giving you time before full remittance is required. Typically, a deposit is made after the first service visit and the rest is paid in a specified amount of time. Not all plumbing companies use the same system; be sure to check your plumber's billing practices beforehand.
8. Are Warranties Available?
Finally, ask your plumber about any warranties offered. Should something break or the problems reoccur, you need to know whether you're covered. Most companies offer some sort of warranty on their labor and materials, but terms vary. Be sure to receive any warranties in writing before signing the contract. Otherwise, if something does go wrong, you may be stuck with the bill.
Again, be wary of offers that seem too good to be true (because they often are), as well as companies that promise no guarantees. At the end of the day, you want to find a company with confidence in their services before allowing anyone to work on your home.
How to Avoid Plumbing Costs
The simplest way to avoid excess plumbing expenses is to limit the amount of work that needs to be done. Consolidate your issues into one project. For instance, a regularly clogged drain is indicative of a deeper, more systemic problem. Oftentimes fixing little problems as they arise is more costly than to tackle them all at once. Additionally, regular inspection and maintenance can reduce the likelihood of major problems.
When the next plumbing problem arises in your home, don't panic. Although finding a reliable and reputable plumber is not always the easiest task, it's manageable with a few simple questions. Once you've ruled out the bad seeds, you can feel better that you're receiving trustworthy and experienced plumbing expertise at a fair price.