How to Install Recessed Lighting
Learn how to install recessed lighting in any room of the home when you start with the right plan.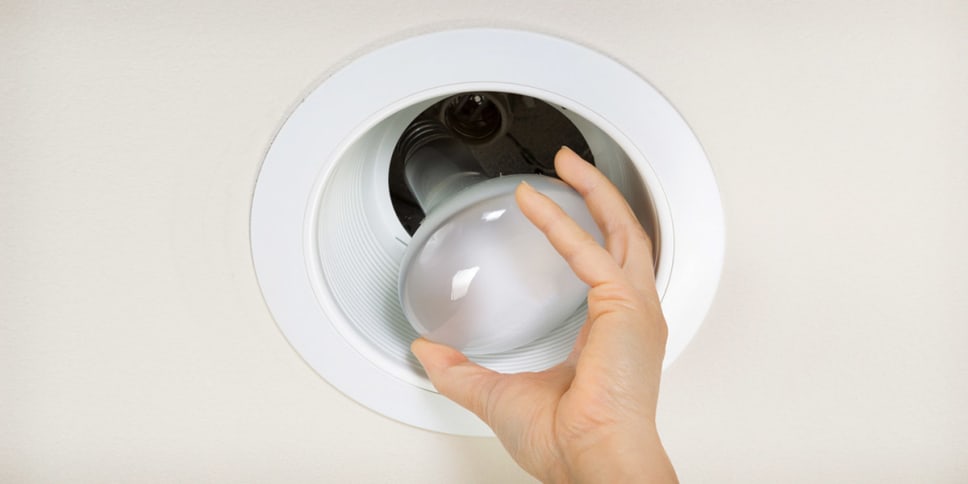 Keeping your home bright and inviting while creating a modern, streamlined look is easy when you rely on recessed lighting. These sleek and minimal ceiling fixtures cast light directly down on the space below while staying virtually flush with the ceiling, so as not to detract from the other lighting fixtures in the space. They can be used in any room of the home, including the kitchen, living room, hallways, bedrooms, and more. Learn how to install recessed lighting where other fixtures already exist and how to plan for new recessed lighting fixtures with a licensed electrician. 
What is Recessed Lighting?
Because the housing for the fixture resembles the shape of a metal can with a bulb contained within, recessed lighting is often referred to as can lights. The housing for these kits recesses up into the ceiling so they remain flush with the ceiling instead of extending into the room like other fixtures. This makes them a fantastic choice for homes with low ceilings.
DIY Installation or Hire the Professionals?
Once you know where you want to install modern recessed lighting in your home, it's time to determine whether you're going to take this on as a DIY project or bring in a professional electrician to complete the job. 
If you already have existing lighting in place, such as a pendant light or ceiling fan, switching it out for a recessed light is a relatively easy task for you to take on yourself because the wiring is already installed. The electrical wiring is often the hardest part to master without experience, because circuitry features are unique to every home.  
Bring in the Professionals 
If there aren't current light fixtures installed in the locations you want to add recessed lighting, it really should be a job left for the professionals. Go ahead and create your desired lighting plan and then share that plan with a licensed electrician that can install the new circuits properly for your recessed lighting. 
Before you can install your new recessed light fixtures, you first need to plan out where exactly they will go. Consider the current lighting needs of the home and where recessed lights would be the most beneficial. 
Layout and Room Size Considerations
Consider how you use the space and where you want to add lighting. You can arrange recessed lighting down the length of a hallway, create a grid pattern above a kitchen or living room, or feature a single recessed light over a shower or toilet.  
Once you have a general idea of where you need recessed lighting, start laying out a sketch of the room, making sure the lights are arranged in a linear, centered, or grid pattern. If you have a plain ceiling, you'll have total freedom to create the lighting layout you want. If you have beams or a coiffured ceiling, you may be limited to placing lights within the recessed areas. 
Completing a lighting plan before shopping and installing recessed lighting is essential to the success of the project because it ensure you purchase the right supplies and end up with professional-quality finished results. 
Electrical Code Compliance Considerations
Every location has separate lighting codes and often, any major alterations to residential or commercial lighting systems require a permit. Make sure to check for any electrical codes in your area and to ensure all proper procedures take place with acquiring lighting permits and getting lighting inspections after installation.  
How to Install Recessed Lighting Kits with Existing Wiring
Now that you understand what recessed lighting is, it's time to learn how to install recessed lighting in your home. We'll break down the materials and tools you need, as well as the individual steps for installation. This is an advanced electrical project, so don't hesitate to call in the professionals or ask for help from an experienced electrician. 
Required Materials
Recessed light housings 
Recessed light trim 
Wire connectors 
Light bulbs 
Required Tools
Hole saw or drywall saw 
Screwdrivers 
Wire ripper 
Wire stripper 
Electrical tape 
Tape measure 
Ladder 
Stud finder 
Side-cutting pliers 
Voltage tester 
Face mask 
Safety goggles 
1. Turn Off the Power to the Room 
Every electrical project always begins by cutting off the power to the area where you'll be working. Find the breaker box to your home and turn off power to the room you'll be working in. The rooms should be labeled within your breaker box and you can toggle the switch to the side to cut off power.  
2. Remove Standard Electrical Ceiling Boxes
If you're placing recessed lighting where a pendant or other fixture was prior, you will need to remove the standard electrical ceiling box before beginning your recessed light installation process. 
If the previously installed housing was a different size than your new recessed light, you'll want to mark where your new fixture will be and use the template that comes with your light kit to mark where you'll need to make your cuts. 
Before you make any cuts, use a stud finder to make sure you're not cutting into any joists. Damaging a support or joist may result in a complete redesign of your lighting layout.  
Using the hole saw with a dust attachment, cut the holes for the recessed lighting housing. If you don't have an attachment for the hole saw, you can use a vacuum to clean up the dust and debris.  
4. Connect Wires to the Recessed Light 
Using a wire ripper, remove the last four inches of cable sheathing to each wire, making sure to remove the wire coating for these four inches, as well.  
Following the manufacturer instructions for your specific recessed light, pull the wire into the recessed lights' junction box and make all the proper connections. The wires should be labeled by color to make matching your connections easier. Depending on the style of your light, there may be push-fit connectors included for installation. 
5. Install the Recessed Light Housing
With all the wires properly connected, you can push the recessed light housing up into the ceiling hole. This housing should have a snug fit but not damage the surrounding ceiling itself. Follow the included instructions to attach the housing to the ceiling drywall using the clip system included with the light. 
6. Attach Recessed Light Trim
The trim pieces are those finishing details that help give your recessed light a finished transition between housing and ceiling. Put all the final light trim elements in place according to the manufacturer instructions to complete the installation. 
Your recessed light kit will indicate what types of bulbs are designed to fit within the fixture. Make sure to choose the right size and style of bulb for the fixture you've installed. Screw the bulb into place. 
8. Restore Power to Your Fixture
Once the installation is complete, go to your breaker box and restore power to the room you've been working on. Test the recessed lights to make sure they are working properly. If any adjustments are needed, make sure to turn the power back off before working with the fixture. 
Final Tips & Considerations
Now that you know how to install recessed lights where you had existing fixtures, it's time to take a couple final factors into consideration. 
As you are shopping for the recessed light kits you'll use to brighten your space, consider the style of the light and the type of bulb the kit utilizes. Recessed lights can be high and out of the way, which can make bulb changes a bit of a hassle if you have high ceilings. Choosing to install recessed LED lights will help you to minimize energy consumption and the frequency with which you have to change light bulbs. 
As with any lighting fixture, the housing and trim colors can vary from one design to another. As you shop for modern recessed lighting for your home, keep in mind the precise color of your ceiling. If you want the lighting fixtures to blend in with the ceiling, choose recessed lighting housings and trims that are a match to your ceiling. If you want them to stand out, choose a contrasting finish for your recessed light fixtures. 
Often, recessed lights are featured in rows. After you complete your lighting plan, make sure to account for how many recessed lights you're going to need to complete the design and make sure to have all of them on hand before your licensed electrician arrives in order to streamline the process as much as possible. 
Utilizing Instant Pendants
If you already have recessed lighting in place but want to change up the look, try utilizing instant pendants. These stylish pendant lights feature a unique design that makes installing them as easy as screwing in a light bulb.  
With instant pendants, the light bulb-inspired base screws into your existing recessed lighting housing, which is then covered with a base plate that makes these pendants look just like any other pendant lighting feature. There's no need to worry about rewiring anything and if you ever want to go back to recessed lighting, the pendants are just as easy to remove as they were to install. This ease of use makes them a fantastic option in rental properties, where you may not be able to make more involved lighting changes.