Build.com for Pros: Interior Design Tips - Trends vs. Fads
Time for Interior Design 101: Help your clients navigate trends vs fads with these interior design tips and basics.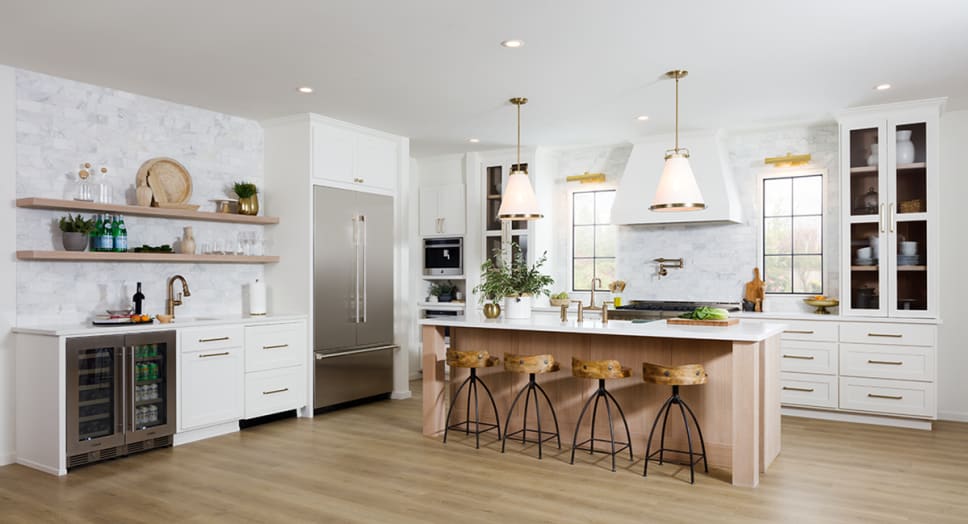 When designing the interior of any home, select a style that will stay on-trend for the long haul. Whether you're redesigning a single room or building a new home from scratch, it's important to have your finger on the pulse of current trends without mixing in fads that will look tired in a year or less. Give your clients a home that will look as though it was newly built for years to come with these interior design tips.
Trends vs. Fads
Fads come and go in what seems to be an instant, but interior design trends are slower shifts towards a new, timeless look. This doesn't mean that fads can't be fun, but they should be reserved for small accessories that can be changed out easily and inexpensively. Stick to the tried and true interior design trends when it comes to selecting the more lasting and expensive items in the home.
Interior Design Tips
With any home, there are some interior design do's and don'ts that help yield professional-quality results. We'll introduce some of the interior design basics as well as introduce you to some of the more modern interior design trends that are here to stay.
Feature Smart Home Technology
Every room can benefit from the convenience of Smart Home controls.
With all the advancements in technology, there's a lasting trend toward making homes as connected and energy efficient as possible. Today, homeowners can see who's at the door, set thermostats according to their schedules, turn on and off lamps, start appliances, and more from the convenience of their cell phone or tablet. As you start filling the home with the essentials, incorporate Smart Home products wherever possible.
Wi-Fi vs. Bluetooth 
As you select the smart home items for the home, consider that some operate via Wi-Fi while others use Bluetooth. Wi-Fi is often preferable because it makes it possible for the homeowner to control them via the home's internet connection, even when they are away from the home. Bluetooth is an option for some items, and requires that the smart device be within a certain distance of the controls as an added security benefit. 
Flooring Trends Here to Stay
Match the type of floor to the finished look of the room, from the kitchen to the bath.
Today's floors are designed to hold up to the activity of daily life better than ever before. 
Hardwood floors will always be a classic, but there's a trend toward top-quality man-made materials as well. Ceramic tile now comes in a wider range of sizes and style options, including ceramic tile designed to look like hardwood. Luxury vinyl flooring is making its mark in interior design because it is often commercial-grade and entirely waterproof.
Both ceramic and luxury vinyl tile can be run from the front door straight through every room of the home, including kitchens and bathrooms. Cork and bamboo flooring have become more popular because of their sustainability, especially in eco-friendly builds.
Contemporary Trends in Home Lighting
Look for opportunities to layer the lighting in the room to maximize comfort and efficiency.
Adding layers of lighting to a room is interior design 101. Overhead lighting, such as ceiling fans and chandeliers, help to provide ample light to a space while task lighting directs extra brightness where it is needed most. Wall sconces, table lamps, and floor lamps provide a softer look for added ambiance and style.
One of our favorite interior design tips is to make sure the same lighting style is used throughout the home to help the space look cohesive, whether bathroom lighting over the vanity or a wall sconce in the hall.
Interior lighting trends have shifted towards simpler designs, with Mid-Century, Industrial, and contemporary fixtures with bold style lines and classic metal finishes having a major moment. Because these are rooted in historical interior design, they'll always have a place in the interior design world.
Stylish Trends in Hardware
Bathroom, kitchen, and door hardware can act as the jewelry for the space. Not only is it necessary for the daily function of these spaces, but it's often a featured item of the design as well.
One of our key interior design tips is to select a style of hardware and keep the style and finish consistent through every room. There's a definite trend toward using hardware with a combination of contemporary style lines and modern features. Make sure to match the finish of the faucet to the finish of the cabinet hardware, shower head, etc.
For the finishing touch, add the right furniture and decor to fit the home's style.
Once all the basics are installed in the home, fill up each room with furniture and home decor. This can be a tricky area because some items are going to change out annually while others need to hold up to years of use. It's the one part of design where trends vs. fads are going to be very important.
Timeless Furniture 
When it comes to the larger furniture items, such as sofas, sectionals, and bedroom suites, it's imperative to choose a quality piece in a neutral finish or upholstery that will stay fashionable for many years to come. Stick with timeless trends in interior design for these key pieces and they're likely to become heirloom pieces that can be passed down to future generations.
Home Decor Fads
Consider the impact of trends vs fads and, when you do want to have a little more fun with fads that are going to come and go, insert them in the form of toss pillows, throw blankets, and home decor accents that are easy and inexpensive to change out when the fads change.
When you utilize the fundamentals of interior design and take advantage of our interior design tips, you're sure to create a timeless design your clients will appreciate for many years to come. No matter which overall design style you select, the key is keeping the look consistent throughout the home. This is especially important in open floor plans where the eye can see multiple rooms from one vantage point.