Kitchen Remodeling Guide
Follow this step-by-step guide to planning your project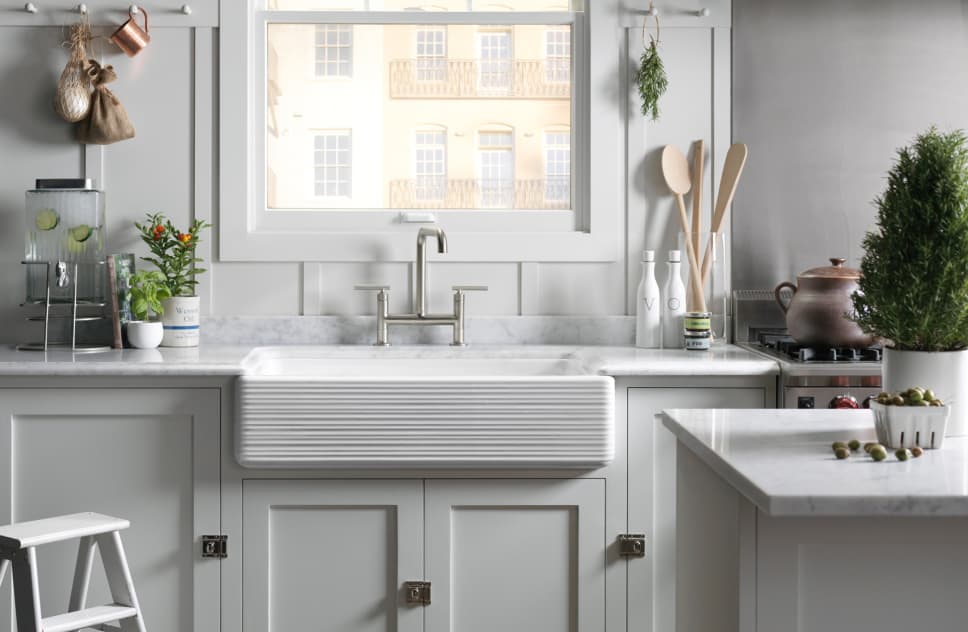 Kitchen remodels can be a major investment of time and money, but done properly, they'll create a space that looks great and functions well for years to come. Whether you plan to do some, all, or none of the work yourself, understanding what steps are involved, and in which order to take them, will help the process go more smoothly.
Step 1: Get Inspired
This is the sky's-the-limit phase. Now is the time to consider decorating styles and dream about which fixtures and materials you'd choose if money were no object. Page through decorating magazines and the Build.com catalog, watch home improvement programs, and surf the internet for inspiration, then organize your ideas visually. Create a mood board by collecting photos cut from magazines or printed out from websites, as well as paint chips and fabric swatches, then attach them to a large piece of cardboard or foam-core board. Virtual mood boards can be created using Pinterest or by creating online favorites lists.
Step 2: Set a Budget
Using your inspiration boards as a starting point, establish your budget to determine which materials and products are realistic, and where compromises will have to be made. Estimate what labor and material costs will be, then add a 10% cushion for contingencies. Unforeseen expenses often crop up after a project is underway.
Step 3: Find a Contractor
With your wish list and budget in hand, decide how much of the work you're willing and able to do yourself, then find a qualified professional to take care of the rest. Ask friends and neighbors for referrals and get at least three bids for the project. Before you choose a contractor, take time to check references, review before/after photos from previous jobs, and make sure the contractor has the proper licenses. Verify that your contractor will secure all necessary permits and get a written estimate before you sign the contract.
Step 4: Purchase Products and Materials
Have all of your flooring, cabinetry, lighting, sinks, faucets, and appliances ordered before demolition begins. Work with your contractor to ensure that the products you choose will work in the space and that the right plumbing and electrical connections are in place. Your contractor can also help you with the project timeline so you can schedule deliveries in the correct order. Build.com project experts can help you choose products based on your contractor's recommendations and set up a delivery schedule so things arrive when you need them.
Step 5: Demolition
Demolition is a messy, time-consuming and potentially dangerous job. Without the proper knowhow, it's easy to cause damage to walls, floors, plumbing, and electrical connections. Exposed nails, splintered wood, and falling objects are all potential risks for injury. Done correctly, DIY demolition can save money, but if you have any doubts, leave this work to the pros.
Step 6: Replace or Repair Subfloor
For a flawless finished project, your flooring needs a sound, smooth, dry, and level surface to rest on. An irregular surface can affect the look of hardwood and cause tiles to crack. After demolition, inspect the existing subfloor for soft spots, dampness, pits and cracks. Replace spongy or deteriorated sections, patch small cracks, and check for level. Address any dampness by making sure it isn't caused by leaks, then install a moisture barrier where needed. Your contractor will be able to advise you which materials are best for the flooring you're installing. This is also a good time to address any floor squeaks. The fix can be as simple as adding another screw or two to secure the subfloor to the floor joists below.
Step 7: Frame Any New Walls
If your new design calls for new walls to be erected, now is the time to frame them in.
Step 8: Update and Move Utilities
Demoing your kitchen down to the studs provides the perfect opportunity to move plumbing or add electrical outlets. Easy access will also make it convenient for your plumbing or electrical contractor to update outdated pipes and wiring. Make sure to have your plumber run water supply lines for ice makers, built-in coffee makers, and pot fillers.
Step 9: Install, Prime, and Paint Drywall & Ceiling
Priming and painting the walls and ceiling before cabinets and flooring go in makes the job go quickly and eliminates the worry of paint drips on expensive finishes. Consider a high-quality paint-and-primer in one to save work. Any dings or scratches that occur during installation can easily be touched up later.
If, however, you are going with wallpaper or wallcoverings, many professionals will advise you to wait until after your cabinets are installed. This is because wallpaper cannot be touched up as easily as paint if it should get damaged in the process of cabinet installation.
Steps 10 & 11 Floors or Cabinets First?
There are two schools of thought on whether flooring or cabinets should be installed first. The right answer will depend upon your budget, what type of floors will be installed, and how much flexibility you want for future remodels.
Those in the "cabinets first" camp point out that if cabinets are placed on top of flooring, it can be difficult to cut back the floor if you want to change it in the future. They also note that if the flooring is laid first, the cabinets cover up much of material, so you'd be paying for expensive flooring that will never be seen. However, installing the flooring after cabinets have been set in place will become an issue if you ever change the layout of your kitchen. Repositioning cabinets in the future will mean either finding material that matches your existing flooring to fill in the gaps, or replacing the flooring throughout the entire space.
Many home improvement professionals recommend laying tile or hardwood before setting the cabinets in place, with one exception: floating wood floors. Because this type of flooring is not nailed or glued down, it expands and contracts when the temperature or humidity fluctuate. It needs a little wiggle room, so this type of flooring should be installed after the cabinets are in.
Step 12: Install the Countertops, Sink, Faucet, and Cabinet Hardware
You're in the home stretch! Once the countertops, sink, and faucet are in, your construction zone will start to look like a kitchen again. Installing the cabinet hardware will add the finishing touch.
Step 13: Touch Up Paint
If any damage occurred while installing cabinets, countertops, or flooring, this is the time to patch drywall and touch up the paint.
Step 15: Light Fixtures, Accessories, and Decor
With the cabinets, flooring, and appliances in place, you - or your electrician - will be able to make quick work of installing the light fixtures. Then, all that's left is to hang pot racks, wall art, decorative accessories, and all the other things that will make your new kitchen look great and function perfectly.