Luxury Vinyl Flooring Buying Guide
Luxury vinyl flooring lives up to the name with comfortable, textured planks that capture the look of wood and stone.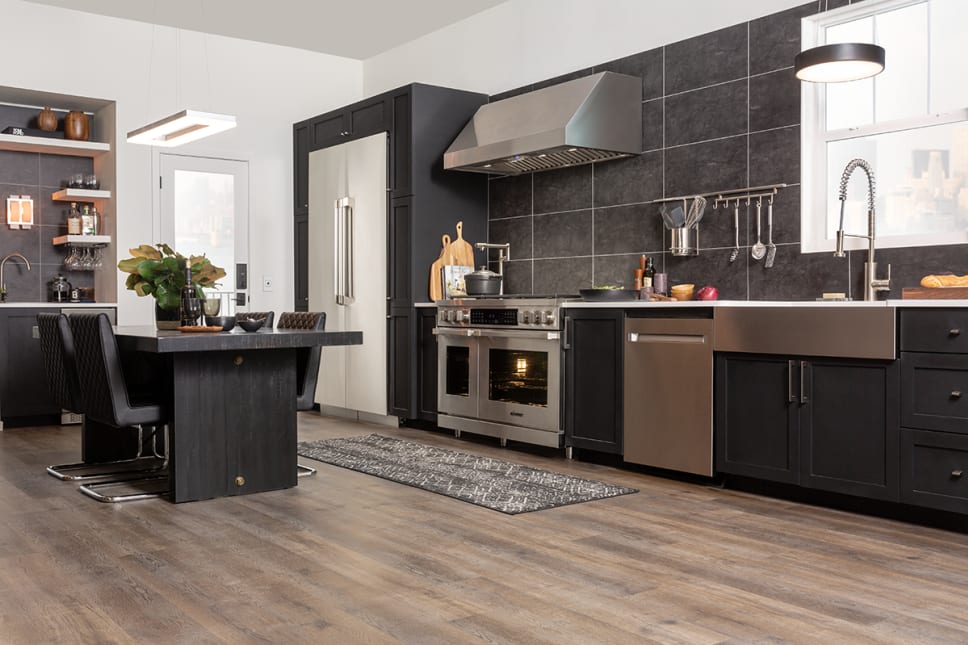 What Is Luxury Vinyl Flooring?
Vinyl flooring has always been perfect for creating a new look or protecting an older floor against the abuse of household traffic. Now there's a wider selection with the addition of luxury vinyl plank and tile vinyl flooring.
Individual tiles and planks allow for easier installation methods, such as "click-lock" or interlocking planks and groutable tile. The designs look like natural stone, hardwood, and ceramic tiles, and they are solid enough that they feel like "the real thing" with some extra padding to cushion your steps. 
Luxury vinyl plank or tile can be used over a cement slab floor, over tile, or even mounted on a wall for a unique accent rather than painted color. Lifeproof rigid core luxury vinyl flooring is a mainstay alternative for the DIY home makeover because of the easy installation, comfortable and durable surface, and the simple maintenance.
Not All Vinyl Flooring Is the Same
There are multiple types of vinyl flooring to choose from, with variety in the color, size, shape, and how they're installed. With so many different options, if you're planning on a do-it-yourself project you can do in a single weekend that will look great for years to come, make sure you find the right flooring.
Luxury Vinyl Plank – Also called LVP, luxury vinyl plank is a durable, pliable, water-resistant or even waterproof option. It can be found in a variety of high-definition patterns, including wood-look vinyl and stone-look vinyl planks. Some offer a cork layer for additional padding and warmth, with multiple installation choices. LVP flooring options can be glued down to an existing floor, or there are selections that are click-together or peel-and-stick to make installation easy.
Engineered Vinyl Plank - Known as EVP, engineered vinyl planks look like hardwood floor, with a longer, narrow shape in varying widths. Mix and match lengths, widths, colors, and patterns to create the look of a natural hardwood floor, with the advantage of rigid core durability, water resistance, and easy cleaning.
Engineered Vinyl Tile - With squared sides and patterned to look like stone, marble, wood, or ceramic tile, engineered vinyl tile (or EVT) can be arranged edge to edge for a seamless look, or installed with grout to give the look and feel of tile.
Sheet Vinyl - The classic vinyl, good for covering large floor spaces without the hassle of setting individual pieces or repeating patterns. This type of flooring provides a ready-to-go design, regardless of corners and walls. It is very sensitive to the condition of the floor under the sheeting, so it is best on level, smooth floor bases.
Benefits of Vinyl Flooring
Versatile luxury vinyl flooring can provide a permanent or a temporary design update, for any room of the house. Interlocking pieces can be floated across the floor rather than glued and they will stay solidly locked into place until pieces are removed or damaged. Luxury vinyl planks can be installed on a new floor, a cleared floor pad, or over clean and solid existing floors - wood, tile, or stone - as an update. Some LVP can even be used as wallcovering to create durable, decorative accent walls.
Luxury vinyl planks, or LVP, are built in layers, similar to hardwood laminate flooring planks, with a protective finish over multiple layers of pressed vinyl, sealed into a hardboard core, and finished with an underlayment backing. Cork or felt backing adds an extra cushion under every step, easing the impact, as well as keeping the floor a more consistent temperature than cold tile. These quieter, more sound-absorbent vinyl tiles and planks help reduce echo and noise in the home.
EVT and EVP are available as water resistant planks, so they can stand up against spills, messy pets, and rain-soaked family members. Some brands are completely waterproof and are good for high humidity areas, while others are intended for dry areas only, so check the specifications before you buy to make sure of a good fit for your household's lifestyle. 
Appearance and Style of Vinyl Flooring
Perhaps the most obvious benefit of luxury vinyl is the look of the planks and tiles. Because they are layered and textured, it is easy to find the perfect style to match your update plans. Luxury vinyl planks realistically imitate more expensive and difficult flooring types while offering water and scratch resistance. With higher quality, textured luxury vinyl tile, you get the look you want without the wear and tear from regular use. 
Styles to look for:
Wood 
Stone
Marble 
Concrete 
Ceramic/Porcelain
What to Know Before Buying Luxury Vinyl Flooring
A durable vinyl floor can provide a home with 10 to 20 years of use. That's comparable to the life expectancy of other flooring alternatives, and available at a considerably lower price. Given that the floor is part of the foundation of all design and activities in your home, there are still a few other important things to keep in mind when looking for the right flooring option. 
Price
Before installation costs, luxury vinyl tile and plank can range from $1 per square foot to just under $5 per square foot. It has one of the lowest price points of any flooring materials. If you choose to install vinyl planks yourself, there's no additional cost over materials and time, which can add up to real savings.
Vinyl Flooring Options
There are multiple flooring options that have similar looks and features to EVP and LVP but include different advantages, disadvantages, and costs. 
In terms of adding value to the home, solid hardwood floors are the most sought after, though they have disadvantages such as a softer, scratchable surface and high price point. 
Engineered hardwood comes in second place for property value because it is made of veneered hardwoods. It is similar in performance and installation to engineered vinyl, but it is not as water resistant as engineered vinyl.
Luxury vinyl flooring is more durable and water resistant than laminate flooring, though they are similar in price. Laminate is layered fiberboard under a decorative top plastic layer, and if that is faded or scratched, it will have to be replaced.
Quality
With the wide variety of options available from today's vinyl flooring, there are a few key features to narrow down to guarantee the best fit in your home. 
Finish - Urethane finish and no-wax finish options are good for low traffic, dry areas, and are easy to clean. Enhanced urethane finish provides a high-gloss look and the most resilient exterior surface to help prevent scratches. 
Textured surface - The textured surface of vinyl flooring is useful in protecting the durability of the vinyl plank or tile, but also in providing a slip-resistant floor.
Waterproof - For spaces such as basements, kitchens, entry foyers, laundry rooms, or bathrooms, look for the most water-resistant option available. Vinyl planks or tiles can be a good way to match the kitchen or bathroom floor with the colors and patterns throughout the home, or as an effective whole-home solution to dealing with humidity.
Wear layer - Luxury vinyl tile and planks are made up of different layers to add strength. The wear layer should be the thickest of the layers, as it protects the core vinyl layer and the print layer, the two layers that provide the stability and the style of the vinyl tile or plank. A wear layer of 5 mm or more can stand up well to moderate traffic. The thicker the wear layer, the better the overall quality, so select the wear layer depth that works best for the demands of the space.
Luxury Vinyl Installation
It's important to know what your project's needs are ahead of time, so that you can more easily consult with a contractor for any potential issues before the problems interfere with the installation project.
Start with some basic questions about the floor you'll be replacing. 
Is it a bare subfloor? 
Will the new floor be installed over an existing tile or wood floor? 
Is there a slant or pitch to the floor? 
Some types of vinyl flooring can be applied to subfloors or over the top of existing floors, while others require an underlayment layer to offer padded support for the new floor while protecting the old. Make sure there isn't any extra prep work or even construction needed before you get to the new flooring. 
Whenever possible, install luxury vinyl planks or tiles on a flat, level surface. Bumps, cracks, and uneven edges can interfere with the installation, and over time can also stress and break the vinyl. Wider planks should not be used on slanted floors, as they can't always accommodate the grade.
Before you buy any flooring, take complete measurements, including using a bubble level. The old saying "Measure twice, cut once," certainly applies to flooring because you have to account for walls and stairs interrupting the shape of the square footage. Flooring is sold by the square foot, and it's a good idea to keep an extra box of planks or tiles left over in case of future repairs.
Luxury Vinyl and Moisture Concerns
If dealing with a concrete pad, check the moisture level in the room. Too much moisture under the vinyl flooring can lead to mold problems in the future. The floor may need to be sealed or built out in order to accept vinyl tiles or planks. A vapor barrier is a good idea to use under click-lock vinyl plank flooring.
An easy way to be sure a luxury vinyl floor will be compatible with the temperature and humidity in the room is to tape a piece of vinyl to the floor. Seal all edges with duct tape and let it sit for a few days. It should remain in place and secure. If the floor has excessive moisture, the tape adhesive won't hold it in place, and you should consult a contractor to find the best solution for your space.
Installation Tips
For projects you plan to install yourself, always consult the manufacturer's instructions for tips and ideas specific to your flooring. Here are a few other tips from the pros to get you started:
Let the flooring acclimate to your home by storing the boxes in the room for at least 48 hours before installation. This will help minimize any expanding or shrinking of the vinyl interfering with the spacing of the layout.
Lay the planks out ahead to make a pattern or mix and match between different boxes to be sure that the designs on the planks don't repeat and that they will look like natural wood or stone patterns when installed. It's also a good way to make sure the chosen colors work with any already installed flooring choices in nearby rooms.
Precut the floor planks based on your measurements of the room and your chosen pattern layout.
Leave enough room, using spacers and shims, to allow the planks to expand as the floor settles with the heat and cold of the home to avoid having to later fix gaps in the luxury vinyl flooring.
Do not hammer planks or tiles into place, as the grooves may be damaged by a missed strike. 
Follow the instructions for the adhesive. Allow at least 48 hours for glue-down floors to cure before walking on them or replacing furniture.
Interlocking and loose lay flooring can be walked on as soon as the floor is completed, as long as no glue or adhesive tape has been used to anchor it to the subfloor.
Luxury Vinyl Maintenance Tips
Protecting your floor from scuffs and scrapes starts with keeping it clear of the dust and debris that can weaken the finish of any type of flooring, even vinyl planks and tiles. But the rules for taking care of them are different than other popular cleaning tricks for other types. 
A big difference is that luxury vinyl tile or plank flooring does not require wax sealants, sanding, or refinishing. Harsh chemicals will damage the surface. Too much moisture sneaking between the floorboards from mopping can lead to mold problems. 
Here are some other helpful tips to clean and protect your luxury vinyl flooring.
Wait at least 24 hours after floor installation before cleaning the surface to avoid the moisture interfering with the adhesive.
Use door mats and rugs to help keep the floor clean and protect the finish layer from shoe scuffs. 
Use furniture coasters to prevent indentations from heavy desk and cabinet legs. The heavier the furniture, the wider the furniture coaster should be to more evenly distribute the weight.
A soft-bristle broom should do the trick for regular, light cleaning.
Vacuums work on vinyl floors, but it's important to turn the beater bar off before use to avoid scuffing the surface.
To clean luxury vinyl tile or plank, use only damp mopping wands or dust mops to clear away settled grime and footprints.
Always clean up spills promptly to avoid any unseen, long term damage.
To clean up spills, use a small amount of Apple Cider Vinegar, or regular vinegar. Either one will help clean the mess and evaporate without leaving residue.
Do not use abrasive chemicals, floor strippers, or detergents to clean away picky spots.