Build.com for Pros: Man Cave Ideas and Design
Put together the perfect Man Cave for clients by working with and combing their favorites.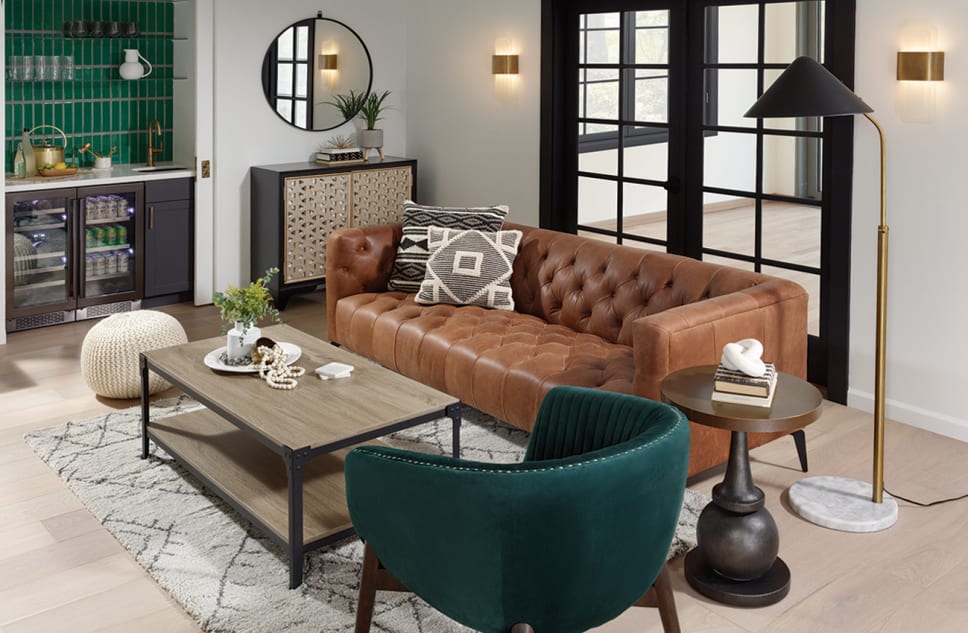 A man cave is a much sought after space in many homes and can mean different things to different people. The key to creating a man cave that will wow is to consider the personality of the client and design a man cave specially suited to their interests and lifestyle. 
By asking the right questions during the original consultation, you can determine what type of man cave the client wants. During that consultation, consider the design of the rest of the home and make sure your man cave ideas jive with the existing style and feel of the home.
Any Space Can Become a Man Cave
Traditionally, people think of basement man cave ideas, but the basement isn't the only place to create a comfortable man cave. Any extra area of the home can be used to create a space just for him. Garage man caves are a popular option because they're relatively easy to modify. A large lanai or patio can become a man cave as well, especially for the avid griller and entertainer. Garage man cave ideas are going to vary slightly from a basement or attic man cave idea, so use the space itself as an initial source of inspiration.
Man Cave Ideas for Every Personality
When looking for the ultimate man cave ideas, it's all about creating a space with clear intention. The best man cave designs are the ones that take the interest of the client and make them the focal point of the space. Take careful measurements of the space available and try to create as many different areas as possible while still maintaining ease of flow from one space to the next.
The Ultimate Gamer's Room
When gaming is a favorite pastime, the ultimate man cave should be designed in a way that maximizes the gaming experience. Most gamers want an immersive experience. Consider installing surround sound and a large, wall-mounted television. Game room furniture needs to be ultra-comfortable for those long gaming sessions. Make sure to add the small details, such as wireless headsets that will let them enjoy the sound, even when the family is nearby.
If they plan on gaming with friends or family members, it's important to make sure there's plenty of comfortable seating for all the guests. When choosing an entertainment center in a gamer's room, keep in mind that they'll likely have multiple gaming systems and controllers to store. Look for pieces with open storage that won't interfere with Bluetooth and wireless signals.
The Fan Cave
When they're an ultimate sports fanatic, the space should reflect their interests. It's all going to revolve around game day. A large wall-mount TV is essential, but when you want to go the extra mile, consider featuring multiple TVs so more games can be watched at the same time.
When it comes to man cave decor for a fan cave, it's all about supporting the team. Team colors can even be an inspiration for wall color and man cave furniture. If the client has acquired any collectibles over the years, find ways to showcase them as part of the man cave decor.
You don't want the client to miss a single call during the game, so make sure to include a top-quality surround sound system in this man cave design. If parts of the room aren't visible from the main TV, you may want to include a separate, smaller TV over the bar.
The Entertainer's Dream Den
Sometimes a place where you can gather with friends is exactly what's in order. Creating the ultimate entertaining area is all about prioritizing hosting and entertainment in one space. Start by making sure there's plenty to do. Feature a wall-mounted television, billiards table, poker table, ping pong table, or other entertainment solution.
The bar will often be the focal point of the entertainer's man cave decor, so take care to offer the client many different man cave bar ideas to choose from. You will want to include as many of the essentials as possible, including a mini fridge, wine cooler, or snack bar. These man caves should offer plenty of seating solutions for all the friends and family that will be hanging out in the area. Pull a couple of plush stools up to the bar area or add an intimate seating area of plush armchairs.
The Grill Enthusiast
If he loves to grill out, smoke meats, or generally host friends and family outdoors, the ultimate backyard man cave will be his favorite place to hang out. Today, it's easy to make any backyard a true extension of the home with our man cave ideas.
First, create an outdoor kitchen every bit as comfortable and inviting as an indoor kitchen. Add a built-in around the grill, incorporating all the extras. A kegerator, beverage refrigerator, sink, and work area will provide everything he needs to whip up delicious meals without entering the home. Make a home bar part of the design, and friends will have a place to sit and talk with the chef.
If the outdoor space is large, it's easy to take the outdoor bar to the next level by creating an outdoor dining space or outdoor living area as an extension of the outdoor man cave. Just like any indoor space, you can include all the man cave essentials, such as a wall-mounted TV.
Finalizing Man Cave Ideas
These man cave ideas are just the beginning. Interview the client to discover the ways in which they envision using the space. Keep those needs in mind as you consider which garage man cave ideas or basement man cave ideas will make the best choice. As you read through all these options, take bits and pieces of each one to help create one design that will speak to the client's personality.