New Product Spotlight: Monroe by kate spade new york
Generation Lighting brings golden Hollywood chic in legendary modern style with the kate spade new york Monroe series.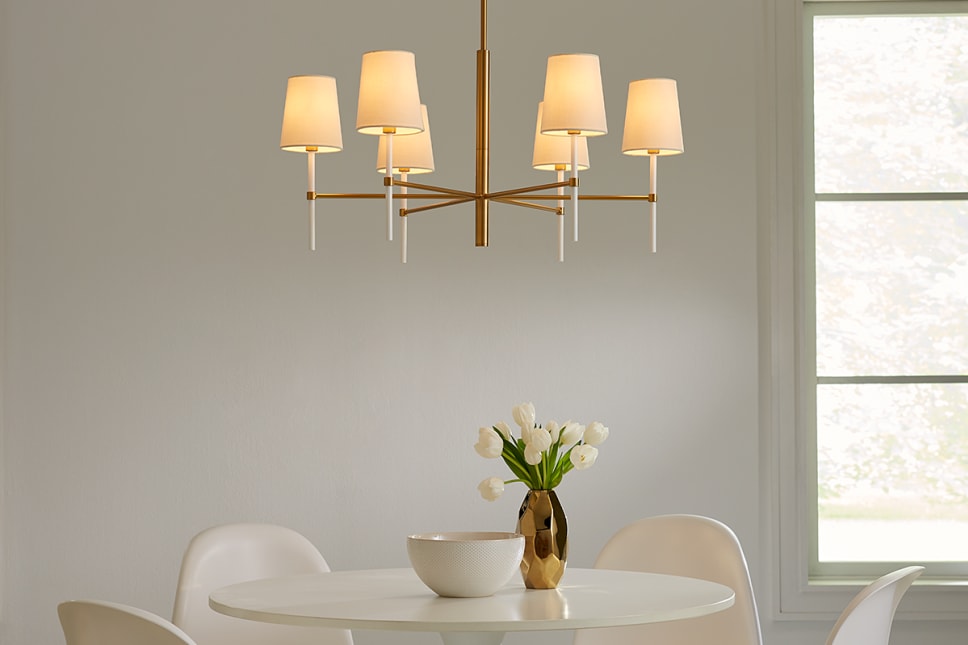 Just as the right piece of jewelry can transform an ensemble, the right lighting can transform any room in your home. Bring all the best parts of 1950's design into your home with the modern silhouettes of the Monroe Collection by kate spade new york. With this collaboration, Generation Lighting has taken everything you love about the iconic kate spade new york brand and reinvented those looks with this spectacular home lighting collection.
Styles to Meet Every Lighting Need
The key to an inviting home is having the right lighting solution for every room, and the Monroe Collection has you covered. As you shop this look, you'll find versatile chandeliers and ceiling fixtures that are perfect for the foyer, living spaces, dining rooms, and anywhere else you need to flood the room in bright style. 
From there, you can sprinkle in pendant lights in a bathroom or over a kitchen island, wall sconces flanking a fireplace or bed, and so much more. Vanity lights even help you extend the look to a small powder room or grand primary bathroom. Many of the vanity lights can be mounted horizontally or vertically, depending upon your preference.
White Enamel Meets Burnished Brass
High-gloss white enamel elements are paired with a truly timeless burnished brass finish to make these fixtures look nostalgic enough to hold a place in history and fresh enough to blend in seamlessly with your modern decor. This two-toned look was inspired by the classic metal and enamel kate spade new york jewelry that's been a wardrobe staple for decades.
This light and bright two-toned look delivers a timeless glamour while remaining neutral enough to complement nearly any style of decor. Reflect the hues of these lighting fixtures in other ways by choosing curtain rods, door hardware, and other metal elements in that same burnished brass finish.
1950s-Inspired Style Lines with Modern Appeal
Monroe lighting fixtures bring the atomic era of decor into the modern age with sputnik-inspired style lines, elongated tapers, and sleek shades. These lighting fixtures are simplicity elevated through refined attention to detail.
As you take in all the different designs, take note of the playful dots, whimsical bows, and other modern shapes that have become synonymous with the joyful brand. It's these little touches that transform each design from a classic, contemporary design into a lasting piece of home fashion. 
Designed for Easy Installation
Adding Monroe lighting fixtures to your home couldn't be easier because kate spade new york has included all of the hardware necessary, as well as easy-to-follow instructions. Removing an old fixture and replacing it with one of these sophisticated designs is an easy way to transform the look of a room in a matter of hours. If you plan on adding a fixture where there wasn't one previously, we do recommend using a professional electrician to install the new wiring.
Your Partners in Fashionable Home Design
Since 2018, Visual Comfort & Co.'s Generation Lighting Collection has partnered with designers to create products that extend the stylings you already love to your home, resulting in fixtures that are a true reflection of your design sensibilities. Pay tribute to your love of all things kate spade new york by introducing these delicate, durable, and design-forward lighting fixtures to your decor.