Style Spotlight: Outdoor Spaces
Your outdoor space is begging for you to bring it to life! We've got ideas to spark your inspiration.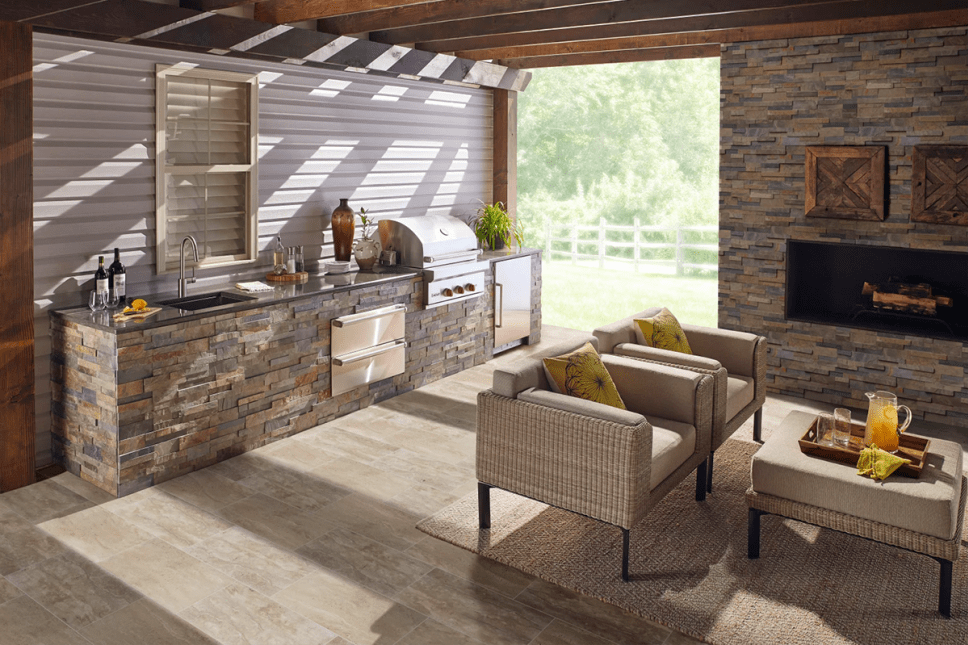 Sometimes, your personal style cannot be contained within the four walls, floor, and ceiling of your house. When this happens, it's time to think outside of that box! You've probably got an outdoor space that's teeming with potential, no matter its size. You're only limited by your imagination, so think about how that space could best be used...whether practical or less so. All it takes is the right components and you've got yourself an outdoor living space that has just become a bonus room!
Here are some ideas to get you started...
Classic Outdoor Living Room
Create a cozy outdoor living space where you can relax anytime.
You use your living room throughout the day and into the evening. Your outdoor living room will most likely be used more often at night when you're ready to relax. To that end, it's important to begin with the right lighting. If you have beams overhead, or a covered area, consider an outdoor chandelier or pendant for a unique look. Outdoor ceiling fans are extremely useful on warm days and nights to keep air flowing.
Hardscaping creates permanence while rugs add color and pull an area together.
If you're utilizing a grassy area for your outdoor living room, you'll want to check out hardscaping, also known as outdoor tile. If it's a patio, consider outdoor rugs, which are low-maintenance, versatile, and can help to make your space feel more "pulled together."
Hardscaping can add interesting detail as can fun furniture.
Of course, your furniture will be the main attraction here. Conversation sets are perfect for this purpose and include surprisingly comfortable outdoor sofas and daybeds in a wide variety of designs. They can seat as few as two people, or as many as 8. Central coffee tables and end tables encourage a relaxed, living room vibe.
Get comfy around a fire pit with your favorite beverage.
To ensure everyone is comfortable, consider a fire pit or patio heater. They are available in a wide array of designs that will enhance any outdoor living room. Keep cool drinks close at hand with a beverage cooler stocked with your family's favorites. Make the space feel homey by adding your personal touch with outdoor decor.
Create custom cocktail creations in your very own outdoor bar area.
If having a drink in the evening is your special treat, consider creating a boutique cocktail lounge tailored to your tastes. Begin with a beverage cooler or mini-fridge to provide a place to store drink mixes and accoutrements for drinks such as lemons, limes, and olives. If you are a wine drinker, consider an outdoor wine cooler to store your reds and whites or an outdoor kegerator, if you're a beer fan. Outdoor bars and bar carts provide stylish storage for your cocktail necessities... and don't forget the ice maker!
Encourage light conversation over drinks with the right seating and standing combination.
For seating, bar and bistro sets are the perfect size when dining for two but can also accommodate more because they are tall enough to stand and socialize, especially when paired with raised-height stools and pub chairs. A round cafe table and chairs fit under the shade of large umbrellas or a patio covering to turn a patio corner into a seated pub space. Make it unique with outdoor decor.
Safe and stylish path lighting helps set the tone.
Grillmaster's Kitchen & Outdoor Dining Area
So many outdoor cooking options to satisfy the barbecue chef.
Got someone who loves to barbecue? This is the perfect space for an outdoor kitchen! Plan your space by first deciding what kind of cooking station you need. Freestanding BBQ Grills, BBQ Grills, Charcoal BBQ Grills, Portable Charcoal BBQ Grills, and Smokers provide lots of options for the outdoor chef. Meal prep, usually done in the kitchen, can now be brought outside with these many outdoor cooking and grilling options. Built-in BBQ Grills are the ultimate luxury in outdoor cooking convenience and give your food that authentic grilled taste. You can complete the entire meal outside if you've got all of the outdoor kitchen components. Customize with accessories like custom covers, griddles, rotisseries kits, smoker boxes, wood chips, and more.
Add style and flair with outdoor lighting.
You'll need lighting and this is a great place to show a little style. Look to outdoor chandeliers to highlight your dining area. Sconces and wall Lighting are perfect to light your outdoor kitchen area. Try mounting a spotlight above a barbecue area to provide task lighting.
There is a beverage cooling option for you no matter what your drink of choice.
In addition to your dining and cooking areas, you'll want a beverage area. Create a place to keep those mini-umbrellas, plenty of ice, cocktail ingredients, wines, beers, and snacks close at hand. Whether you're a wine connoisseur, a beer buff, or a vodka virtuoso, you'll want to be prepared for anything. Be sure to choose appliances with outdoor-ratings to be sure they're approved for use in your outdoor area. Appliances to consider here are Beverage and Wine Coolers, Kegerators, Mini-fridges, and ice makers.
Finish the space with an outdoor area rug and decor to suit your tastes.
Zen Garden
Have you got a green thumb or just enjoy spending time in nature? Create a peaceful area to enjoy quiet time and observe nature right in your backyard.
Create an oasis to escape to in your own backyard.
If you've got a patio, start with a lighting plan. This is a space you'll want to enjoy in the evenings as well. Landscape lighting is both functional and beautiful. It will provide safety by illuminating your patio, walkways, and any stairs in your space. Plan to highlight plant life and unique design elements of your landscaping. Consider creating a path with hardscaping (or outdoor tile) or by simply marking a grass path and lighting it with staggered path lighting. Criss cross outdoor string lighting above your patio to create a whimsical vibe.
This can be a very freeform space. Add a pergola or arch with climbing vines. Install a bench for meditation along your path or a hammock for a lazy nap. A bistro set with accompanying wine or beverage cooler would be the ultimate relaxing convenience. 
Set aside a space for yoga or exercise with an outdoor area rug and surround yourself with greenery by installing planters. Make this an area to escape or claim alone time by personalizing it with decor that is unique to you.
Get Inspired
When you're expanding your space, it's important to think about what the space will be primarily used for. We love the versatility of outdoor spaces, and many can have multiple uses. All you need is a little inspiration and you'll be on your way!