Outdoor Storage Buying Guide
Outdoor furniture storage makes it quick and easy to prepare the porch and patio for every change in season.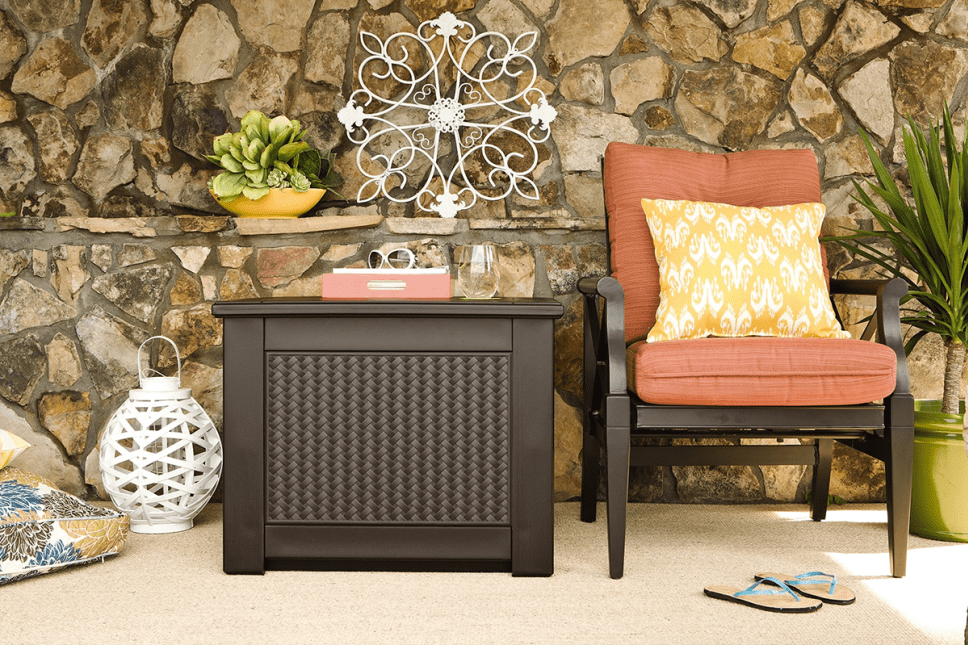 The outdoors around your home can be as comfortable and inviting as any room indoors. From the front porch to the back patio, you can decorate with coffee tables, sofas, and adirondack chairs, with seasonal cushions to fit every mood and style. When the weather chases the family inside again, look to outdoor storage cabinets to store decorative items and yard supplies protected from the elements.
There are many types of outdoor storage solutions to choose from. To help you discover the perfect cabinet or deck box, read on and learn more about the best outdoor furniture storage ideas to fit your porch and patio.
Today's outdoor storage can blend in with your patio design.
Outdoor storage is a water-resistant, secure, and weather-tolerant container that can hold various backyard or patio supplies outside, year round. They vary in size, design, and materials to match the needs and style of your patio. 
Here are the most common types of outdoor furniture storage ideas you'll come across in your search:
Patio and Deck Boxes - Deck boxes are shaped like a trunk or a simple box, with most designs including a lid to help protect their contents. Other styles include vertical cabinets that stand tall, designed to fit against an exterior wall. Concealed storage boxes can be fit into small spaces for holding just a few necessities, or for premium outdoor cushion storage, look for extra large boxes to hold a full set of cushions and throw pillows.
Furniture Covers - An outdoor furniture cover is a breathable, waterproof tarp, shaped and fitted, and designed to protect outdoor furniture from the elements. Many furniture covers have a tough exterior side to resist water and sun damage, with a soft backing to prevent scratching the furniture it protects. They can tie down to the furniture to ensure a snug fit.
Bench and Table Storage - Outdoor storage containers don't always look like a box or a vertical cabinet. Some storage boxes look and function instead as other pieces of patio furniture, like seating benches, end tables, or coffee tables.
Towel Valets - To keep extra towels handy at the poolside, a towel valet provides not only shelves for temporary outdoor storage, but some designs also include a hamper for the used towels to be returned to.
Storage Sheds - The king of outdoor storage is the storage shed. It is not mobile like other options, but it is a secure and durable way to store seasonal outdoor furniture and other patio or yard supplies when you have the space.
Why Use Outdoor Storage Containers?
Whether a simple storage bin or a larger shed, outdoor storage keeps the things that you use on the patio or in the yard located near where you use them. They keep small tools as easy to find as they do seat cushions. A latched deck box prevents the lid from blowing open in windy weather, and keeps the local wildlife from nesting into patio cushion material or stealing planting seeds from the gardening supplies.
With the exception of a full sized storage shed, outdoor storage containers and furniture are easily moved. They can be decorative or plain, with different designs available to match your existing patio style.
Durable outdoor furniture storage ideas can be used year-round, protecting the contents from sun damage, snow, and rain, and preventing anything flying away with the wind. Their all-season reliability means you can quickly tuck the cushions away before a summer storm, or keep the garden tools from cluttering up the porch. Multi-purpose outdoor storage furniture makes it easy to enjoy and use every inch of your patio.
What Can Be Stored in Outdoor Storage Bins?
Store everything from the kids' pool toys to pillows and umbrellas with the right patio storage.
It's important to keep in mind that any outdoor storage containers will be exposed to different weather conditions. Outdoor storage bins will have to stand up to greater temperature variation, rain, and wind. Without a liner in the storage box, crafty pests like rodents and bugs are likely to find a way into outdoor storage bins and make themselves at home in unprotected materials.
Make sure that everything you put in an outdoor storage bin is completely dry, to be certain it doesn't mildew or mold from the moisture and heat trapped inside the container. Items like citronella candles should be stored indoors, as the temperature inside outdoor storage containers can get hot enough to melt the wax.
Outdoor storage furniture and containers are designed to hold basic outdoor supplies and decor, either temporarily or as-needed. This includes items such as:
Outdoor seating cushions and throw pillows
Patio umbrella canopies
Pool toys
Pool maintenance supplies
Temporary storage of pool towels
Muddy gardening or sports footwear
Gardening supplies and hand tools
Garden and pool hoses
Firewood
Do not store anything flammable or with a low boiling point. Pool chemicals stored in sturdy containers can be kept in well-ventilated outdoor storage bins, as long as different chemicals are safely prevented from mixing with others.
Features of Outdoor Storage
Find bins to match the design, color, and features that personalize your patio.
There are different types of outdoor storage furniture to choose from. It's important to know what to look for to ensure you find the outdoor cushion storage or gardening cabinet that matches your patio and yard.
Different sized storage bins handle different tasks.
Different size boxes are available to fit the demands of the patio space, but how much can you expect a deck box to hold? Here's a breakdown to give you an idea.
Small Deck Boxes - At 50 gallons of storage space or less, small deck boxes are roughly the size of an end table or a narrow bench. A small deck box holds a few pillows, towels, or a coiled hose with a little extra room for gardening supplies, like gloves and planting pots. 
Medium Deck Boxes - At 50 to 99 gallons, medium deck boxes can hold a full set of pillows. They can hold multiple garden hoses, or pool supplies such as chlorine tab buckets, and pool toys, like kickboards or kids' floats.
Large Deck Boxes - Large deck boxes run between 100 and 149 gallons of space. These offer plenty of room to store umbrella canopies for the season, or a full set of furniture cushions. Larger pool toys like noodles and deflated loungers will also fit.
Extra Large Deck Boxes - Anything over 150 gallons of storage space is an extra large storage bin. They can be found as deck boxes or as vertical storage cabinets.
It's important to find the right material to match how the outdoor storage will be used, and to create the look you want among your other patio furniture. 
Plastics - Plastic outdoor storage furniture is light and waterproof. It offers a simple design in basic, solid colors, such as white, tan, or dark brown.
Resin - Lightweight and solid, resin allows for detailed texturing built into the design of the deck box, creating looks like a wicker weave. Resin is a high-density, colorful plastic that is resistant to weather damage and sun-bleaching.
Wood - The handcrafted-look of a wood storage box makes it a perennial favorite. Look for options made or lined with cedar to help keep pests away. A wood storage bench or cabinet is sturdy and heavy, depending on the size, and provides years of quality use. 
These different styles of boxes will also often have metal or aluminum framework hidden inside the box to help solidify and reinforce the structure.
Outdoor storage bins offer a few extra features that can make it easier to use, protect, and secure your outdoor equipment.
Handles - Look for handles that can make it easier to move the deck box, or that ensure easy operation of lids and drawers.
Interior Dividers - Maximize storage space with netting and dividers that can help keep stored items in specific compartments, such as utilizing the space in a trunk lid for storage in addition to the base of the box.
Locks - Some outdoor storage containers may have clasps or closures that can be locked to protect your belongings.
Soft-close Hinges - For heavier doors and lids, look for units with soft-close hinges. They keep the trunk lids from dropping on anyone accessing the box.
Wheels and Casters - If the storage furniture or deck box is to be used on flat ground, such as a paved patio or porch, look for wheels to assist moving the storage bin to where it will be most useful.
5 Steps to Winterize the Patio
When it comes time to store the patio and garden comforts, outdoor storage makes the task quick and easy. The porch can be cleaned off and ready for winter in just 5 steps.
Clean and dry the cushions and pillows. For most, this will mean a surface cleaning with water and mild soap. Make sure the surface and interior fluff are completely dry. Dampness trapped inside the pillows could create mildew.
Once they're dry, put the cushions and pillows in plastic bags. The plastic bags offer an extra layer of protection to keep pests out, like bugs or mice. Add clean cedar pieces as an extra deterrent.
Secure the pillows in the storage boxes. It's helpful to squeeze the extra air out of the bagged pillows as best as possible before putting them in the boxes. 
Wipe down the frames of the furniture. Take a damp cloth or a spray bottle with mild cleaner to the exposed metal or plastic parts of the outdoor furniture once the cushions are off. Let it dry, or take a dry towel to the nooks and crannies to be sure the surface is clean.
Cover the furniture. Look for furniture covers with securing ties already attached. Additional tie-downs can be purchased, such as straps that can be cinched around the furniture over the covers.  
Once it's time to move back out to the patio, simply reverse the steps, cleaning and storing the furniture covers in the deck box instead. Having the option of outdoor storage nearby makes it simple to use and protect your patio furniture, which leaves more time for enjoying it.