How to Buy the Best Patio Furniture Covers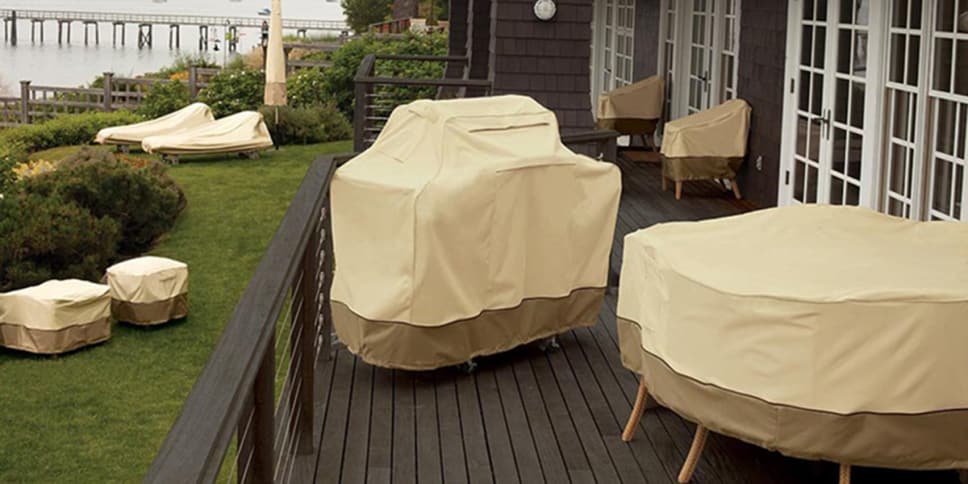 Your backyard is an extension of your home, so naturally you want it to be as comfortable as the rest of your home. Regardless of whether you are looking to buy new furniture for your patio or already have a set that you want to protect, one of the best accessories you should buy is a cover for your patio furniture.
To help you find the best patio furniture cover, we've put together the following guide to help you better understand what you should know and how to find the one that works best for you.
What Are Patio Furniture Covers?
Patio furniture covers are specially-designed to protect your outdoor furniture from the elements when they are not in use. These may include one giant cover that protects your entire outdoor dining set, or smaller covers that are designed specifically to wrap around the table or chairs.
Why You Should Use a Patio Furniture Cover
If you want to truly benefit from your purchase, it would be wise to gain a better understanding of exactly what you want to achieve from the use of outdoor furniture covers. This will, ultimately, help you determine the right product and price as you browse your options. The best furniture covers not only protect from humidity, rain and snow, they also protect your furniture from high winds that might cause damaging debris to fly by, as well as block out the sun's UV rays, which are known to fade some types of materials.
Even if you live in an area that doesn't experience extreme weather or changes in season, it is still wise to give your outdoor furniture an extra layer of protection. Even small amounts of morning dew or pollination can eventually lead to damage to your furniture if it builds up enough. Additionally, a cover ensures that your patio furniture is always ready to use, eliminating the need for you to have to clean it off before using. 
5 Tips to Buying the Best Cover For Your Patio Furniture
As you start your search for a cover that works with your patio furniture, you'll quickly notice that there are nearly countless options to choose from. To ensure you find the right product for you, here are five general things you should know about patio furniture covers.
1. Know the Dimensions of Your Furniture 
Many big box stores and online retailers claim to sell one-size-fits-all patio furniture covers, but don't allow yourself to be pulled into their trap. Sure, some of these will probably get the job done, but for your outdoor furniture to be fully protected, it would be wise to purchase covers that are made specifically for their size. In many cases, the brand whom manufactured the furniture will offer covers as an accessory. This would be the best starting point for you, if not the best option to go with.
If the company doesn't offer covers for your specific furniture, you will need to do some measuring and figure out the dimensions of your furniture. Measure for the length, width and height of your furniture. You don't want to purchase covers that are too short but buying ones that are too long can be just as detrimental because they will trap water and dirt at the base of the furniture. For these reasons, buying patio furniture covers that perfectly fit your furniture is crucial.
2. Look for True Waterproof Covers
Nearly every patio furniture cover on the market claims it is waterproof, but when put to the test, most people find that "waterproof" means it only stands up to a slight drizzle. When the rain really starts to fall, your furniture can get soaked. It is important that you pick a material that can withstand heavy rains.
The best waterproofing is likely to be found in vinyl furniture covers. Vinyl allow water droplets to bead up and slide down the furniture cover before it has time to soak through. Durable polyester blends are also common but be sure you don't go for the cheapest one you find. More often than not, this cheap polyester ends up becoming brittle and then cracking. The resulting exposure could mean you spend even more on a new cover, or perhaps replacing furniture that was damaged as a result of the unexpected exposure.
No matter what material you choose, it's strongly recommended that your furniture is completely clean and dry before you cover it. This will help prevent mildew or mold from building up.
3. Shop for Something Breathable
It is recommended that you shop for breathable patio furniture covers, but you should also be careful of what you consider "breathable." Many manufacturers offer breathable materials, but if the entire cover is made of the material, it will also leave plenty of room for water to pass through and cause problems. 
Instead, look for furniture covers with built-in vents. These smaller breathable areas allow air to circulate, which helps prevent condensation and humidity build-up that may lead to the growth of mold. You'll find that many covers that offer a built-in vent, but if you decide to go with this type of cover make sure you find one with vents that are not large enough for rainwater to enter. 
4. Use Furniture Covers That Are Soft on the Inside
Of course, you'll want the outside of the furniture cover to be durable and strong, but what about the inside? If possible, try to buy a patio furniture cover that is as soft on the inside, as the outside is strong. 
A soft cloth lining ensures the covers for your patio furniture do not scratch the more delicate areas of the tables or chairs. This is especially important if your furniture is made of any glass materials or stained wood, both of which are easily blemished when not properly taken care of.
5. Opt for Patio Furniture Covers With Tie-Downs
Standard patio furniture covers are great for protecting your pieces from rain, sun and snow, but what happens when the weather is accompanied by high or gusty winds? Without the ability to tie down your covers, you risk the covers blowing away. If you aren't home when high winds hit, your furniture could be exposed to the same elements, risking damage or also being blown away.  For this reason, you may want to consider buying patio furniture covers that can be tied down and secured to the legs of each piece of furniture. 
With the proper care and the right protection from the elements, your patio furniture can be a haven for reading, lounging by the pool, grilling out with family and friends or simply enjoying the scenery for years to come. Now that you know what to look for when buying the best covers for your patio furniture, it's time to start shopping!