Style Spotlight: Grandmillennial Style
As millennials embrace and mix timeless styles, a new decor is born, and it may be something on which we can all agree.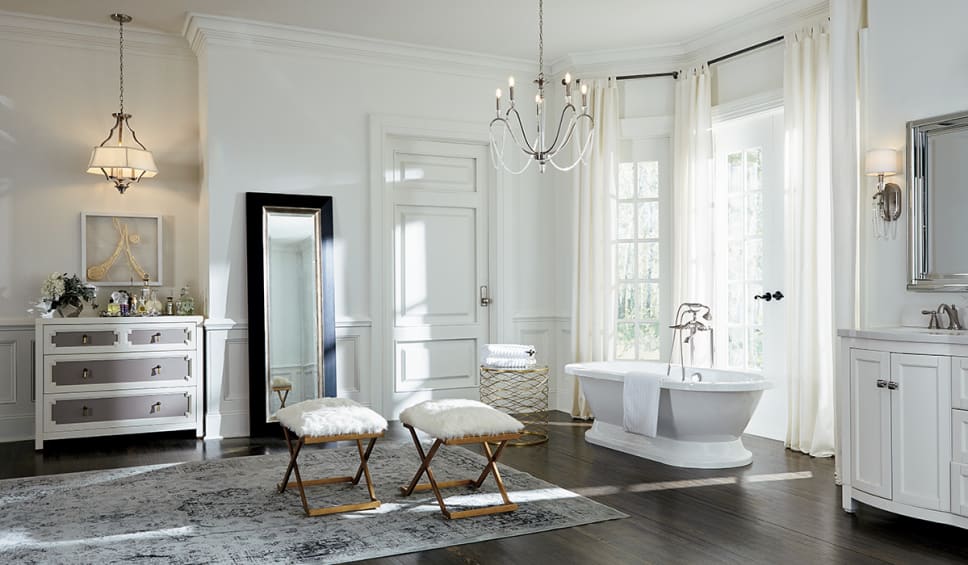 Maybe it's the comfort you recall of sitting, legs swinging inches above the floor, from your grandma's couch. Candy jar full of butterscotches on the end table beside you, needlepoint pillow accenting the plastic-draped armchair next to that. Perhaps there's a coffee table with a neat stack of magazines, an ashtray, and a coaster collecting the condensation from your fizzing glass of cola. There's a cat curled up on the afghan that's folded over the back of the sofa, and a doily over each arm. All is right with your world, everything feels beautiful and special. Now that you're grown, you want to recreate that feeling in your home.
That's the kind of nostalgic impression we get from Grandmillennial Decor style. It's a recapturing of eclectic styles. An appreciation for a lost, perhaps misunderstood aesthetic. Above all, it's a love for tradition and an effort to keep it alive. 
Within this style, you'll find hints of many others. Mid-century modern furnishings, traditional cabinetry, Victorian lighting, vintage fixtures, romantic and even a little bit of bohemian decor all blend to influence the new traditionalists who have embraced this eclectic style. Embroidery and needlepoint take center stage here as well—albeit with a decidedly darker, snarkier form. 
There's no specific trick to achieving this style. It's about nostalgia and interjecting memories and personality-rich charm into your space. But we've got some ideas to help you make it happen. Read on to find out how to get the look and feel of "granny chic."
Grandmillennial lighting will tell a story about your space. Your grand chandelier will say "this is where we entertain," while your Tiffany lamp reveals your favorite spot for reading. Your ornate sconces light a dim hallway or flank a painting or mirror. 
Place a crystal chandelier over your main living, dining, or entry space. Play with the idea of modern pendants in the kitchen over the sink, island, or work area. Remember, this style is about combining decor styles to get a look that is perfectly "you."
Kitchen
Grandmillennial blends your favorite styles to create a unique look in every room.
In the kitchen, your faucet will be a focal point and your range and range hood will be your statement pieces. Consider an ornate bridge faucet in brass or polished chrome for a sink area that will really shine. 
For your appliances, consider statement appliances that are reminiscent of the 1950s with all the modern conveniences of today. Range hoods always add an extra feeling of polish to a kitchen. Discover sophisticated ways to keep air circulating in your kitchen like these pendant range hoods.
Choose a runner rug to add color and personality to your kitchen. A rug is a practical element as well as a pretty one, and because rugs come in so many styles, they also give you a chance to incorporate another theme into the decor.
Bathroom
Modern textures and traditional colors add to the eclectic mix of design styles.
There are many Victorian elements available for the bathroom, it would be easy to get carried away with that particular style here. To keep things eclectic, as the Grandmillennial style demands, incorporate modern cabinet hardware and consider wicker elements for light fixtures and furnishings. 
You won't be able to resist a large soaker tub, however, and where a soaker tub goes, a  tub filler follows. There might be no plumbing fixture more "grand" than a tub filler. Bring the look together with a throw rug that incorporates elements of each decor style. Add greenery to keep the bathroom looking fresh.
Flooring
Add detail and color with lush area rugs.
Aside from colorful area rugs, carpet is out. Consider mosaic tile if you are able to start from scratch. We particularly love the small details that mosaic tile is able to pull off: from tiny hexagons to arabesque to diamond cubed. It's such a unique and classic, yet trendy look that works in bathrooms, kitchens, entryways, and hallways.
Another option is to choose a modern wood or luxury vinyl flooring to add a more contemporary element—which is totally allowable in this decor style.
Hardware
Your door hardware can be vintage, modern, traditional...as long as it's not boring. Choose hardware with at least a hint of nostalgia to reflect the rest of the decor, but don't be afraid to mix things up with a more modern finish like matte black or satin chrome. 
We love the idea of incorporating unique wall plates and switch plates to keep the theme going throughout a space, especially when used over fantastic wallcoverings.
Wallcoverings
Amplify the nostalgia with colorful wallcoverings.
Wallcoverings are an absolute must in this style. Blank walls are a faux pas! Wallcoverings are an opportunity to interject an immense amount of color and personality into this nostalgic design aesthetic. 
Wallcoverings have come a long way in recent years. They are easier to apply, easier to remove, come in more patterns, and are more vibrant than ever. From floral patterns to damask, from cameo to chinoiserie, from bold colors to more muted tones, wallpaper will add an element of character to your space that you can't achieve any other way. Consider papering just one wall or covering your ceiling as an accent in your space. A ceiling medallion centered with a chandelier is a look we love for this style.
Choose furniture from different styles to create dimensional accent pieces.
If you are buying new, or just want a more neutral fabric, mid century modern (MCM) sofas may be the way to go with this style. The shape and time period of MCM lends itself well to pairing with both traditional as well as Victorian decor. 
Wicker and rattan also contribute to this decor style (think Golden Girls) and add a fun textural element as well. Choose a sofa in one style and accent chairs in another, accentuated with block print, botanical, or needle point pillows. Add a throw blanket and finish with an ottoman or pouf.
As aforementioned, what would a grandmillennial living space be without a coffee table? Choose one as an accent—not a match—to your sofa.
Decor
Decor is where things get personal. Grandmillennial decor begins with what inspired you to go with this style in the first place. Was it your grandmother's china or your love for chinoiserie ceramics? You'll want an armoire to display those ginger jars prominently. Maybe you were motivated by your love for needlepoint? You'll want the right place to feature them, such as a wicker basket. If block print fabrics are your favorite, consider throw pillows to inject a bit of that boho vibe. If chintz is more your preference, choose curtains or a lampshade in that fabric. 
Greenery is important in grand millennial interiors. If you don't have a green thumb, consider preserved boxwood. A topiary or a pot can add much-needed life to a space. Take the time to choose an attractive planter for your new houseplant.
Old Souls, New Traditionalists
We love how the current generation of designers have rediscovered these timeless styles, and helped each of us to embrace our inner old soul. Home decor has long told us we must follow the rules, and this style tells us we don't have to. We welcome this forward-thinking traditionalism and appreciate the eclecticism it brings about.