The Dex Kitchen Sink Collection by Kraus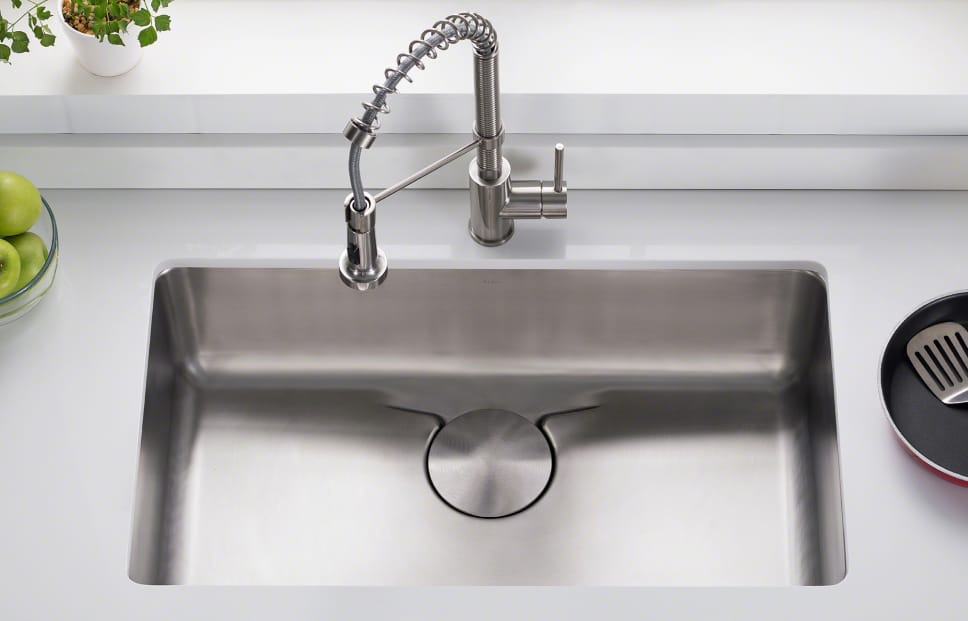 Kraus designs beautiful, functional sinks and faucets for the kitchen and bathroom. The Kraus philosophy of creating useful objects that improve everyday life is showcased in the new Dex kitchen sink collection.
Dex sinks are constructed of 16-gauge stainless steel — the most resilient available — so they'll never chip or crack.  Thick NoiseDefend™ rubber pads cover 80% of the underside of the sink to absorb noise and vibration, making the Dex the quietest sink on the market. Designed to match stainless steel appliances, the radiant pearl finish is very easy to clean and has a fine grain to hide light scuffs and scratches. Kraus' exclusive antibacterial T304Plus™ stainless steel is mildew resistant, kills bacteria, and prevents discoloration.
The innovative DrainAssure™ system  solves problems that most homeowners have just learned to live with. The unique waterway is designed to stay clear, even with a sinkful of dishes, so water can flow freely down the drain, rather than pooling and standing on the bottom of the bowl. A sleek cover conceals the drain and garbage disposal while allowing water to flow through the sides.
Dex sinks also include a VersiDrain™ assembly with a removable strainer. The solid FlipCap cover creates a seamless look when the strainer is not in use and separates the waste fittings from the sink bowl for a more hygienic environment.
The collection is available in a variety of sizes with either single-basin or dual-basin configurations. All Dex sinks have a 9-inch depth and tightly rounded corners to maximize space inside the bowl.