How to Choose a Kitchen Sink
Written by:
It's everything and the kitchen sink for the perfect kitchen.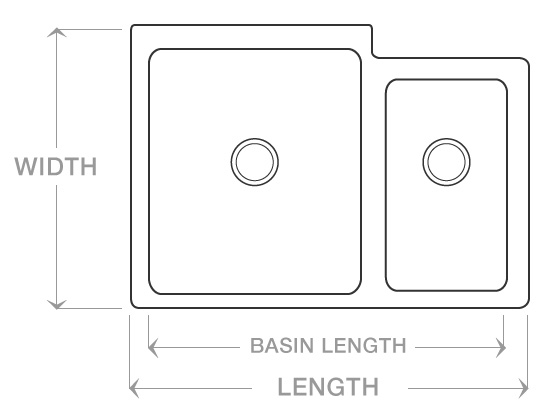 Entire bathrooms are often designed around the faucet. Our video and article will help you determine which type of faucet you need for your bathroom sink.
Kitchen Sink Size
Are you installing this sink into a new counter space?
Measure the cabinet length between joists to determine the maximum length available for your sink. Make sure you have enough space on either side of the sink for prep, especially in a corner location. Position the sink closer to the front edge of the counter for comfort and access.
Are you replacing your sink?
Measure the counter hole where your original sink exists. Choose a comparable drop in sink that will fit within that space. Most drop in sinks have a ½ inch lip so you will need to consider this for a proper installation.
Make sure to consider sink depth. Additions, like garbage disposals, can add significant depth. Consider a deeper sink your larger pots and pans. For ADA compliance, the depth must be 6 inches or less.
Kitchen Sink Installation Types
Next decide on which installation type or look you prefer for a sink. This will determine the number of basins and other features the sink may or may not have available.
Top mount/overmount sinks

Also known as drop in sinks. This is the easiest type to install, as you literally place it into an opening. For this reason, it's also one of the most popular types of kitchen sinks.
Shop top mount sinks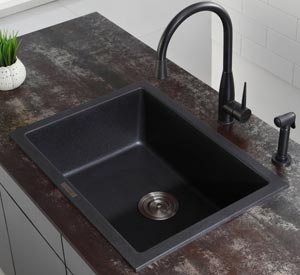 Undermount sinks

Just as the name suggests, these kitchen sinks mount from below the countertop. The main advantage to an undermount kitchen sink, besides its clean and sophisticated appearance, is how easy it is to clean around it.
Shop undermount sinks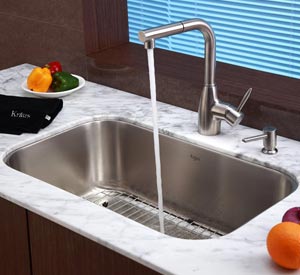 Farmhouse sinks
Says a lot about style and durability. Also known as apron sinks, these are commonly found in country-style homes and feature a large, deep basin (sometimes double basin), as well as a wide base to hold more pots, pans, and whatever else you keep in the kitchen sink. Farmhouse sinks also come in stainless steel for a contemporary look.
Shop farmhouse sinks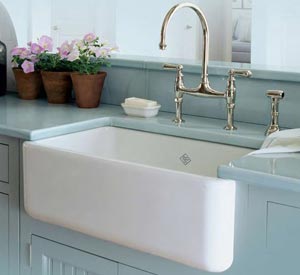 Choose the number of bowls, many manufacturers call these basins, you want for you sink. Make this based upon the type of work you do in the kitchen and how much you cook and bake.
Note: Basin split determines the percentage of space each basin takes up for a double bowl sink. The most common options are 50/50, where the sink bowls are the same size, and 60/40, where one basin is larger for larger pots and pans.
Single bowl sink

Wide-open area
Great for large pots and pans
Typically, these are much deeper
Drains may be off to one side, where the sink is sloped to one side
Double bowl sink

Choose between equal sized basins or one small and one large basin
Consider one basin that is larger than the other to better hold pots and pans
Great for working on separate tasks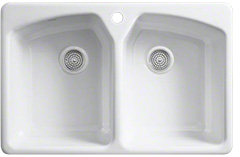 Triple bowl sink
Choose between two larger basins with one smaller or three equal sized basins or three of different sizes
These are typically wider than standard sized sinks
The third basin is great for kitchen prep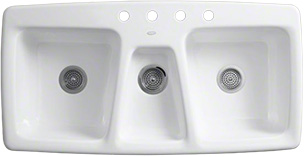 Number of Faucet Holes
Once you know the size of the sink you need, you will want to make sure your sink has enough faucet holes for all of your needs. Most sinks offer cutouts for holes, where you simply punch out the hole if you need more.
Note: Kitchen faucets typically need one to three holes. However, if you want a soap dispenser of a hot water faucet, then you may need more. If your sink comes with more than you need, there are options to cover the unnecessary holes.
Drain Placement
Drain placement is an important factor when deciding on a sink.
Off-centered drain
Pro: More Space under the cabinets.
Pro: Plenty of space to wash big pots and pans while allowing water to drain because plumbing is pushed to the side or back.
Pro: Room to set food without having them slip down the drain.
Con: Can be difficult for repairs since the plumbing is pushed to the far back or corners.
Centered drain
Pro: Water drains faster than an off centered drain because there is less distance to travel.
Pro: Better access for maintenance or repairs.
Pro: Aligns with a centered faucet.
Con: Bigger pots and pans may put unnecessary pressure on the drain as well as block drainage.
Example drain placements
Stainless steel
Higher chromium and nickel, better quality
Great for a modern look
Excellent sound insulation
Great for a modern look
Most popular style
Requires cleaning to eliminate water spots
Shop All Stainless Steel Sinks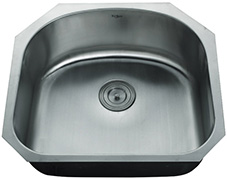 Copper
Strong anti-microbial qualities
100% recyclable material
Patinas where the color changes over time for a uniquely attractive look
Requires more care and attention
Typically chosen for its looks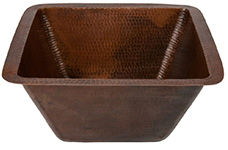 Granite composite
Nonporous to ensure a cleaner sink
Resistant to scratches, chipping and discoloration
Great alternative to granite due to durability
Make sure to follow manufacturer cleaning suggestions
Strong material may break glassware if not careful
Shop All Granite Composite Sinks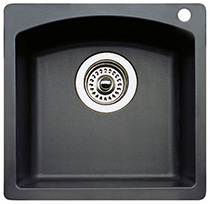 Cast iron
Features a glossy finish
Clean-up is easy
Withstands higher heat
Great for busy families
Enamel may scratch over time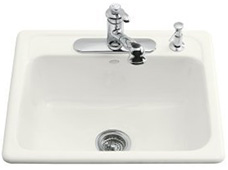 Fireclay
Non-porous, durable and glossy material
Resists scratches, stains and chips
Fired at very high temps for extra durability
Requires proper care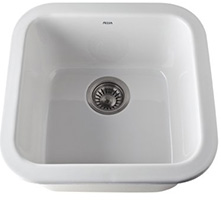 NativeStone

Handmade by artisans using a strong blend of cement and jute fiber
NativeStone material is Eco-friendly and heavy duty
Stain, Scratch and crack resistant
Innovative and remarkably light weight for cement