How to Choose a Refrigerator
Written by:
Through the years, the refrigerator has improved in both style and in function, and here's what to know when shopping for one.
Spacing
Add a 1 inch gap on all sides to prevent overheating
Poor ventilation diminishes performance
Refrigerator insulation may expand the walls up to a 1/2 inch
Finish is an extremely important decision when choosing a fridge or any appliance. In fact, a stainless steel finish may actually add value to the home because the look is timeless.
ENERGY STAR
US Department of Energy's stamp of approval
Certified to save energy and money
Humidity Controlled
Maintains consistent humidity
Keeps crisper drawers fresh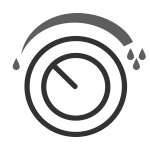 Water and Ice
Feature widely available
Often at little or no extra cost