7 Stunning Bathroom Makeovers by 7 Unique Designers
Learn how seven style bloggers transformed their bathrooms in just four weeks during the Primp & Pamper Bathroom event.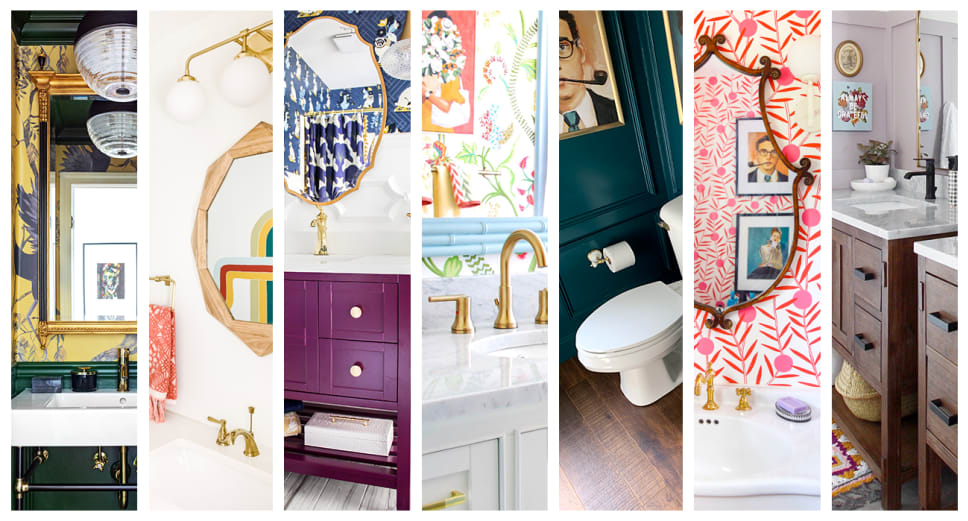 Jewel Marlowe, of jeweledinteriors.com, is an interior stylist, blogger, and self-proclaimed DIY maven. She told us she finds many of her project essentials on Build.com. "I am signed up for a pro account and have found the personalized customer service wonderful. Build has the best selection of products, yet it is super easy to navigate the website. Take lighting for example, I start with Build.com because the filters are so helpful. I can sort through 439 pages of chandeliers in no time. Plus, the prices are great."
"I believe that design should be a fun and soulful representation of our lives." — Jewel Marlowe
When she's not planning her own design projects, Jewel wrangles an eclectic group of creatives in non-competitive design events meant to encourage and inspire. Recently, Jewel challenged six designers to join her in creating showstopping bathroom redos — in just four weeks — for the Bathroom Primp & Pamper event.
About the Bathroom Primp & Pamper Event 
Jewel and her handpicked crew of style bloggers set out to make over their bathrooms and track their progress on social media. Each designer had just four weeks to transform the spaces in their own, unique styles. Jewel said, "This event is about a group of us motivating, encouraging, and promoting each other to come up with truly special spaces."
The group chronicled their progress on blogs and social media —  from planning and inspiration in week one, to the final reveal four weeks later. The tight deadline and public platform kept followers engaged throughout the process. 
Jewel described the diverse group of creatives as "anything but boring," adding, "While most of us love color, we have each developed our own design style and brand. I think we all value unique, original, and creative ideas. We aren't the type of bloggers who recycle new ideas, but rather try to create them."
Seven Stunning Bathroom Designs
Dramatic Half Bath
Traditional with a Twist Master Bathroom
Bright & Inviting Guest Bathroom
Modern Traditional Kids' Bathroom
Design Q & A with Jewel Marlowe
Pro Design Tips 
Q:   When you take on a design project, what is your starting point? Do you make a mood board, or choose a standout piece/color/pattern and build your design around that?
A:  It depends on the project. I definitely use mood boards to help visualize all of my options along the way. For the Primp & Pamper bathroom it started with the wallpaper. I knew I loved it the second I saw it. When I found the console sink on Signature Hardware's website, everything else fell into place. 
Q:  Can you share a pro tip for mixing patterns?
A:  I love pattern mixing. One simple way to break it down is to use at least one "organic" (picture florals, and flowy designs), a stripe, and a geometric. As long as they are of different scale and their patterns dissimilar, your eyes can take it. In my bedroom for example, I used an overscaled geometric on my rug, a medium sized floral on the headboard, and stripes on my duvet. I also threw malachite and a medium sized geometric on the pillows. because it works for me.
Q:  How do you work special vintage or antique pieces into a design?
 A:  I think that vintage and antique pieces add soul to a room. I love to mix elements of both old and new aesthetics in a space because it provides unexpected drama and sophistication. For example, I love pairing an ornate ceiling medallion with a modern chandelier or a bow front dresser with modern art.
Bathroom Design Tips
Q:  For people who want to refresh their bathroom, without undertaking a complete demo and remodel, what are some simple changes they can make? 
A:  Three obvious answers are paint, lighting, and art, but a new mirror, towel racks, and toilet paper holders go a long way as well.
Q:   What's your favorite quick & easy design update for the bathroom?
A: I am a bit of a maximalist, so I LOVE ME some lighting....and wallpaper....and moulding.... Ideally lighting, wallpaper and moulding.
Q:  What are the advantages of making over a small space? 
A:  The powder room is the PERFECT space to GO BOLD. For the Primp & Pamper space, I used high-end and dramatic wallpaper from Fine and Dandy Company.com. I can't wait to see how it pairs with the black and brass Signature Hardware console sink, modern Hudson Valley Lighting, and Metrie moulding.
Q:   Several of the Primp & Pamper Bathroom designs include wall art. Can you comment on using wall art (or other unexpected design elements) in the bathroom? 
A:  I think it is important to have something eye catching in every space. Art is a great way to add impact. I know that several of us are using wallpaper or graphic tile as well.