Build.com For Pros: Home Organization & Interior Design
Your clients' homes are meant to be lived in! Tips for creating functional storage without sacrificing style.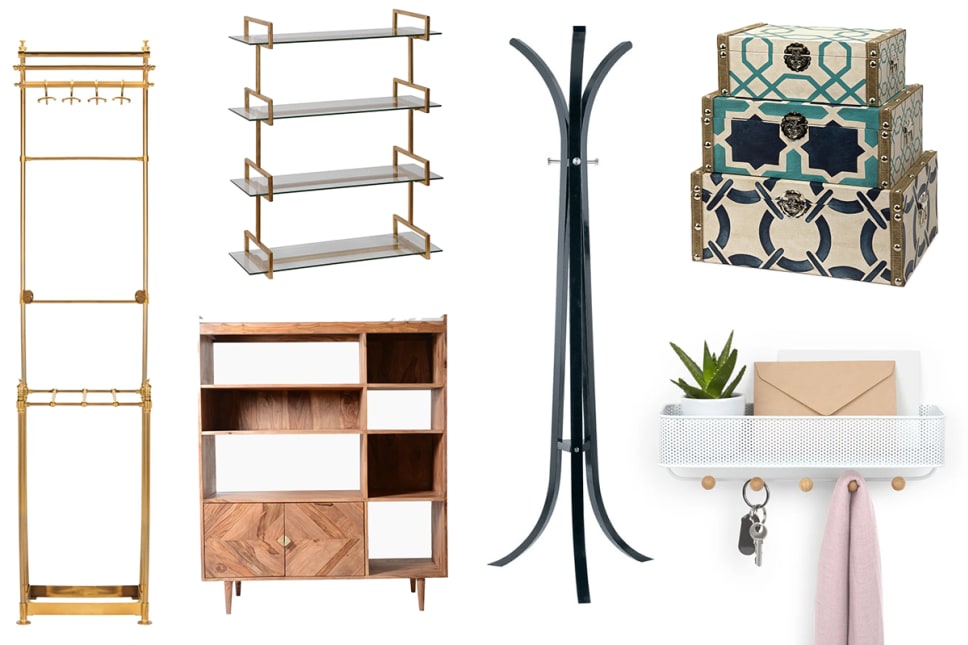 Close your eyes and imagine a dream home worthy of a magazine spread. Elegant furniture, brilliant art, and stylish accessories all laid out within a beautiful floor plan probably come to mind. What you're not seeing in your vision of the perfect home is a cadre of clutter that's stealing the show from well-chosen furnishings and accessories.
So why do your clients cap off your designs by creating an environment of chaos and clutter after you leave? The answer, at least in a lot of cases, is a lack of functional storage. After all, everyday homeowners with jobs, social obligations, kids, and pets simply can't keep up a showroom look if they don't have some help.
The good news is that you can give them that help without sacrificing style in the process. Keep reading to pick up a few home organization tips and ideas you can utilize in all of your upcoming residential projects.
Welcome Wall Organizers Into Your Designs
As a designer, it might be your first instinct to keep utilitarian items put away in cabinets and hidden from view. Is that picture-perfect style really going to work in the average family home though? Here are some ways you can take advantage of open walls for storage that'll blend in beautifully with the rest of your design work:
• Opt for custom bookshelves in family spaces, living rooms, and dens. Custom work looks elegant and maximizes storage space. You can also take advantage of empty hallways for cabinetry and shelving.
• Shop around for the right size shelves if your project budget can't support custom work. Find shelving options as close to your wall dimensions as possible to maximize space and give a sleek look. Properly-chosen readymade shelving can look like a built-in system if the dimensions are correct.
• Go for open, airy shelving designs for modern spaces. Curio-style cabinets and room dividers can provide a rich design touch while giving your clients a place to store everyday items. Match existing appointments like hardware finishes to really make shelving feel like part of the room.
Clear Entry Clutter with Smart Foyer Furniture Choices
Add style and function with entryway organizers.
Designing a functional, stylish entry area can be a nightmare for designers in your average home. Why? Because you know that no matter what you do, your work is going to get covered up with backpacks, purses, briefcases, coats, shoes, and all of the other detritus that really should make its way to a closet or bedroom instead.
That doesn't mean you should phone it in or simply resign yourself to knowing that your work won't look the same in a year. Instead, build smart furniture choices into your designs to help homeowners get organized and stay that way.
One great way to do this, particularly in family entry areas, mudrooms, and less formal spaces, is to utilize home mail organizers. These can help keep bills off that elegant table you've picked out for the entry. Some options even include hooks for keys, purses, and bags so they don't end up on the console or floor.
Choosing a larger cabinet-style piece of furniture instead of a single-tier console can also give homeowners a place to hide clutter and keep essentials like gym bags. Make sure you show off these easy-to-organize spaces so your clients use them instead of simply piling items onto the top of the cabinet as they enter the home.
One more easy, smart choice is to include a heavy-duty coat rack that blends in with your design scheme. Coat racks with extra-wide hooks can handle purses, umbrellas, backpacks, and more, helping them stay off the floor and out of the way.
Push for a Home Office Space
A home office space provides an area for paperwork and other items that tend to accumulate.
A huge problem many homeowners have is a lack of workspace within the house. As a designer, pushing for a home office space—even if it isn't a dedicated room—can help you fight clutter in family spaces that shouldn't be about work.
Of course, your best bet is a home office with a dedicated purpose. A spare bedroom works particularly well for this, but in some homes, there just isn't room. In those spaces, a combination guest room and home office can work well or even just a corner of a common area.
When it comes to home office organization in these combination rooms, desks with built-in storage are truly your best friend. Combine those desks with compact bookshelves that go up to the ceiling and you can make the most of any room.
You can also look to make the closet more efficient in a home office by placing file cabinets and storage essentials inside. Most closets can be retro-fitted to be ideal for home office storage with minimal work and cost.
Garage organizers can go a long way toward an efficient work and storage space.
The garage isn't the space you're going to spend the most time on during a design project. Paying attention to garage organization can seriously help you out in the fight against interior clutter though. Here are a few ways you can update your client's garage space quickly and easily:
• Add heavy-duty shelving that goes from floor to ceiling on open walls.
• Utilize pegboard for tools and items that need to be easily accessible. Purpose-specific garage wall organizers are especially helpful for handy homeowners.
• Include wire shelving racks for additional storage away from the walls.
Help your clients keep things together by providing places to put things away!
Figuring out how to organize home spaces that are full of daily-life essentials can be tricky for your average homeowner. With wall organizers and better entry area furniture, you're putting them on the right track toward a neater space. By adding a home office area and whipping that garage into gear, clutter should be a thing of the past in your clients' homes.
Don't forget that while your business cards probably don't say life coach on them, you can always pass on some home organization tips to clients as you wrap up your design work. Tailor those tips to the furniture you've chosen and they'll likely take them to heart. That way they'll be able to keep their homes looking like the day you left.