Make Your Laundry Room Work for You
From functional to fabulous - Everything you need to know to organize the laundry room.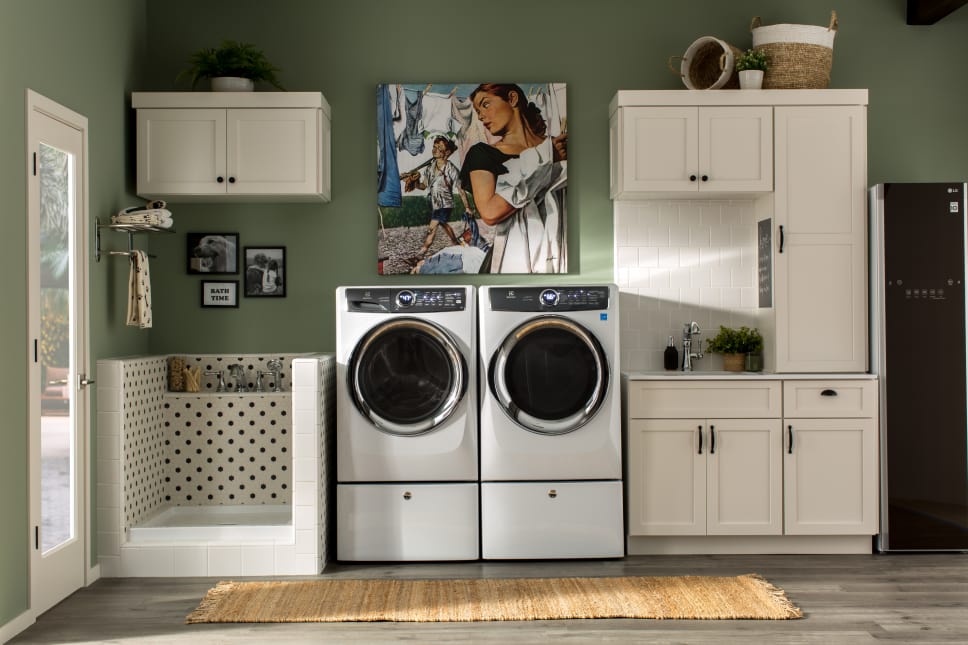 The laundry room is the hub of the household workload; everyone needs clean clothes, towels, bed sheets, and whether we like it or not, probably occasional access to the cleaning supply stash, too. Even if the kids don't do their own laundry, they know where the hamper is kept. Large or small, laundry rooms can be useful and functional, and still look good. It's about identifying the space available and narrowing down exactly what you want to do with it. Find a place for everything, and make sure everything lives in its place.
Laundry Room Must-Haves
How do you use your laundry room? For most, laundry is the central focus, but it can spread out to include the functions of a mudroom, a coat closet, a craft room, or even an office. You'll need to make room for appliances, some plumbing, storage cabinets, and working areas such as desktops or islands for folding or ironing clothes. The list goes on. That's why it's important to consider how your family uses the laundry room and what tasks it needs to be equipped for. Figure out how you want to use your space, calculate the space you have to work with, and then arrange the room with the features you want.
The Washer & Dryer
The washer and dryer are the most obvious and expected features of the laundry room, so let's start there. For an efficient laundry room, you need an efficient washer and dryer, so if it's time for an upgrade, there are a few things to consider before you start.
Front Load vs. Top Load Washing Machines
When looking for a washing machine, there are plenty of choices to make. For instance, for busy lifestyles or large families, large capacity drums can save time and resources by allowing larger loads, but the extra water can be a drain on resources. The main decision, however, is between a top load washer or a front load washer. The operation features between the two are mostly similar between manufacturers, so it gets down to determining what will work best for your household.  
Arranging the Washer & Dryer
Regardless of top load or front load washers, the washer and dryer unit should be placed next to each other, so they're easier to use. For smaller laundry rooms, front loading washers can be paired with a front-loading dryer and stacked, to conserve space, or they can fit under a countertop to double as working space. Be sure the doors swing so that they are not in the way when loading from the washer to the dryer. Many doors can be easily switched to accommodate how they are positioned in the laundry room.
When buying a dryer, the first step to narrowing it down is to find out if you have a gas or electric hookup option in your home. Both offer their own individual benefits and include high-quality brands and products, so determine which works best with your home before buying.
Choosing Energy Efficient Appliances
To save energy, the dryer capacity should be about twice the capacity of the washer. If you have a 3.5 cu. Ft. capacity washer, look for a 7 cu. Ft. capacity dryer.
To help the effectiveness of an existing dryer, dryer booster fans are available to boost the airflow through the dryer duct. The booster fans help reduce clogs in the dryer hose, increasing airflow, and can dry your clothes more quickly while attracting less lint buildup.
Irons & Garment Steamers
If life gets busy, you don't want to overlook the details. When it comes to the last-minute wardrobe concerns, your laundry room can save some stress and some money if you set up your own dry-cleaning service right next to your washer and dryer. If the ironing board is easily available, and the iron is ready to plug in and use, there's no more excuses to delay the chore.
With a permanent home for the steam press in a well-planned laundry room, the necessary tools can be set up and waiting to be used. If you want to go a little more high-end, a steam closet has a smaller footprint, but can accomplish a lot. In a single cycle, your clothes can be steam cleaned and sanitized, as well as wrinkle free and even pressed. With the laundry room ready to help, everyone in the household can look sharp with little effort.
Laundry Sinks
If you have the space, a laundry sink is a great addition to the laundry room. It can be used for all of the household utilitarian sink needs, from pre-rinsing and pre-soaking laundry stains, to bathing the furry, four-legged family members without straining your back. It's also useful for dedicating to the messier cleaning chores, like filling and emptying the mop buckets, or washing up after playing in the oil and grime of the garage.
These sinks are best when they're deep enough to keep from splashing, and have a hearty, durable finish that can withstand heavier abuse than the dishes and pans. A multipurpose laundry faucet can help with both your tasks in the sink and cleaning up after them, but they can still look stylish while doing it.
Dehumidifiers & Exhaust Fans
Whether the laundry room is dedicated to just the washing of clothes or also serves as a mudroom, there's a bit more moisture in the air. Too much moisture can soak into unprotected spaces and wear down the walls or lead to dangerous mold growth. A dehumidifier or exhaust fan is a good idea to help keep things dry. A drain pan can also be useful for washing machine mishaps, or if you're doing a full room remodel, installing a floor drain can make cleaning up even easier.
Working Surfaces
The laundry room is a busy room, so you need the space to get everything done, and the tools to do them. This includes a working surface, such as a desk, or a countertop. Even a laundry room can have a center island. Dedicated task surfaces can make the daily chores easier, such as sorting and folding clothes, or fold-down ironing boards that are easy to access. The logical thing for a laundry room would be clothing drying racks or hampers for sorting.
If your laundry room is to double as an office, it's a good idea to have a desk tucked away somewhere, one where you can write out letters, bills, or even organize crafting or sewing projects. Ideally, you want to designate a flat surface that is meant to be used and kept clear, that you don't have to chase away clutter and stored items.
Laundry Storage
The laundry room also serves as the catch-all for all things related to household cleaning. Cleaning soaps and chemicals, rags, mops and buckets, laundry detergents and dryer sheets, extra towels and linens, toiletries, the paper towels and toilet paper stash… the laundry room claims them all. The trick is to make sure everything stays organized, so when something does go awry, anyone can easily find the means to take care of it.
Pedestal Drawers
Depending on the amount of space you have in the room, the storage can be provided by cabinetry, cupboards, or a variety of other means. A closet in the laundry room is a great start, but there are many options if one isn't already built there. For instance, pedestal drawers are available for front loading washer and dryers that provide space for keeping the laundry necessities right at hand, while also boosting the machines off the ground to an easier, more accessible height for most adults.
Organization Essentials
The key is to make sure everything fits in its own space, so that it will be easily returned to the same space every time it's used. This could mean baskets on countertops or tucked into shelves, drawers, or even door organizers to make the most of every available space. Closet organizers and shelving units can be particularly useful for taming the laundry room, allowing the shelving spaces to fit the size and shape of the different items, even something so awkwardly shaped as an ironing board, or a traveler's to-go hamper in between trips.
There's nothing saying the storage should be boring, however. Decorative storage solutions multitask as both functional storage, such as drawers, hooks, or shelves, while also offering a flare of personality that adds a more custom, designer feel to your laundry room. Use the walls for creative solutions. It doesn't have to be an antiseptic, white-walled, boring room. Make it as interesting as you want it to be, especially considering the amount of time you'll inevitably spend in the room just doing laundry.
Personal Touches for Your Laundry Room
A laundry room may be a functional room, designed to be a busy place rather than a restful space, but that doesn't mean it can't be elegant, or fun, or otherwise personalized to the vibe of your household. If the room is boring or in any way unpleasant, no one will want to be in there to get anything done. Like any other room where you'll be spending your time, it should be a welcoming space, so feel free to dress it up.
The easiest place to start is with a fresh coat of paint. Look for paint that is semi-gloss, as that tends to be more durable and easier to wipe clean. Similarly, coated paneling or wainscoting offer a nice decorative touch that can take the activity demands of a laundry room. Wallpaper accent walls can add a touch of creativity to the space. Add color, shine, and a little extra style with a tile backsplash above the countertops or behind the washer and dryer.
Of course, like any other room in the home, there is a variety of laundry room wall decor to help you find the accents that fit your style. If you have a smaller laundry room, keep in mind that a well-placed mirror can light up the room and make it feel bigger. Appropriate task lighting directed at the working surfaces of the room, such as with recessed or track lighting, or downlighting from a ceiling fan, can also add new life to a familiar, common room.
The laundry room has a purpose, but that function can still be customized to how your household can make the best use out of the space. When doing a laundry room remodel or addition, consider how you want to use the room and what you want it to look like. Look for the appliances and tools that will make your life easier, and the storage and work surfaces to make it all come together. With just a little planning, the laundry room can be the organized haven you want it to be.