Freestanding vs. Built-In Bathtub: Which One is Best?
Understanding the differences between freestanding or built-in bathtubs makes a remodel much easier.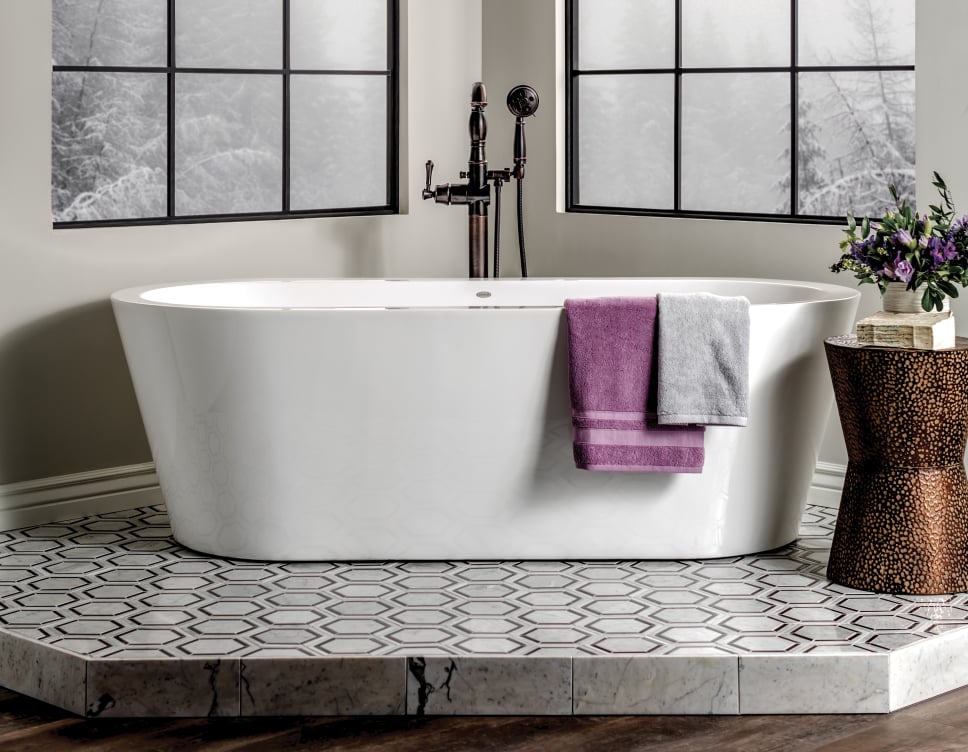 The bathtub is one of the most recognized and distinctive features in any bathroom. A new style of tub can completely change the look and feel of even a familiar room. When choosing a bathtub for your space, one of the first choices you have to make is between a freestanding or a built-in bathtub. A freestanding bathtub can be a bold décor feature, equivalent to sculptural art or furniture, whereas a built-in bathtub can be a convenient and efficient solution for making the most of limited space.
Freestanding Bathtub Design
A freestanding bathtub becomes a visual centerpiece to a bathroom. It catches the eye because it stands alone, independent of all surrounding walls and fixtures, with the exception of the plumbing. Unlike most home baths, tucked away in an alcove between three walls, a freestanding bathtub is not integrated into the architectural design of a bathroom. This means that you have complete freedom when it comes to choosing the tub location, size, shape, and material.
A modern freestanding tub and a classic clawfoot bath.
You can place a freestanding bathtub anywhere in a room. The only limitation is that it must be located somewhere that the water and drain lines can be plumbed to come up to the faucet and the basin of the tub.  The configuration and shape of a freestanding tub can look as old-fashioned or modern as you want, and can directly influence the design scheme of the rest of the room.
Depending on the location of the bathroom and the strength of the floor, you might opt for an antique or replica cast iron clawfoot tub, or a tub made out of a lighter material like acrylic or fiberglass. Some newer designs of freestanding baths even offer air jets or other luxury options to update this classic style for the modern home. The choice is up to you, your budget, and the available plumbing within your bathroom.
Freestanding Bathtub Features
Freestanding bathtubs are perfect for long soaks and bubble baths.
A slipper style tub is designed so that bathers can comfortably rest their arms on the sides.
Modern freestanding tubs are now available with luxury details, like air jets or whirlpool tubs.
Even when you order one of these tubs in a standard five-foot length, each unique design is likely to take up more space in every dimension than a built-in bathtub.
A freestanding tub can also be a great addition when you already have a designated shower stall, or a built-in bath with a shower located in another bathroom.
If you are adding a handshower attachment, there are a variety of shower curtain solutions, including a wrap-around curtain that provides 360-degree protection from sprays and leaks.  
Cast-iron freestanding tubs can be hand-painted to match any bathroom color scheme.
Because of their self-contained footprint and different construction materials, many freestanding tubs can be ordered in finishes or colors that provide an aesthetically pleasing element that stands out in your bathroom.
Built-In Bathtub Design
Built-in bathtubs are designed to balance the available space within a room and the bathing features you prefer. Most built-in bathtubs include showerheads to create a bathing and showering area in one. The showerheads can be swapped out depending on your preference, with a variety of choices, from waterfall designs, to handshowers with detachable nozzles. Even options for shower stalls or surrounds are customizable to a built-in bathtub.
Different installations for built-in tubs.
Just because a built-in bathtub is flush with the walls doesn't mean that it is impossible to customize the design. You can plan for a tub of nearly any shape, or even have a walk-in tub installed for easy accessibility. There are three main styles of built-in tubs that you might consider given your preferences and the constraints of your space.
Undermount tubs are designed to sit under a deck to allow shower water to fall into the tub and provide a flat, supportive surface around the edges of the tub.
Drop-in tubs sit on a horizontal deck and rely on a raised lip to help anchor the tub and to prevent overflowing, which can cause issues for a shower feature or mobility in and out of the tub.
Alcove tubs are the most common style. These feature walls on three sides, with a front panel made from the tub material that continues down to anchor to the floor. These tubs are integral parts of the architectural design of your bathroom and should be carefully planned to fit in to make the most of the space.
Built-In Bathtub Features
Built-in tubs are available fully customized with the addition of jets or other luxury settings, including lighting, or even sound systems.
Built-in bathtubs can make it easier to bathe or shower in one tub, without having a separate tub and shower stall, or separate water connections, pipes, and drains.
The standardized plumbing requirements for a built-in bathtub can make installation more affordable.
Depending on the design, built-in tubs are easier to clean than freestanding or clawfoot tubs.
Shelving and storage can be built around the tub or placed more closely within reach.
Freestanding Versus Built-In
Ultimately, your budget and style preferences are likely to be the determining factors in which type of tub is right for a given bathroom in your home.
Keep in mind that you may need to have new connections added on to the water and sewage lines, or have the floor reinforced if you attempt to retrofit a built-in tub bathroom for a new freestanding tub. These installation costs may not be immediately apparent, but they can be considerable depending on the existing placement of the bathtub, faucet, and drain. Consider these factors as you weigh the differences between freestanding and built-in bathtubs.
Homeowners should also consider the use of the room, whether it will be most often used for showering or for drawing a bath. Showering leads to water spray beyond the edges of the tub, so you may want to look for a solution other than a freestanding tub, or find a good way to prevent shower water from ending up on the floor. Standing water can degrade the flooring over time, and pose a more immediate slipping hazard when the shower is used, unless it can be safely drained.
Whether you select a freestanding or built-in tub, you can find ways to make your bathroom a more comfortable and pleasant space. Both types of tubs have unique advantages that should be weighed and considered to determine which choice is the right one for your home.
Sign up for our mailing list!
You'll get more articles like this, and insider-access to our best deals on Build.com, delivered right to your email every day.