How to Select a Bathroom Mirror
Cut through the shine and dazzle to find the best mirror for your bathroom with a few important considerations.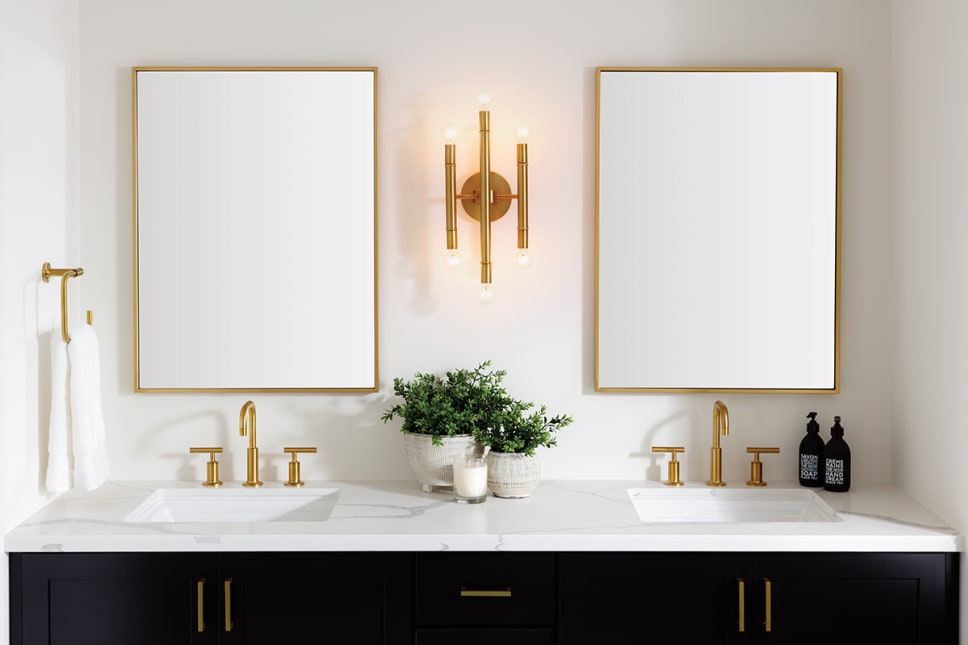 Mirrors play an important role in our appearance and sense of self, as well as the functionality of a home. A well-placed mirror can work with the natural lighting of a room as well as the lamps, accenting and displaying the decor… but it can also work against it. They should be chosen carefully. The many different sizes, shapes and styles of mirrors can leave eager renovators confused about their options. With some careful planning, you can find a stunning mirror that is both affordable, high quality, and visually appealing.
The key to a great bathroom is proportion. You want a mirror that is large enough to comfortably gaze at, but not too big or obnoxious. Since most mirrors are above the vanity, you should consider vanity size while shopping.
It's best to find a piece that can center on the wall, which means measuring for everything around it.
Measure the wall where you want to place the mirror.
Measure the width of the vanity or cupboard below it.
Take note of any windows or fixed shelving on that wall and measure to the vanity.
If there are existing light fixtures on the wall, measure the distance between the lighting and the countertop, as well as how much room you have between the lights on the wall.
Typically, the bathroom mirror shouldn't be wider than the vanity. One trick is to purchase a size that is the exact same width, which allows you to line the edges of the mirror to the edges of the vanity to create a sense of symmetry and balance. However, should you find yourself in a store with an impressive selection of dazzling mirrors, but none available in an exact width to match the vanity, look for a mirror that is between 70 to 80 percent the width of the vanity. This ensures that the mirror can look appropriately small and balanced without looking unfinished.
When looking at the height of the mirror, take note of the people that will be using the bathroom. A mirror should reach about a foot above and below the eyeline of the viewer, minimum. It's best to leave room for water splash from a faucet, so at least 6" between counter and the lower edge of the mirror frame. Ideally, the higher you can get the mirror the better. A tall mirror can really open up a space and provide good lighting and angles for gazing.
As previously mentioned, you should consider the size of the vanity when choosing a mirror. However, if you have a compact bathroom, you might want to consider a wall-to-wall mirror. These larger mirrors hang over the vanity and other fixtures, such as the toilet, to take up the entire wall. They make a small space seem bigger by reflecting more light and showing the opposite walls, creating the visual trick that there is more physical space to explore.
If you happen to have a wide vanity, you also have an opportunity to let your creativity shine. It allows more room to choose a mirror for artistic flare as well as the basic function.
A big mirror emphasizes the space by reflecting more of the walls, providing unique viewing experiences from many different angles.
Tall and narrow mirrors can highlight the verticality of a room and are often used when a bathroom has an artisan ceiling that homeowners love to admire.
Several mirrors are often used when there is more than one sink as a way to divide personal space between occupants.
Of course, it is also possible to use more than one mirror around a single sink. A bolder move, yet nonetheless modern, this option can create a pleasing composition that can be further enhanced by mounting at careful and specific angles, accessorization with light fixtures, or placement to best reflect natural light.
Ultimately, the choice depends on personal preference. Don't be afraid to experiment with different ideas when imagining a perfect bathing space.
The bathroom is considered a primarily functional space. Most people don't spend a lot of recreational time in the bathroom, the space is designed to be used for specific tasks that don't take very long. This allows for some eye-catching flare that might be distracting in other rooms. With mirrors, this means that they can be artistic pieces and still be highly functional.
Most traditional bathroom mirrors will be cut in large rectangular shapes, or square and spartan in smaller rooms. There are many other shapes worth considering, however. A round or oval mirror allows a more personal, cozy atmosphere as the reflection shows primarily only the person in front of it, without a lot of background. Other shapes are available, such as triangles, or sunbursts, and you can find or order custom pieces.
The key to using different, more eye-catching shapes is to make sure that they stay a size that can be centered between the existing fixtures of the wall, and that they are large enough to still be functional.
You've probably been in a bathroom with harsh lighting that cast harsh lines or changed your appearance in unnatural ways. To tackle that problem, modern mirrors are now available with lighting built behind the glass. It casts light directly on your face, offering choices between neutral daylight, or bright, detailed light such as for applying makeup, or soft light as a nightlight, with just a touch.
Another way to counteract bad bathroom lighting with mirrors is to choose light fixtures to pair with your mirror. Sconces are a popular choice. Wall sconces are often placed in between a series of small mirrors or on either side of a single mirror. This approach can light the face beautifully as well as make your bathroom functional. Sconces work best with mirrors smaller than the vanity so that the combined display of mirrors and lights stays the same width as the vanity.
Whether or not you decide to frame your mirror depends on your tastes. Frameless mirrors remain popular partly because they're less expensive, but they can leave the room looking unfinished. They can also offer a modern appeal that gives bathrooms a crisp, streamlined feel.
There are modest options a few inches wide in elegant, smooth material like stained wood that can add plenty of flair with simple lines. If you want to emphasize décor and detail, an ornate framed mirror can make a big statement. Some mirror frames can be used to change how light reflects off the mirror and can influence shadows on the wall.
Almost everyone begins a renovation while considering their budget. Remember that certain options, such as a wall-to-wall mirror, might have to be custom-made to match the dimensions of your room, and thus are a larger investment. Prefab pieces usually have a set price tag, as well as easier DIY installation, making them a simpler and less time-consuming choice.
Homeowners often decide to adorn their walls with tiles, stone, or marble. This can quickly drain your budget more than a new paint job or wallpaper. A mirror can offset the hefty price of this type of renovation, especially a large mirror that will take up a lot of space. Keep in mind that a simple, well-placed mirror used along with more expensive materials can give your bathroom a sophisticated look, and might be worth planning if you have an adequate budget.
It can also be helpful to cut butcher paper to different sizes and shapes to use as mock-ups before you purchase anything. Tape the patterns against the wall, centered between the existing features on your wall, and see which size or shape you like. It can help steer you toward a style that catches your eye for your unique space. There are many kinds of mirrors out there to choose from, and it is easy to get distracted by the gorgeous designs in a store.  A mock-up with the proportions of your room already in mind - or even photographed on your phone - might help you keep to what works for your space and your budget rather than select one on a whim.
Many homeowners find that choosing a mirror is trickier than expected. Finding a product that offers a stunning reflection and is aesthetically pleasing is possible with the right approach. Don't get distracted by all of the options and keep your goals in mind. By planning ahead and using these tips, you can make sifting through all the different sizes, shapes, and styles significantly easier.