How to Organize Kitchen Drawers
Our favorite ideas and tips to help you organize the drawers in your kitchen.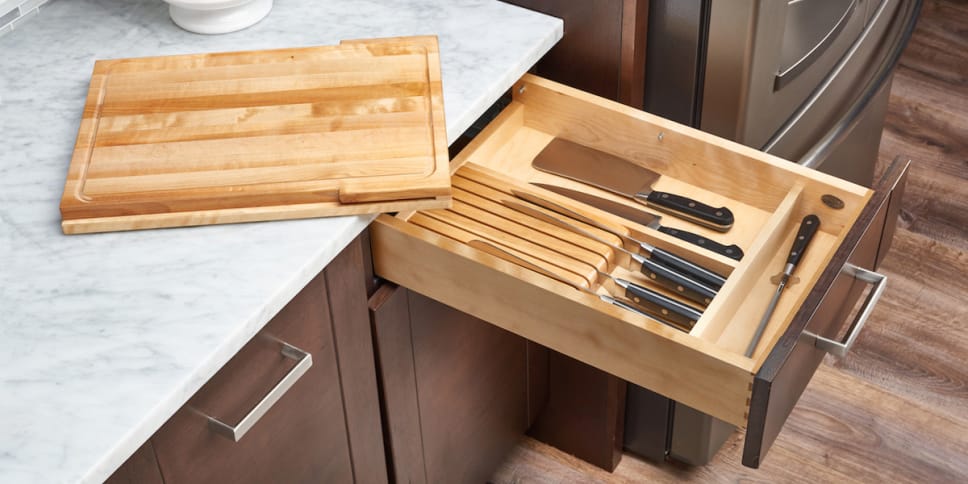 One of the easiest spaces in your kitchen to quickly organize is tackling the drawers. From kitchen drawer dividers to utensil drawer organizers, I wanted to share with you some of my favorite drawer organization ideas and products to make your life easy and organized. The goal of these tips is to teach you how to organize the drawers in your kitchen, as well as help you find the perfect space for your utensils, plates, spices and all those other kitchen accessories and tools.
6 Drawer Organization Tips For Your Kitchen
These six kitchen drawer organization ideas are what my friends and I live by. Share your ideas in comments below.
1) The Utensil Organizer
The standard plastic utensil organizer keeps your utensils organized and easy to use. This can be one of the most affordable ways to organize your forks, knives and even your cooking utensils.
2) Keep Knives Safely Hidden
Limit access to knives and keep them safely away from your children by organizing them in a drawer organizer. This will keep from dulling your knives.
3) Keep Heavy Plates and Platters Below
When you organize your heavier plates in lower level drawers, then it puts less strain on your cabinetry. Also, putting cups and plates lower can make it easier to access for your kids.
4) Use Baskets for Organizing
Keep all your items separated and organized by placing all contents in their individual baskets within drawers. This works great for separating teas, spices, and other pantry related goods.
5) Use a Peg Board for Customization
Peg boards work great to ensure plates and other items don't slip and have their individual spot. These work great because your organization options are endless and less permanent.
6) Use Drawers as Your Pantry in Small Kitchens
Have a small kitchen? Don't have a pantry? Use a set of several drawers as a pantry. Use baskets, peg boards and other organizers to help you make the most out of your space.
4 Types of Drawer Organizers We Love
If you limited yourself to just four drawer organizers, then these are the four types that would be a great fit for pretty much every kitchen.
Spice Organizer:
For the ultimate spice organizer, try looking for a drawer pull-out option. This way you can clearly see all the spices you have.
Bread Drawer:
Keep your bread fresh and soft with a bread drawer. You will no longer have to worry about dried out bread.
Knife Organizer:
Keep your knives handy and in a safe place with a knife organizer. Many of these even come with a complementary cutting board.
Kitchen Utensil Organizer:
Keep your kitchen utensils organized and easy to use. This may be the most common type of drawer organizer, as they keep your utensils from getting stuck or tangled in the drawer.