Build.com for Pros: Outdoor Kitchen Ideas
Design the ultimate outdoor kitchen experience for your clients with these ideas and tips to find the perfect look.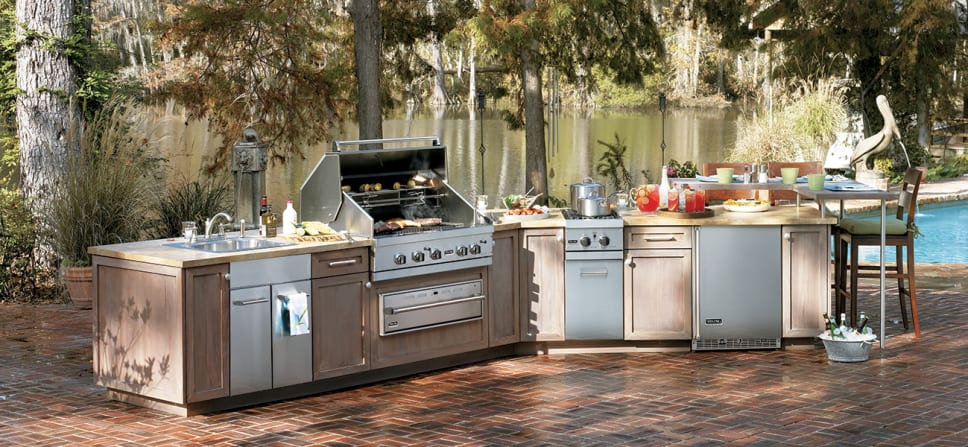 Any backyard can become a true extension of the living area with a few outdoor kitchen ideas and use them to transform an outdoor space. The ultimate outdoor kitchen designs take the client's lifestyle and incorporate thoughtful elements that make the kitchen perfectly suited to their personality. The most important step of the process is often the initial consultation because it's your opportunity to really get to know the client, their lifestyle, and how they'd ideally like to use their outdoor kitchen.
Determine an Outdoor Kitchen Layout
Before doing anything else, take careful measurements of the outdoor space. These measurements will be integral to creating those initial outdoor kitchen plans. Start by writing down the key ways the client would like to use the space and mapping out a layout that will accommodate all of those needs in the space they have available.
As you start to make selections, make sure to consider the indoor rooms adjacent to the outdoor space. The design of the outdoor kitchen should elevate the existing look and feel of the home and provide a smooth transition. 
Make sure that every item you choose to use in the outdoor space is designed to hold up to the exposure it will receive. If in the open sun and rain, it will need to be both weatherproof and fade resistant. If the outdoor kitchen is covered, it will provide an added layer of protection for the items selected.
Small Outdoor Kitchen Ideas
When there's not much space available, utilizing every square foot to its fullest is key. As you shop for a small outdoor kitchen, look for items that are dual-purpose or designed for ultimate versatility. A freestanding BBQ grill can fit neatly into a small outdoor kitchen area. Creating an outdoor island kitchen is a great way to maximize functionality in minimal space. These islands are able to incorporate various outdoor kitchen components in one compact unit. 
Large Outdoor Kitchen Ideas
When there is space to sprawl out, it's easy to create ideal outdoor kitchen designs. When space isn't a factor, you have the freedom to incorporate any and all outdoor appliances into the design. Take all the client's favorite outdoor kitchen ideas and work them into the layout of the space. Sometimes, breaking up a large space into smaller conversation areas will make it feel more intimate.
Choosing Elements to Add to the Outdoor Kitchen
Once you've determined the overall outdoor kitchen plans, it's time to start filling in the outdoor kitchen with as many outdoor cooking elements as possible. Some of our favorite appliances and features to include in outdoor kitchen designs are:
Designing the Rest of the Space
Outdoor kitchen ideas are only the beginning. Rounding out the rest of the backyard space with additional living and sitting areas will help maximize usage. Once the outdoor cooking area is complete, your client will want to serve up their creations. Give them the ideal place to keep the party going by redecorating the rest of the outdoor space, as well.
Add an Outdoor Dining Space
Adding a bar area, complete with comfortable outdoor bar stools, to the outdoor kitchen will provide a place to eat and also a place for friends and family to sit and talk with the chef. For a more traditional outdoor dining experience, add a top-quality outdoor dining table and dining chairs designed to deliver style to the space while holding up to the elements.
Create Conversation Areas
After a big meal, sitting and relaxing with friends and family is always nice. Utilize part of the outdoor space to fit in an outdoor conversation set to create a cozy visiting spot. Arrange a collection of comfortable chairs around fire pits, or design an outdoor living room every bit as comfortable as an indoor living area.
Have a Little Fun
When the whole family will be gathering together in the outdoor space, consider incorporating elements that will be fun for adults and children alike. Accessorize an outdoor table with an outdoor tic-tac-toe or game set. Poker sets and essential board games will provide a fun activity for everyone to enjoy as they visit with one another.
Add Essential Technology
No outdoor kitchen would be complete without a few technology elements. Hang an outdoor television in the corner, and the outdoor chef will never have to miss a single play of the big game. Wiring speakers around the space will give clients the freedom to play their favorite tunes or pipe in the sound from the television.
With so many different outdoor kitchen ideas available, there's total freedom to create the outdoor kitchen of any client's dreams. Take the time to create detailed outdoor kitchen plans in the beginning, and executing the design should go flawlessly. Whether you're designing a simple outdoor kitchen for a couple or looking for covered outdoor kitchen ideas for an expansive remodel, this list is sure to include items every client will appreciate.