7 Types of Ceiling Fans
Discover different ceiling fan types to suit every unique space, at home, at work, or even the home office.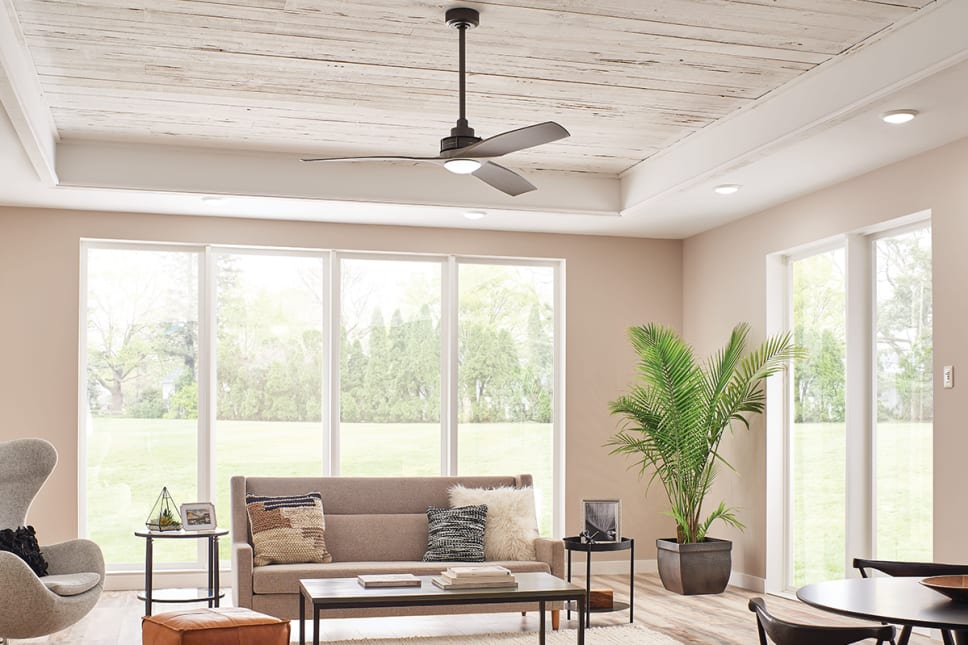 Ceiling fans promote all-season comfort in your space while delivering eye-catching style to your overall design theme. Not only do they provide comfort by circulating the air in the room, they can even lower your energy bill because you'll be less likely to kick on that air conditioning unit.
While ceiling fans can be beneficial both inside and outside the home, they are not one-size-fits-all. Discover the seven types of ceiling fans available to find the best ceiling fans for your home or business.
1. Standard Ceiling Fans 
Most ceiling fans that you find around the home are going to fall into the category of standard ceiling fans. They come in a vast array of styles, making them easy to coordinate with any decor. Standard ceiling fans most commonly feature four or five blades and can come with or without a light kit included in the center. 
Ceiling Fan Downrods 
Standard fans typically extend from a downrod – a metal pipe that connects the fan's mounting brackets to the motor housing – which allows them to be mounted on both flat and sloped ceilings. However, you need to be sure you are getting the correct downrod length for your ceiling height. Standard ceiling fans with a downrod should be installed to ensure that the fan blades are at least seven feet off the ground to allow for safe traffic flow beneath the fan. Check out this handy guide to help you determine the right downrod size for your room. 
2. Low-Profile Ceiling Fans  
Low-profile ceiling fans, commonly referred to as hugger fans or flush-mount ceiling fans, provide the air circulation you need but are built to accommodate lower ceiling heights. These fans are ideal when ceiling heights are eight feet tall or less. Instead of using a downrod, the fan is installed directly onto the mounting bracket, allowing for proper ground clearance while keeping the fan effective. 
The short stature of these fans doesn't mean they're short on style. Hugger fans come in all the same styles and finishes you can expect from a standard ceiling fan.
3. ENERGY STAR® Ceiling Fans
Save money on your electric bill while making a better choice for the environment with ENERGY STAR ceiling fans. The Environmental Protection Agency created the ENERGY STAR classification to help consumers recognize when a product has gone through efficiency testing. In order to be given an Energy Star rating, the fan must use 20-30% less energy than what federal standards require. The rating is then provided to show consumers which brands and products can save them money on their energy bills, as well as lower their environmental impact.  
 Rated for their low energy usage, ENERGY STAR fans come in both standard and low-profile varieties. The aerodynamic blades help them slice through the air with minimal effort. Many energy-efficient ceiling fans also incorporate LED light features to help illuminate the room.
4. Dual-Motor Ceiling Fans
Get twice the comfort in a bold, even industrial look with a dual-motor ceiling fan. These fans have a central motor housing attached to two horizontal rods. Each rod supports an adjustable fan head, complete with a motor. Look for a dual-motor ceiling fan with light kits to make the space both bright and breezy. 
One of the best things about dual-motor fans is that you can set each fan at its own speed to customize comfort levels on both sides of the room. These are a fantastic option for commercial and public spaces because of their ability to direct air circulation in specific areas and at truly customizable speeds. Dual motor ceiling fans with lights and without lights are both available, depending upon the needs of your room.
5. Smart Ceiling Fans
Today, most of the appliances in your home can be purchased as smart devices and incorporated into your home automation system. Ceiling fans are no different and many come packed with smart features you'll love. Smart ceiling fans are available with and without light kits and allow for remote control from your smartphone or tablet.  
Smart home fans provide a wireless connection to your existing Google Assistant, Amazon Alexa, Samsung SmartThings, Nest, and Ecobee, making it easy to customize the operation of your fan to suit your comfort and your schedule. When you have high ceilings or a short stature, having a remote option through your smart phone or home automation hub can make all the difference when it comes to daily ease of use. The adaptive learning features sense when you are home and away so the fan can circulate air in your home as necessary. Check out all the individual smart technology options of smart ceiling fans once you find a size and style that reflects the look of your space.
6. Outdoor Ceiling Fans
Your patio, backyard deck, or lanai is a valuable living area in your home, and exposure to the elements brings its own set of challenges. Outdoor ceiling fans are crafted of strong and durable materials designed to hold up to moisture, making them perfect for use in a room that doesn't get direct rain but may experience a lot of humidity and moisture, such as a sunroom, lanai, or outdoor living area.
Both flush mount outdoor ceiling fans and standard outdoor ceiling fans are available, depending on the ceiling height of your outdoor room. Our outdoor ceiling fans buying guide will explain everything you need to know about finding a fan that can weather the elements. 
Dry Rating  
Ceiling fans that are rated for dry conditions are for indoor use only. Using them outside won't just damage the fan, it can also be dangerous. The materials and electrical parts are not designed for exposure to the elements and wind and humidity can result in damage. 
Damp Rating  
Damp rated ceiling fans are suitable for areas that aren't coming in contact with direct water but may be exposed to humidity and indirect moisture. They are perfect for a covered patio, screened porch, or covered outdoor kitchen
Wet Rating  
Wet-rated fans are the most durably rated ceiling fans, built for direct exposure to rain, snow, and even humid and salty ocean breezes. They can be installed in outdoor rooms with direct exposure to the elements. If you aren't sure what amount of weather your outdoor room receives, err on the side of a wet-rated ceiling fan to ensure long-lasting durability. 
7. Commercial Ceiling Fans
Large, industrial spaces call for ceiling fans that are not only larger and more efficient but are also durable enough to hold up to the rigors of daily use. These oversized commercial ceiling fans can run continuously, providing higher air delivery to the space. They make the best choice for gymnasiums, warehouses, and other similarly large spaces.
In cases where you are looking to lift air up to exhaust fans, these industrial ceiling fans can be reversed in direction, pulling the air up from below for better ventilation. There are fans designed specifically for agricultural concerns, featuring epoxy-coated fan blades and sealed motors that prevent dust and moisture build-up. 
Using commercial ceiling fans in your spaces can also extend the life of your air conditioners because the ceiling fan can be used instead or in tandem with them.
Ceiling Fan Remote Controls & Accessories
Whether you choose a standard ceiling fan, a hugger fan, a dual-motor ceiling fan, or a commercial ceiling fan, remote controls are often included in the purchase. The remote control is typically battery operated and makes it easy to adjust the fan direction, fan speed, light intensity, and more. Ceiling fans with remote controls come in a full range of sizes and styles, making it easy to find the best ceiling fan for any room in your home. 
If you already have a fan in place but need to make a modification, shop the incredible selection of ceiling fan accessories. You can get light kits, fan blades, replacement remote controls, pull chains, and everything else you need to repair or update any ceiling fan in your residential or commercial space. You can even take ceiling fans without lights and add a light kit to them with the help of these accessories. 
Once you've determined what types of ceiling fans make the most appropriate choice for your space, check out the many options within that category to find the best ceiling fan style and finish that will elevate the overall design of the space. Before you make your final selections, check out the different ceiling fan sizes to discover one that's the right scale for the size of your room. Bedroom ceiling fans are going to be smaller than living room ceiling fans. Of course, some styles come in various sizes, allowing you to feature the same style of fan in different rooms of the home for a cohesive look.