6 Common Types of Wall Sconces
Understand the subtle differences between the most popular types of wall sconces.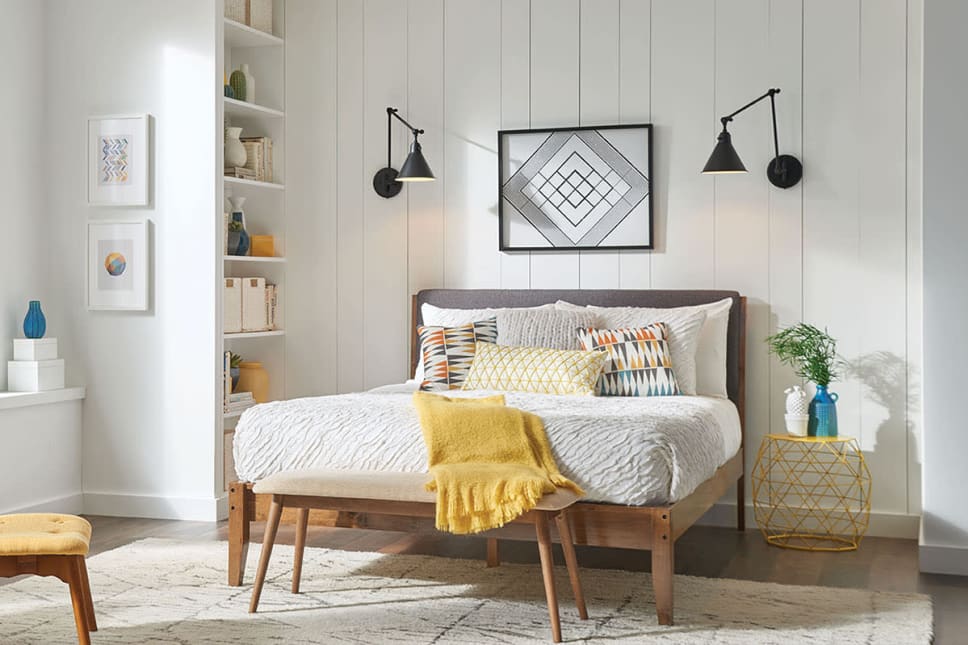 Wall sconces are an excellent way to add character and ambiance to both the interior and exterior of your home. The light from these wall lights helps to illuminate the alluring features of your home while creating a more inviting atmosphere. Wall sconces are available in a wide variety of styles, each with its own distinct set of advantages and disadvantages.
Having options is great for homeowners, but with so many different types of wall sconces available on the market, deciding on which wall sconce is best for you can be a somewhat daunting task. We've created the following list that breaks down the most common types of wall sconces, as well as how to seamlessly blend them with your home decor. 
Wall sconces are wall-mounted lighting fixtures used inside or outside the home to flank an object, such as a fireplace, headboard, or entryway. These lighting fixtures typically mount flat to the wall and cast light up or down on the wall, depending on the purpose of the light. Wall sconces can range from highly decorative to extremely functional depending upon the types of wall sconces you select. 
1. Up Light & Down Light Sconces
Almost any sconce you come across will be a variation of the following designs — down light, up light, or up/down light. 
Down Light Sconces 
As the name suggests, down light sconces are designed to direct the light coming from the fixture downward towards the floor. When the light is channeled in this direction, it can help create a warm and inviting atmosphere.  
Because they offer a more conservative amount of light, down light sconces are ideal for making larger rooms feel slightly more intimate. However, this type of sconce is not ideal for producing high levels of light, so they tend to be more suitable for formal, indoor events. 
A common option for outdoor lighting is to install down light sconces on the exterior of your house to help illuminate walkways. Down light sconces are friendly for dark sky lighting options, as the design does not produce a huge amount of light and keeps it contained to very near the installation point, such as walls or posts over walkways. There are many types of landscape lighting that are worth looking into that are bright enough for outdoor use while remaining dark sky compliant.
Up Light Sconces
If you need to illuminate a large area, or you simply prefer bright lighting, you may want to consider installing an up light sconce. This design directs light towards the ceiling, allowing the light to reflect off multiple surfaces or angles and making the room appear larger.
For this same reason, they are excellent for smaller rooms, living areas, and apartments where brighter lighting is often preferred. This type of sconce would also work well within any room that doesn't get much natural light. Because they can be brighter, this design may not be the best choice for intimate settings. 
Up / Down Sconces
Offering the best of both worlds, up/down sconces are designed to direct an equal amount of light in both directions.  Due to their versatility and the balanced illumination they provide, this sconce design is ideal for nearly any event or setting, no matter whether it's inside or out. They are popular choices for bathroom lighting, hallway lighting, and even outdoor walkway or patio lighting. 
Candle sconces are designed to add a touch of historical or classical charm to any room where they are installed. They are reminiscent of the very first wall sconce types, and much safer as these don't use a real flame. 
From modern to traditional, this type of sconce is available in countless designs, styles, and finishes, so it's easy to find one that complements the decor in your home. Many of these styles will feature a small shade or glass hurricane to add a bit of ambiance to the room. Aside from the look, candles sconces are made from a wide variety of materials, as well as utilizing many different types of bulbs. 
It's important to note that candle sconces will typically emit smaller amounts of light than other types of sconces in their effort to emulate the look of a candle. This means that a candle sconce may not be the best choice to serve as the primary source of illumination in the room. It is, however, a fantastic choice for adding mood lighting to a room. 
Swing arm sconces are designed to attach to the wall but adjust and "swing out" when needed. This allows you to move the fixture in multiple directions, giving you complete control over where the light shines. When they are no longer needed, the sconce can easily be folded back towards the wall. 
Because of its unique space-saving design, this type of sconce is a great fit for smaller homes and apartments with minimal artificial or natural lighting. Swing arm lights are wonderful for above bedroom nightstands or anywhere that needs a concentrated amount of light for only short periods of time. They typically don't offer a large spread of light, so they may not be the best choice for areas that require large amounts of illumination. 
Swing arms are usually covered by a sconce shade that helps direct the light a particular direction. Some of these shades may be removeable. Before you decide to purchase this type of sconce, it would be wise to consider where and how you plan to use it, as well as measure the amount of space the sconce will take up while fully extended. If this is a light fixture that you will be using frequently, you may want to opt for a more durable material for both the fixture and the light shade.   
4. Picture Lights, Wall Washers & Sign Sconces
Picture lights, wall washer sconces, and sign sconces are all similar in that they are designed to highlight a certain focal point of your wall but are not meant to be the primary source of illumination. While they are designed to accomplish the same task, there are subtle differences between the three types. Let's take a closer look at these differences. 
Picture Light Sconces
A must-have for any art or photography lover, picture lights are designed to focus attention and highlight the painting or photographs hanging on the wall. They direct a small amount of soft light towards a work of art, helping to garner your guests' attention and make your picture more aesthetically appealing. The angle and temperature of the light can be customized to preserve the colors of the piece they are intended to highlight, rather than interfere or add glare. 
Picture light sconces are great for smaller and medium sized pieces of art, but you may want to consider using brighter sconces for larger works, such as a wall washer sconce or sign sconce. Picture lights are usually for indoor use only. Because these lights are designed to highlight a small space, they are not an optimal choice to be the primary source of lighting for a room. 
Wall Washer Sconces
Like picture light sconces, wall washers are designed to direct light across a wall, and not throughout the entire room. However, where they differ from picture lights is that they are not intended to highlight a specific focal point, but instead illuminate larger sections of the wall. Or, as the name indicates, wash the wall with light. 
Wall washer sconces can fit seamlessly into almost any environment, help create the illusion of larger walls or rooms, and usually feature an adjustable shade. This type of sconce tends to be better suited for indoor use since they do not emit light over a wide area, but there are many outdoor models available. 
Sign Sconces
Commonly used for commercial purposes, sign sconces are used to illuminate signs, posters, and billboards. This type of lighting focuses most of its light on the sign, allowing you to draw attention and make it easy to view. While they are commonly used by business owners, sign sconces are becoming more popular in private residences as both interior and exterior sources of light. These are best used as supplementary sources of light, but not primary sources. 
Resembling the hand-held lanterns of the old world, this type of sconce brings its own unique and eclectic flair to the areas they are installed within. Lantern sconces are an excellent choice for outdoor lighting, due to their functional design and character. 
Lantern wall sconces are durable and versatile, so don't be afraid to install them wherever you may need them. Because of their more unique look, they tend to be more visually appealing on older homes and buildings. The vast array of styles of lantern wall sconces available will make it easy for you to find one that perfectly matches your decor, no matter what style or theme you have going.
Lantern wall sconces make a stylish statement whether they are installed individually or in groups. These can be reliable sources of primary illumination in both indoor and outdoor settings, depending on the design of the sconce and the type of bulb used.
With a striking resemblance to free-standing floor lamps, wallchieres are designed to blend the decorative elements of sconces with the lighting benefits of a floor lamp. They help to create soft shadows and often direct light towards the ceiling, though you can find them in countless distinctive designs. 
Wallchieres are available in a wide array of styles and fashions, and their intricate designs can add a splash of personality to even the most barren room. While this type of sconce is traditionally quite fancy, you should have little problem finding a wallchiere with a more casual or unique design. They are considered space savers, as they can be installed in place of traditional lamps without taking up as much space.
Wallchieres are usually found indoors as they are highly effective at fully illuminating rooms of all sizes and shapes. That being said, wallchieres can also be used outdoors. Don't just use any wallchiere, though. It's important to find one that is made of durable materials and designed for exterior use. You might also want to avoid an open-top wallchiere in any outdoor space, as these can collect leaves and other debris that can be difficult to clean.
Wall Sconce Features
After you've determined what type of wall sconce you want to feature in your home, it's time to choose the ideal sconce from within that style. As you shop the many options, consider some of the key features of each lighting fixture, such as the finish, installation type, and technologies offered. 
Sconce Shades
No matter what types of wall sconces you select, the design of the sconce shade or the sconce cover can be an important factor. The sconce shades don't only help define the style of the wall sconce, but they can also help determine how much light the wall sconce emits and the direction of the light. They can limit or direct the light, or even amplify it, depending on the materials and the shape of the light shade. When you're looking for sconces that give off a lot of light, you may want to consider reflective materials or colors, or designs without a sconce shade. 
Finishes
Most lighting fixtures come in a wide range of finishes, making it easy to coordinate your new wall sconce with the rest of your furnishings and home decor items. Look around your space at the other finishes your home already showcases and look for wall sconces in finishes that will coordinate with or enhance your existing color scheme.
Hard Wired vs. Plug-In
Hard-wired wall sconces tap into the electricity of your home the same way a ceiling fan, pendant light, or recessed light would. If you're replacing an existing wall sconce with a new style, the electrical is probably already in place. If you're adding wall sconces to an area that didn't have them previously, consider calling in a licensed electrician for the installation, which will also factor into your final budget.
Plug-in wall sconces offer a more convenient option when electrical wiring isn't already in place. They mount to your wall much in the same way a picture or shelf would, and feature an electrical cord with a plug you can run to the nearest outlet. They are great for adding next to a bed where you want a bit of extra reading light.
Technology
Before you make your final selections, check out any additional technologies included in the design. This can be something as simple as a remote control, motion sensor, or solar panel. Often, it's these technologies that introduce major daily conveniences.
Finding the right wall sconce doesn't have to be difficult, especially when you know what type you're looking for. As you can see, there are sconces of all styles and appearances, so you can easily find one that complements the architectural features and interior design of your home. Sconces will always be one of the most effective ways for homeowners to add to the home's value, design aesthetic, and lighting at the same time.