Affordable Luxury Bathrooms
Learn where to splurge and where to save to create affordable luxury bathrooms at home.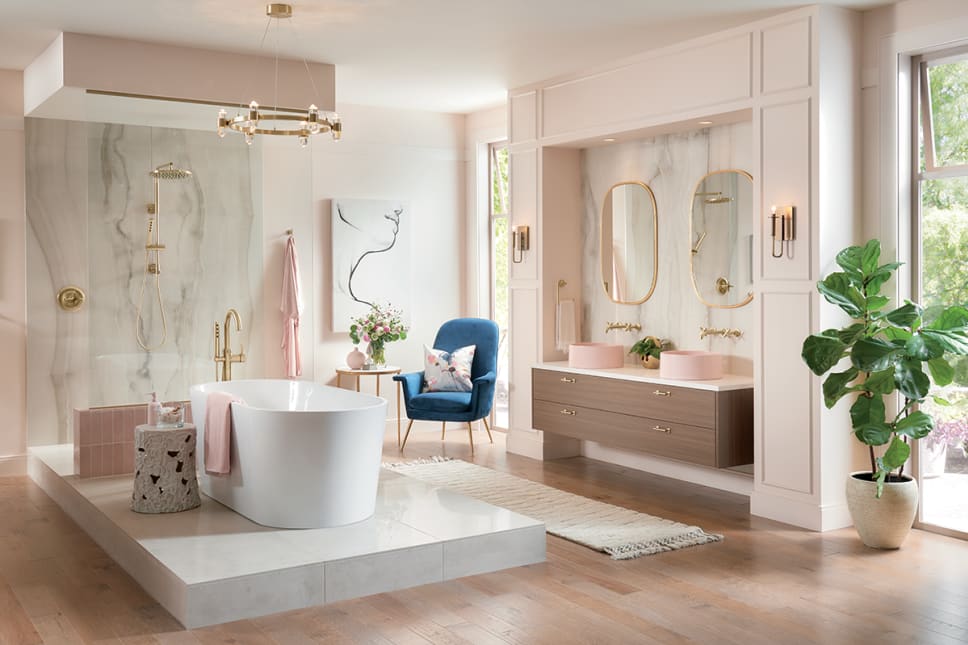 The key to creating a luxury bathroom on a budget is discovering affordable products that look great, work hard, and add a special touch to the most-used room in the house. Keeping your bathroom remodel budget on track is all about knowing how to prioritize expenses.  
Let us walk you through a few of our favorite luxury bathroom ideas that won't break the bank. Mix and match all your favorites to create a bathroom makeover that will have you feeling like you're at your favorite spa.
When to Spend and When to Splurge
The key to creating an affordable luxury bathroom is knowing when to spend a little extra money and when to save. One of the best ways to cut down on the costs of your bathroom makeover is to do as much of the labor yourself as possible. With a little planning and the right luxury bathroom ideas, you can create a designer bathroom with touches of luxury while barely opening your wallet. 
If you fall in love with any of the luxury bathroom ideas and essentials on this list, take the time to create a complete bathroom plan and decide which items are the most important to start with. You can use the bulk of your budget on big-ticket items that will make a major impact on your space, such as the professional installation of a whirlpool bathtub or a new, complete shower system.  
Once you've earmarked enough money for those larger luxury bathroom ideas, try some of our budget bathroom remodel ideas to tackle yourself, such as installing a new touchless faucet or adding a lighted medicine cabinet. Discover our detailed how-to articles that will guide you through every step of the installation process for many bathroom fixtures.
Save on these Affordable Bathroom Luxuries
Make your bathroom look expensive (without pulling out a home equity loan) by taking advantage of these bathroom ideas on a budget. Not only will these designer home products help to streamline your daily routine, they even help you wash away the stresses of the day.
Minimize the mess on your faucets and handles by bringing a little luxury to your bathroom makeover with a new touch faucet or touchless faucet.  
Available in styles and finishes to fit any decor, these touch/touchless faucets let you activate the flow of water with a touch or by simply bringing your hands within the sensor's range. This makes them a fantastic choice for a child's bathroom or a guest bathroom that sees a lot of use. 
If you change out your faucets, match the finish to your existing bathroom hardware, or choose new coordinating hardware for your new fixtures, to make the whole space look better.
Make a splash by introducing luxury sinks to your luxury bath design. Undermount sinks and vessel sinks provide two very different and distinct looks.  
Something as simple as updating your countertop and trading out your undermount sink for a vessel sink can instantly elevate your bathroom design. If you have a bathroom with lower cabinets and countertops, adding vessel sinks can also help the whole vanity unit appear taller. 
Best of all, sinks can be incredibly affordable. You can even install your new sinks at the same time that you change out that faucet.
If you loved standing out in the rain as a kid, a raincan shower head may just be the best way to make your bathroom look expensive. Rain showerheads are typically wider than their standard counterparts and distribute water gently through multiple outlets, rather than in a strong, concentrated stream. From single showerheads to complete multi-component systems, there's a rain-shower experience for every budget, making this simple switch one of our favorite luxury bathroom ideas on a budget.
Bathroom lights can get dated rather quickly and should definitely be part of your budget bathroom remodel. Keep in mind that chandeliers aren't only for formal dining rooms and grand foyers. You can get smaller, affordable chandeliers that deliver a glamorous bling to the bathroom design.
Many chandeliers are even part of larger bathroom lighting collections, making it easy to find coordinating vanity lights, wall sconces, and flush mount lights to use throughout the rest of your bathroom. Just make sure the fixture you choose is rated for damp locations and installed at the proper height according to local building codes.
Lighted Medicine Cabinets
Putting in contacts, shaving, and applying makeup is easier when you introduce lighted medicine cabinets to your luxury bath design. These cabinets don't just brighten up your morning and evening routine; they also provide ample concealed storage space for medicine, first aid supplies, and all the other things you don't want strewn across your countertops. They are slightly more expensive that traditional lighted medicine cabinets, but they can take the place of other lighting needs in the bathroom, making them an indulgent save.
Make your shower your favorite part of the morning or evening routine by trading out your traditional shower head for a complete shower system. This transformative bathroom fixture can vary from one design to another, with many combining shower heads with hand-held sprayers, body sprays, slide bars, knobs, and everything you need to get the new system installed. These systems come with all the parts perfectly matched, so you don't have to worry about finding coordinating elements.
A quality toilet is one of those items worth splurging on, because they'll last you for decades to come, but you don't have to spend thousands of dollars to install a luxury toilet in your space.  
You haven't experienced a true clean until you've added a bidet to your budget bathroom remodels. A bidet provides a stream of water for a gentle yet thoroughly clean result. Best of all, it will reduce the amount of toilet paper you use, making it luxurious for you and beneficial for both the environment and the wallet.
There are toilets with bidets incorporated into the design that are a bit of a splurge. And if you're looking for a more affordable option for your luxury bathroom, add a bidet kit to your existing toilet for a fraction of the price.
Splurge on Bathroom Indulgences Built to Last 
The right time to splurge is when you have luxury items that are designed to hold up to decades of use. Sure, they'll cost a little bit more upfront, but they're worth the investment.
One of our favorite luxury bathroom ideas is trading out your traditional toilets with touchless flush toilets to minimize the transfer of germs. The hands-free design allows you to just hold your hand above the sensor to activate the flushing mechanism.  
Not only will touchless flush toilets help to streamline your daily routine and help prevent the spread of germs throughout your home, but it will also be a much-appreciated luxury bath addition for your guests. Once you experience this affordable solution for yourself, you'll want to add them to the master bathroom, every child's bathroom and the guest bathroom.
Make your tub a statement in your bathroom remodel by choosing a budget-friendly freestanding tub that acts as a focal point for the bathroom design. Free-standing tubs can be deeper than tubs that fit into an alcove, making them ideal for soaking.
After a long day, there are few things as relaxing and restorative as a long soak in the tub. Create a luxury retreat in your bathroom by trading out your existing tub for a whirlpool tub or jetted tub.  
This is one of those bathroom remodel ideas that stretches the budget, but they can be a fantastic investment because they'll last for many years to come. This is also one of those items that may require professional installation unless you have great plumbing and electrical skills.
Save with Do-It-Yourself Projects 
One of the best ways to keep costs low is to take on the labor yourself.  
Limit calling in the professionals for the big plumbing and electrical elements and take on the smaller updates as a weekend project.  
Consider small, inexpensive DIY updates, such as adding a fresh coat of paint to the walls and cabinets or adding wallpaper with a little texture 
Trade out existing bathroom hardware for more modern designs that help your bathroom look better in a matter of minutes. 
These luxury bathroom ideas on a budget will make your bathroom look better while keeping the entire bathroom makeover affordable.